In light of recent events, it's only fitting that we take some time out to review the senseless Mass Immigration staunchly put through by Angela Merkel, Chancellor of Germany, currently serving her third term in office.
In 2015 alone, Germany had taken in 1.1 million refugees, about five times as many as in 2014. And it is anticipated that in 2016, at least 400,000 welfare recipients will come knocking at the door. If these immigrants were peaceful and accommodating and more than ready to assimilate themselves with the native culture of the country, the mass influx of refugees into Europe wouldn't have raised too many concerns. But these refugees are not just fleeing their land, they're bringing their culture along with them, the very culture which destroyed their homeland in the first place.
Cologne Attacks:

On New Year's Eve, a thousand immigrants took to the streets of Cologne, Germany and attacked women, in groups or alone, groped them and grabbed their genitals, robbed them and sexually assaulted them. In one case, immigrants shoved fireworks inside the hoodie of a woman who suffered serious burns and survived miraculously since the fireworks somehow failed to explode. Not even the Policemen could try and help the victims without being mobbed themselves. And to make matters worse, Cologne is not the only city in Germany which suffered from a spate of Sexual Assaults on New Year's Eve. Women from Hamburg and Stuttgart reported facing similar attacks and the Law Enforcement are having a difficult time in getting the situation under control. Not only Germany, neighbors Austria and Switzerland, Sweden, Norway and Finland have seen an unprecedented rise in the number of Sex Crimes in recent times.
The Law Enforcement obviously does not have a clue about how to keep the women safe. What appear to be Mass Organized Attacks on European Women by Immigrants, most policemen have described the events as a 'completely new phenomenon' hitherto unknown on European Soil. Vienna's Police Chief sparked an outrage when he advised women not to go out alone at night in the wake of the recent Sex Attacks. But honestly, how can anyone in complete control of their mental faculties blame him? It's not his fault that Rapists and Molesters and Psychopaths are roaming the streets of Austria attacking Women at whim. If one IS to be outraged, one must be outraged at the leaders for allowing such scum to walk into Europe and enjoy their lives on the Taxpayer's money and raping European women.
Cologne Attacks: Sweden should be a good example for Germany
One country that deserves special mention here is Sweden. Sweden, according to me, is beyond redemption. In Sweden, 77% of the Rapes are committed by the 2% Muslim Male Population in the country. And it's not just the leaders who are at fault. The entire population of the country seems to have lost its mind. The National Flag is banned in a School because apparently, it might be offensive to a certain section of the population. We all know which section of the population we are talking about, it needs no special mention. The Gatestone Institute says, "Forty years after the Swedish Parliament unanimously decided to change the formerly homogeneous Sweden into a Multicultural country, violent crime has increased by 300 percent and rapes by 1472 percent." To make matters worse, criticism of Islam is banned in the country and people seem to crave for more and more immigrants. Any country which exalts the values of Multiculturalism need only have a look at Sweden to understand the horrific consequences it comes along with. Multiculturalism is a Farce, Diversity is Chaos.
Cologne Attacks: The politics of the Left Liberals
What is bewildering is the Left Liberal politicians are more concerned about the 'Rising Right-wing Forces' than protecting the women in their countries. German Foreign Minister Frank-Walter Steinmeier went ahead and accused right-wing groups of spreading hate against the Asylum groups and politicizing the issue to garner more votes. How insane could these people get! Angela Merkel, a woman herself, has continuously defended her stance on Mass Immigration despite Reality continuously proving that her faith in her policy is misplaced. Ralf Jaeger, interior minister for North Rhine-Westphalia, went ahead a step further and said, "What happens on the right-wing platforms and in chat rooms is at least as awful as the acts of those assaulting the women." So, apparently, people who want to stop the Mass Immigration to prevent this Cultural Invasion of Europe are as awful as Rapists, Molesters and Vicious Psychopaths.
"It's a Catastrophe," was how Lawyer Bernhard Clemenz of Austria described the massive rise of the Far-Right 'Freedom Party' in his country because of their Anti-Immigration Stance. Because it's obviously irrational for people to support a political party that refuses to import a rabid Rape Culture into their homeland and puts the interests of their own people ahead of those who seek to destroy their very way of life. And in spite of all evidence to the contrary, the Left regards Right-wing forces as a bigger threat to humanity and portrays it as the greatest enemy of its people. What a classic case of Inversion of Reality! Needless to say, it's only the rise of the Far Right that can prevent the fall of Europe at the moment.
Cologne Attacks: The absurdity of the Feminists
The Feminists are on a different plane altogether. Instead of actively protesting against the mass immigration of people of a culture which treats women as cattle and objects, they are more concerned about imagined slights and testosterone. Reacting to the Chief of Vienna Police's comments advising women to be more careful, the Social Democratic Party's Women's Affairs spokesman in the city, Sandra Frauenberger, said: 'The first reaction to incidents like this should not be to tell women to be more careful.' Well, what else can one expect a Chief of Police to say about a phenomenon he has not faced yet at any point of his career? Instead of attacking him, why not attack the very policy which is responsible for such a calamity? Obviously not, because that would be far too sensible. So, on one hand, they cry for more and more immigrants to be let in and on the other hand, they focus only on the rapes committed by men with fair skin while completely ignoring those committed by men of color.
Cologne Attacks: The incompetent Policemen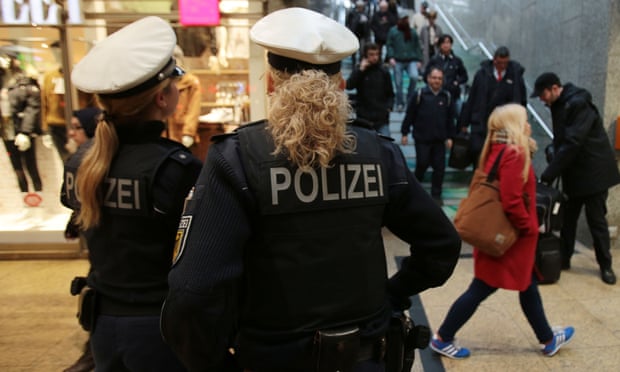 And to top it off, we have the German Police which proved to be thorough incompetent in stopping the Refugees from sexually assaulting women force PEGIDA (Patriotische Europäer gegen die Islamisierung des Abendlandes) protesters off the roads after they organized a rally to assert their Anti-Immigration stance. Pegida, a group established to prevent the Islamization of Europe, organized a rally on the 9th of January in which they raised posters and slogans of 'Merkel Out' to let their frustration with the Mass Immigration known. One of their posters which said 'Rapefugees Not Welcome' was apparently deemed Xenophobic and Racist and the Police wasted no time in forcing the peaceful protesters off the streets, the same Police which was helpless in stopping Violent Scum from molesting women openly on the streets.
The lunacy, hypocrisy and the evil that the administration is capable of doesn't end there. The entire Left Liberal Ecosystem including the Police conspired to cover up the massive organized assault on the modesty of European women. Reports of Facebook deleting posts by Victims on the Social Media also came in thick and quick. Fortunately, the truth couldn't be suppressed for long and the voices of the people eventually found its way through.
Cologne Attacks: The gist of the matter

The gist of the matter is, if the European Union still goes through with its ridiculous Mass Immigration Policy, then the European way of life in all of these countries will collapse. In fact, Europe is on the verge of a collapse. It is insane to believe that a nation can import hundreds and thousands of people from an alien culture, especially a culture that refuses to assimilate with the native population and is host to rabid, morbid and savage ideals and not disintegrate into total chaos. The fabric that holds the country together, its national identity cannot withstand such an assault. And the fact that the Left inflicts such a misplaced sense of guilt on the entire native population is bound to make the people less enthusiastic to preserve their heritage, their culture and disassociate themselves from their history. A nation that feels guilty about its own history will have its country taken over by savages who do not waste any opportunity of taking advantage of their insecurity.