It had been vastly reported that India has been 'dropped' out of the Chabahar-Zahedan rail link that connects the Chabahar port to Zahedan on the Iran-Afghanistan border. But Iran has now refuted these reports, and clarified that there was no official deal over the rail-link and therefore 'dropping' India is out of the question.
An Iranian official, Farhad Montaser said the story (first published on The Hindu) was "totally false because Iran has not inked any deal with India regarding the Chabahar-Zahedan" railway, reported Al Jazeera. However, according to TOI, Iran was expecting India to play a role in the project, and India too has said that it is committed to building the railway line. With a supposed delay in India's moves, Iran has now decided to go at it alone, a decision which can be read as a nudge as Iran seeks to overcome hurdles to the project, and also improved economic ties with India amid US sanctions.
It has been interpreted as India's receding influence in Tehran in the backdrop of increasing Chinese investments. However, reactions from New Delhi and Tehran now indicate that this is Iran's desperate call for help.
US sanctions continue to hurt the Iranian economy and Iran has been one of the most affected countries in the ongoing Coronavirus pandemic. Iran seeks respite from US sanctions but its own ambitions in the region have called upon itself this global isolation. With its nuclear programme and its militias doing its geopolitical bidding in West Asia, Iran is facing the USA's ire.
Indo-Iranian relations are significant to both New Delhi and Tehran. For India, it translates into a connectivity impetus. Access to Chabahar port means easier transportation to Central Asia bypassing Pakistan in the Arabian Sea, apart from accessing the land-locked Afghanistan and protecting India's own interests.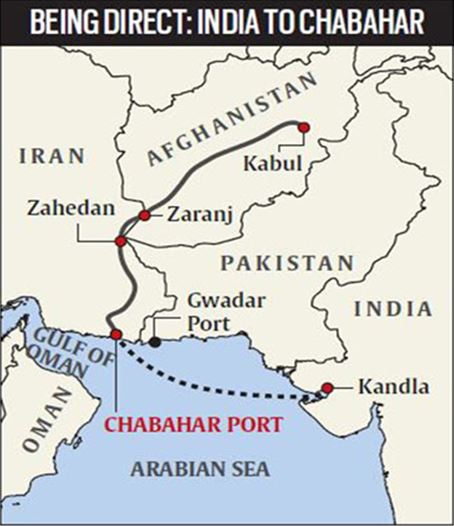 As for Iran, India was the second-largest importer of oil from the Shia-majority country before the US ended waivers for India on US sanctions that have been imposed on Iranian oil. Under its CAATSA law (Countering American Adversaries Through Sanctions Act), the US threatens to impose sanctions on nations that are engaged with its adversaries.
Since Washington started recklessly sanctioning even its allies who worked with Iran, India had to make a painful choice between Washington and Tehran. India, of course, became more and more aligned with the US due to the present global equations.
While India stopped buying oil from Iran, China remains the biggest importer of Iranian oil.
The Chabahar port project and the rail link to Zahedan however remained exempted from American sanctions due to strategic reasons, including Washington's own interests in Afghanistan and the need for connectivity to Afghanistan.
India, which was earlier Iran's second-largest oil importer, is now meeting its oil needs from the UAE, Saudi Arabia and the US. Iran has temporarily lost the Indian oil market which is worth billions of dollars.
Realising the importance of the Chabahar port project, Iran is now testing India's friendship. It wants to see if India remains a true ally or is merely a token friend.
Tehran says it will construct the rail line itself but India is welcome to join in. According to The Print, a senior Iranian government source said, "We are funding the project ourselves now… But still the doors are open for India, it is open to IRCON." In fact, Iran has stated that there is 'no limit' to its relations with India.
India itself has shown the intent of not letting the rail line fall out of its hands. TOI has quoted senior officials at the Indian embassy in Tehran as saying, "India is committed to building the Chabahar-Zahedan railway line and is continuously engaged with Iranian authorities concerned to take this important project forward."
Iran hasn't shunted India out of the Chabahar-Zahedan rail project. It has only given a very subtle message that India shouldn't take Iran lightly and the strategic Chabahar port for granted. And Indian policymakers already know that Beijing is desperately waiting for a window of opportunity in Iran.
Tehran is not going to give into Chinese influence, as Iran is not the kind of nation that would fancy becoming a Client State. Iranians would also understand that increasing Chinese influence means falling into a debt trap.
Moreover, Iran has two long term goals- a Nuclear weapons programme and to rid itself from American sanctions. Tehran knows that Beijing cannot help it get rid of sanctions because China is itself facing an onslaught from Trump.
Only New Delhi can help Iran get rid of American sanctions and Iran might have reservations that India hasn't done enough in that direction.
In fact, Iran's Foreign Minister Mohammad Javad Zarif had himself suggested in January that India could play a role in defusing tensions between Washington and Tehran.
Iranian economy has tanked to an all-time low due to American sanctions and then Coronavirus has ravaged it further. Iran looks upto India for help.
Even in April, Iranian ambassador Ali Chegeni had told HT, "We expect that the international community, including India, [will] stand against the unjust and extraterritorially imposed sanctions that are hurting millions of Iranians as well as other nations who have been paying a high price in this time of pandemic."
As for India, the American sanctions on Iran are bound to be seen as a major irritant. They put India's strategic circles in a peculiar position. Anyhow, New Delhi would expect that geopolitical equations change after the US Presidential polls.
Whoever becomes the US President, ultimately there will be an attempt at rapprochement between Tehran and Washington. This will directly bolster Indo-Iranian ties. The geographical proximity and close cultural links between India and Iran imply that trading ties can start flourishing in no time once the sanctions are eased.
Iran's Chabahar move is not a snub. The Chabahar port or the Chabahar-Zahedan rail link is also not going to slip out of India's hands Iran is only using China and Chabahar as leverage to get New Delhi to do more for the sanctions-ridden country.