Blinken is leaving Biden no choice but to follow Trump's Middle East Policy.
The Middle East is one of the regions, which saw what the lacklustre foreign policy of Joe Biden can do. While Joe Biden kept making things complicated for his allies, the adversaries did not leave a moment to capitalise on the situation. However, US Secretary of State, Antony Blinken has understood how costly it can be for the USA if things keep deteriorating in the same manner. This is why Blinken is leaving Biden no choice but to religiously follow Trump's Middle East Policy.
The Biden administration is laying the groundwork for a renewed push to encourage more Arab countries to sign accords with Israel and working to strengthen existing deals after last month's devastating war in the Gaza Strip interrupted those diplomatic efforts. The embrace of the Abraham Accords is a rare carryover of a signature Trump administration policy (Trump's Middle East Policy.) by president Joe Biden and other democrats.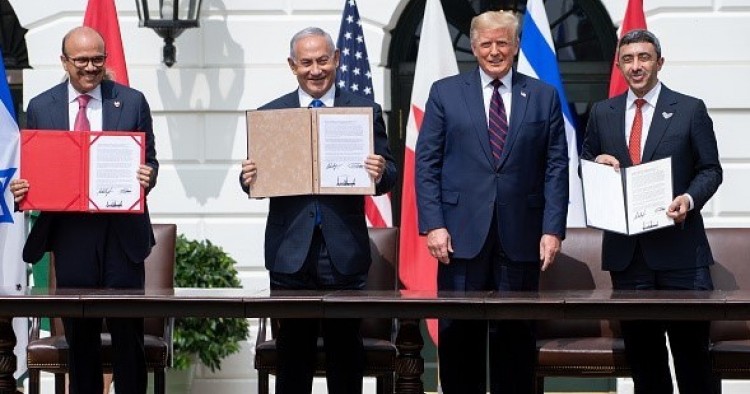 This is not a stand alone action in the Middle East, but Blinken is making a holistic return to Trump's Middle East policy direction. The US warned on Monday that unless Iran stops enriching fissile uranium, it may acquire a nuclear bomb in "a matter of weeks." "It remains unclear whether Iran is willing and prepared to do what it needs to do to come back into compliance," US Secretary of State Antony Blinken said on Monday. "Meanwhile, its program is galloping forward. The longer this goes on, the more the breakout time gets down. It's now down, by public reports, to a few months at best. And if this continues, it will get down to a matter of weeks."
Last year, the Trump administration used US clout and incentives to secure country-by-country pacts with four Arab states, lessening antagonism and isolation toward Israel in the Middle East that had existed since its inception in 1948. The Biden administration witnessed several additional Arab states adopting agreements that would ease and normalise relations with Israel. Officials from the United States have refused to name the countries they consider to be promising.
The Biden administration is considering appointing a former US ambassador to Israel, Dan Shapiro, to a Mideast role that would marshal and potentially expand the country-by-country accords between Israel and Mideast governments. Shapiro was being considered for the role, according to two people familiar with the situation, as first reported by The Washington Post. Because they were not authorised to discuss publicly, they spoke on the condition of anonymity.
Read more: Blinken admits that Iran could become nuclear power in a matter of weeks and that his boss Biden has failed miserably
Officials from the United governments are also striving to strengthen relationships between the four Arab states and Israel in areas such as business, education, and other areas. They hope that their visible success would help to encourage bilateral agreements in the region, while the US attempts to resolve the Israel-Palestinian dispute.
The deals former president Donald Trump struck were "an important achievement, one that not only we support, but one we'd like to build on," US secretary of state Antony Blinken told the House Foreign Affairs Committee this week.
In addition, "we're looking at countries that may want to join in, and take part and begin to normalize their own relations with Israel. That, too, has been very much part of conversations I've had with, with several of my counterparts," Blinken added.