The Blue states and their Democrat leaders have let their virtue signalling and skewed political correctness create a situation where it has become difficult for long-standing law enforcement infrastructure to work. This has led to increased crime rates and these states are bleeding red blood as the mayors and governors keep bringing mayhem and to support their political cause end up taking the side of rioters and sometimes even criminals. The continued and ever-increasing trend of shooting and other criminal acts in cities like Chicago, Portland, Atlanta among others have brought out a trailer of where the cities and states are headed under the Democratic leadership.
According to one city council member, residents in one Chicago ward are "given up" on calling the police because the city fails to protect them from violent crime. Alderman Raymond Lopez spoke about the violence hurting his constituents in the city's 15th Ward and beyond, attacking Democratic Mayor Lori Lightfoot, claiming that her law enforcement strategies and focus on structural racism are doing little to curb the primarily gang-related crime.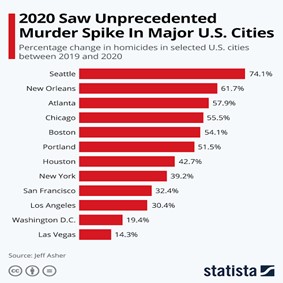 According to the New York Post, a 42-year-old man was slain and a 28-year-old female bystander was injured in a broad daylight shooting outside a Bronx church on Saturday, according to police sources. Just after 2:30 p.m., the man was discovered lifeless with several gunshot wounds in front of the Church of St. Anthony of Padua. Meanwhile, three bullets grazed the woman's torso, causing minor injuries. The male was pronounced dead at Lincoln Hospital, where both victims were transferred. According to authorities, the woman was treated for her injuries and released.
A video from a Walgreens in San Francisco went popular on Twitter this week. A man stood next to his bicycle, filling a rubbish bag with goods, in the footage. The shoplifter then rides his bicycle down the aisle, past a security guard who casually reaches out to take the bag; the shoplifter brushes past him and bikes out the door.
This sort of thing has become exceedingly common in San Francisco. In late May, Thomas Fuller wrote in The New York Times, "At a board of supervisors hearing last week, representatives from Walgreens said that thefts at its stores in San Francisco were four times the chain's national average and that it had closed 17 stores, largely because the scale of thefts had made business untenable." Employees at Walgreens had been told to stand aside as shoplifting took place because security officers had been assaulted repeatedly.
Chicago has seen better mornings than the one it woke up to on Tuesday. On Tuesday morning, eight people were shot inside a house in Chicago. Four of them were critically wounded while the rest were pronounced dead when the police arrived at the scene. The victims included three young mothers and one man. They died of no fault of their own but because the Chicago Mayor Lori Lightfoot has been turning the city into a haven for criminals and at the same time has weakened the police system.
Read more: How Black Supremacist Lori Lightfoot inherited a peaceful Chicago and turned it into a living hell
According to accounts, seven of the eight people shot inside a Chicago residence early Tuesday morning were shot in the head, according to the authorities. According to reports, a manhunt is still on for at least one suspect in the attack, which left three young moms and one man dead and four others injured. Relatives and neighbours expressed surprise at the incident.
Lori Lightfoot seems to be responsible for turning Chicago into an asylum for criminals and illegal immigrants. Lightfoot also banned the apprehension of criminals on foot. Former Detroit Police Chief James Craig blasted the Chicago mayor over the order and said that law enforcement is now a "crisis in the profession." However, she is not alone and other Democrat Mayors and Governors are following a similar pattern of behaviour leading to a rampant increase in violence.
The aftermath of a year of panic and dread of random assault and vandalism often conducted in the name of the police reform movement, Portland's once-vibrant downtown, the core of a world-class food scene, is still disfigured by boarded-up windows and closed businesses. There's a reason why people are departing the country's largest cities. The issue predates COVID-19 and will continue to do so. The presence of Walgreens in a community is popular among Americans. They like being able to go down the street without having to worry about extremely mentally ill homeless individuals urinating on the curbs, who should be in institutions where they can receive proper care. They shouldn't have to teach their kids to avoid stepping on used needles on street corners.
Yet the governance of "compassion" continues. So does the migration away from such a foolhardy policy. The top outbound states in America, according to North American Moving Services, were all deep blue: Illinois, New York, California, New Jersey and Maryland. The top inbound states were all red or purple: Idaho, Arizona, South Carolina, Tennessee and North Carolina. The fact that the policy of wrongly placed compassion is coupled with reducing the law enforcement makes the overall situation a red-carpet welcome for crimes and criminals.