On Thursday, as President Joe Biden addressed the nation following the gruesome killing of 13 U.S. military servicemen in attacks on Kabul for which the Islamic State has claimed responsibility, the office of the President was degraded beyond repair. It is a fact that Joe Biden is unfit for office, and owing to his progressed years, he should retire from politics. However, the man is adamant about serving as the President, and, running for the White House for a second term in 2024. It is solely the ineptitude of Joe that has cost 13 brave and young American soldiers their lives in Afghanistan, even while Democrats want you to believe that the 'forever war' is finally over.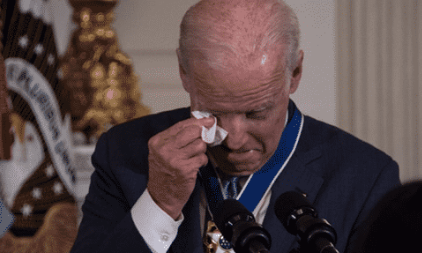 Joe Biden is given prepared speeches, much like every other President. The catch, however, might be that the President's speeches do not always reflect the opinion and views of the man himself, but those in charge of him and dictating how he should go about attempting to run the United States, even as real power rests elsewhere. While that is conjecture, what is not speculation alone is the fact that Biden is given "instructions" by somebody more powerful than him. Yes, there are people more powerful than the U.S. President, and they are controlling Joe Biden like a puppet.
Joe Biden said he had been "instructed" to call on reporters from a list drawn up for him at an emergency press conference following the deadly terror attacks in Afghanistan. Biden kicked off the press conference saying, "Ladies and gentlemen, they gave me a list here. The first person I was instructed to call on was Kelly O'Donnell from NBC."Among the others called from the list were Reuters correspondent Trevor Hunnicutt and Associated Press reporter Aamer Madhani.
Joe Biden says that he "was instructed to call on" specific reporters for questions.

Who is calling the shots here? pic.twitter.com/K24AH81g1L

— Townhall.com (@townhallcom) August 26, 2021
The Associated Press reporter, 'chosen' by Biden's bosses as one of the reporters who the President shall indulge, ended up asking Joe at a time of national crisis a softball question that invoked the memory of the president's son, Beau Biden. Owing to his age, Biden then went off-script for a while, during which he even sparred with Fox News' Peter Doocy.
Biden just said "I was instructed to call on" this reporter!

Who instructed him to call on the reporter? Who's really in charge?

Are you kidding me?
pic.twitter.com/WGZrsfRNEN

— Claudia Tenney (@claudiatenney) August 26, 2021
He is not in charge.

— Stephen L. Miller (@redsteeze) August 26, 2021
"The first person I was instructed to call on…." What is going on?

— Jason Whitlock (@WhitlockJason) August 26, 2021
This is not the first time that Joe Biden has mistakenly revealed that he is controlled by some very powerful people. In April this year, during a press conference at the White House's North Lawn, Biden said, "I'm sorry, this is the last question I will take. Then, I'm really going to be in trouble." This is not a joke. Joe Biden – the President of the world's most powerful country, the commander-in-chief and the first citizen of the United States said he would run into trouble with unknown entities if he dragged the press interaction any longer.
Reporters just yelled questions at Biden as he was leaving. He wasn't planning on taking any and then he turned around:

"I'm sorry, this is the last question I will take. Then, I'm really going to be in trouble."

Who is he in trouble with???? pic.twitter.com/h3FAXvw7cj

— Caleb Hull (@CalebJHull) April 27, 2021
Joe Biden fears many of his colleagues, who are somehow more powerful than the president himself right now. These include Vice President Kamala Harris, House Speaker Nancy Pelosi, former President Barack Obama and far-left activist Alexandria Ocasio-Cortez. In March, TFI Global reported that as per New York Post, Democrats led by Reps. Jimmy Panetta (D-Calif.) and Ted Lieu (D-Calif.) wrote a letter to Joe Biden asking him to renounce his sole authority on the nuclear launch codes of the country.
The abominable demand came from an influential leader. Jimmy Panetta is the son of Leon Panetta, who served as Defense Secretary and CIA director under President Obama and was the chief of staff to President Clinton. And then, Democrats even tried snatching Joe Biden's power to get into wars, especially in the Middle East. Tim Kaine and Todd Young introduced bipartisan legislation earlier this year that wanted to rob the US President of decades-old authorisation to use military power in the Middle East. The bipartisan bill aimed at repealing the 1991 and 2002 authorisations which armed the US President with unfettered military powers to tackle the prolonged conflict in Iraq.
Joe Biden is a pawn in the hands of the military-industrial-Democrat complex of America. He has no real power. When things go south, he is simply pushed forward, unprepared and ready to be thrown around like a doll. Joe Biden is simply too senile, weak and powerless to be a US President. In Afghanistan, Joe Biden has messed up magnificently. The man's approval ratings are at an all-time low, and even Democrat supporters are beginning to regret their November 2020 vote for Joe Biden and Kamala Harris. Meanwhile, the secretive lobby exercising complete control over the Biden administration will escape unscathed even from this debacle.