Russian forces in Crimea held a referendum on March 18, 2014, in an attempt to legitimise their permanent occupation and annexation of the peninsula to the Russian Federation. According to Mr Barry, a former British military planner, a breakaway from Crimea was "virtually certain" if Russia conducted an assault, and this is exactly what has happened. According to him, a Russian advance from Crimea towards Kyiv may leave huge numbers of Ukrainian troops stranded east of the Dnieper river.
Ukrainian troops have been besieged by Russian forces on their west, east, and north, as well as in Crimea. A highly lucrative option is, building a land bridge between Crimea and western Russia by taking control of Melitopol and Mariupol.
Now, Russian troops linked with Donbas troops outside Mariupol yesterday, & as per reports, today Donbas troops have now reached Mariupol suburbs. Given these developments, we can say that the Russians are on their way to fulfil one of the objectives of creating a land bridge to Crimea.
The Russian offensive to create a land bridge is picking pace
According to the president of the region, Pavlo Kyrylenko, the major southeastern Ukrainian city of Mariupol on the Azov Sea has been left without electricity following attacks by advancing Russian soldiers. Both cities are located between Russian-backed rebel territory and the Crimean peninsula, which Moscow annexed in 2014.
Russian soldiers have been seeking to connect the two regions. Since Moscow launched its invasion of Ukraine last week, Mariupol, a major port city with a population of 400,000-500,000 people, has been under siege. The population of Volnovakha is estimated to be around 20,000 people.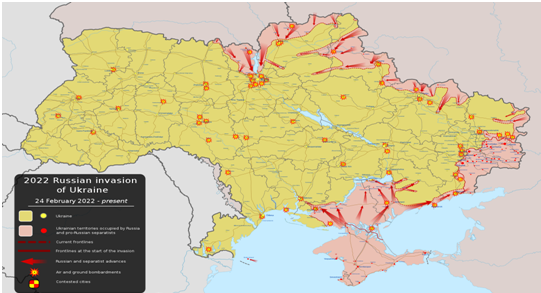 Source: Wikipedia
The Seige of Mariupol
The Siege of Mariupol is a military conflict between Russia and Ukraine that began on February 25, 2022, as part of Russia's invasion of Ukraine in 2022, as part of the Eastern Ukraine operation. Mariupol is a Ukrainian city in the Donetsk Oblast, which is embroiled in a territorial dispute with the self-declared Russian-backed Donetsk People's Republic (DPR).
Despite being encircled by Russian soldiers and subjected to continual bombing, the city remained under Ukrainian control on February 28. A Russian warplane had been shot down in the area, according to Boychenko. During the evening, most of the city's electricity, gas, and internet connections were lost.
Denis Pushilin, the DPR's leader, announced on March 1 that DPR forces had nearly entirely surrounded Volnovakha and would soon do the same for Mariupol. Russian forces had gained control of adjacent Sartana on the same day, according to reports.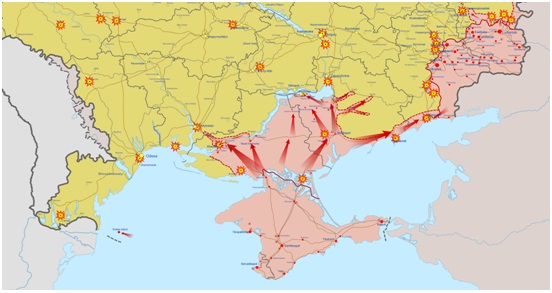 Source: Wikipedia
Importance of Mariupol
The port of Mariupol is where much of the Donbas' steel and other industrial products are exported. Mariupol is also crucial if Russia wants to build a land bridge over Crimea. The Russian army could take the land bridge, occupying a 300-kilometer-long swath of territory. It would not only help the Russians consolidate their control over Crimea, but it will also help Russia counter any chokepoints that the NATO may have utilised in any events of full scale confrontation.
Mariupol has assumed importance as a key indicator of how far the Russians want to go in Ukraine. While the analysts have been sure that the Russians will not launch an invasion of the city, but, they did. While all the analysis and punditry is turning out to be wrong, yet this is a fact that with the control over Mariupol, Moscow has consolidated its control over Crimea in 2022, which it annexed in 2014.