How many troops has Russia actually lost on the battleground in Ukraine? Will Putin's invasion stop in Ukraine or is Moldova set to become his next target? No one knows the answers to these questions as of today. But, guess what, Belarusian President Alexandar Lukashenko might just have revealed Putin's game plan "mistakenly" in a recent briefing.
Lukashenko accidentally reveals Putin's gameplan
With a pointer in his hand and a large Ukrainian map in the background, the Belarusian President was seen briefing his security council on Tuesday. The map showed Odessa in Moldova, Ukraine's neighbouring country, raising apprehension that Russian troops may invade Moldova also.
Secondly, Lukashenko also suggested those who died during the war in Ukraine are "fake". This raises doubts whether Ukraine's claim of slaughtering more than 4,500 Russian troops is valid or not.
Earlier, Ukrainian officials claimed approximately 5,300 Russian troops have been killed and claimed that 191 tanks, 29 fighter jets, 29 helicopters and 816 armoured personnel carriers have been destroyed by Ukraine's forces.
Lukashenko said that those who died during the war in Ukraine are "fake"

And he stands against the background of a map with strange arrows directed to the territory of #Ukraine. pic.twitter.com/TA7JJJZM61

— NEXTA (@nexta_tv) March 1, 2022
The map behind Lukashenko also showed Ukraine divided into four territories, signalling that Russia may try to break the nation up to better control its administration.
Belarusian troops join the fray in Ukraine
Belarus is deploying more forces on its border with Ukraine, Lukashenko said in the meeting. "Those are well trained rapid deployment groups which are ready to stop any provocation and any military action against Belarus," Lukashenko said.
Earlier, Lukashenko denied that Belarusian troops are helping Russian troopers tighten their grip over Ukraine amid reports that Belarus has also ordered its military into the Eastern European nation.
Ukraine almost falls to Russia, is Moldova next?
Make no mistake, Ukrainian intelligence in January had warned that Russia could initiate false flag operations in Moldova to justify intervening in the pro-Russian separatist-controlled region of Transnistria.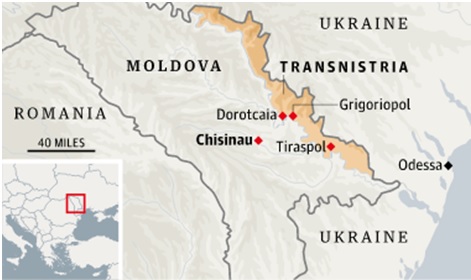 (Source: The Guardian)
Transnistria, a narrow strip of land with around 400,000 inhabitants, is internationally recognized as part of Moldova, but the Moldovan government exercises no authority over the breakaway republic since 1992. Russian troops have been deployed in Transnistria ever since.
So, it's a high possibility that Russian forces may try to enter the Russia-held Moldovan territory in a bid to expand their control over the region, once Ukraine is firmly gripped by Moscow.
In 2014, after Putin seized control of Crimea, the head of Transnistria's parliament had requested to join Russia. Now, this ambition of pro-Russian elements in Moldova may very well come to a realization this month.