The United States and Singapore have emerged as the biggest winner of the ongoing economic clash between China and Australia. A South China Morning Post report has now revealed that Singapore has quietly overtaken China in securing investment approvals in Australia. In 2020-21, Singapore's investment in Australia stood at $21.3 billion, roughly $8 billion more than China's. China's approved investments in Australia have fallen by 70% from $47.3 billion in the year 2015-16.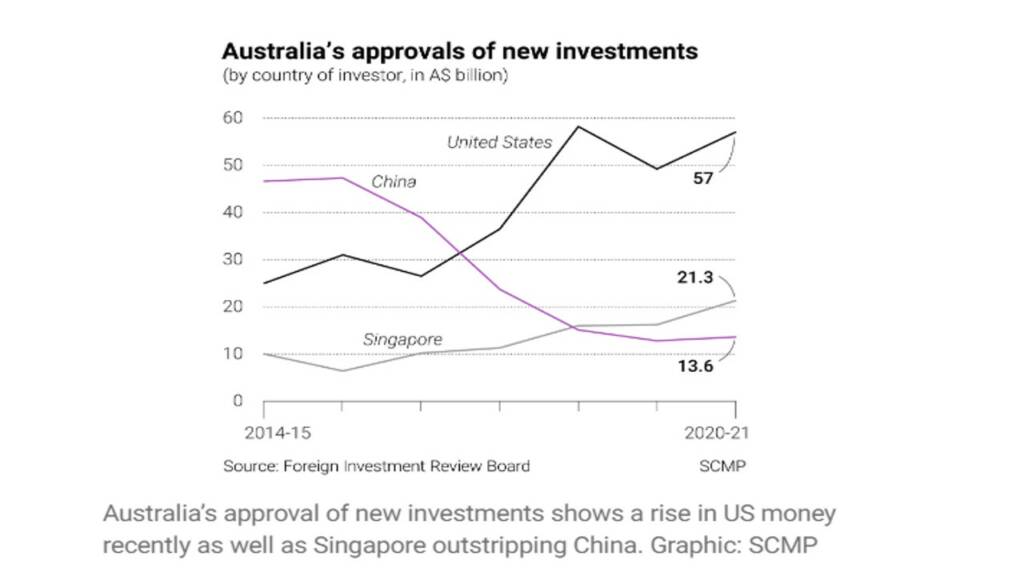 (Source: SCMP)
Singaporean real estate investors flock to Australia
Data shows that the Australia-China clash has opened a big window of opportunity for Singaporean real estate investors who seek lucrative real estate assets overseas. Out of $21.3 billion, investments worth $14 billion have gone to the real estate sector only. The Australian Foreign Investment Review Board said that the development reflects significant growth in the value of a proposed investment for Singaporean investors in the real estate sector.
Australia's real estate: Highly lucrative market
Australia's real estate market is expanding strongly, thus providing investors with a golden opportunity to make a fortune out of it. The latest report by the Australian Bureau of Statistics stated that residential property prices in the country surged 23.7% in 2021. A Guardian report mentioned that Australia's property market has seen astronomical growth, spurred by record-low interest rates and government stimulus. "Each capital city recorded price surges, with Hobart (+29.8%), Canberra (+28.8%), Brisbane (+27.8%), Sydney (+26.7%), and Adelaide (+23.9%) all showing the largest annual rises," the report said.
You see, the Australian real estate sector is a goldmine for every real estate sector investor in the world. US investors have invested about $746 billion in Australian assets over the past years. The UK stands at the second position with investments worth $700 billion. Singapore ranks higher than China as a foreign investor, with nearly $120 billion in investments.
Australia's crack down on Chinese investors
Australia's toughened stance on investments from China has thus proven to be a boon for Singaporean real estate investors. Chinese exposure to Australia's residential real estate has reduced significantly, as a direct result of the Australian economic assault on Chinese investors. Canberra has cracked down through the measures like higher taxes and increased application fees. The problem for Chinese investors in Australia got aggravated after China called time on capital outflow, putting a stop on the transfer of cash from mainland China into property in Australia.
Moreover, certain national security checks introduced by the Australian government have also impacted Chinese investments in the country. Since last January, the government has acquired powers to review the investment requests by foreign players. Some observers say these measures were introduced especially to bar Chinese investors from investing in the red hot Australian real estate sector.
Singapore's own decoupling with China
For Singaporean investors, it was a golden opportunity, especially after the crisis erupted in the Chinese real estate sector. The Evergrande crisis even prompted Chinese local investors to flock to Singapore en masse, forcing the Singaporean authorities to introduce regulatory measures to keep the Chinese investors out.
Read More: Singapore bans Chinese investors
Despite political tensions bulking larger on the economic relations, Chinese investors have not shied away from trying their luck in the highly lucrative Australian real estate sector. Australia's overall risk profile and the returns on offer still tick the box for many Chinese investors. But since Australia has run afoul of their involvement in its real estate, Singaporean investors are taking up this opportunity like there is no tomorrow.