Deputy chairman of the Russian security council and former president of Russia, Dmitry Medvedev recently released a future map of Ukraine. Medvedev wrote in his Telegram post, "In the mind of the president of Ukraine, damaged by psychotropic substances, this is what the map of his country's bright future will look like." Along with the post he shared two maps, the first one, which includes Crimea and the two eastern provinces of Donetsk and Luhansk, depicts Ukrainian territories prior to the 2014 Ukraine war.
The second map showed how would Ukraine look like if the war ends as per Russia's calculations. Ukraine, as per the map, will be limited to just Kyiv Oblast, and Russia will annex East and South Ukraine. To put things into perspective, Ukraine, which is around the size of France right now, will be reduced to the size of Belgium.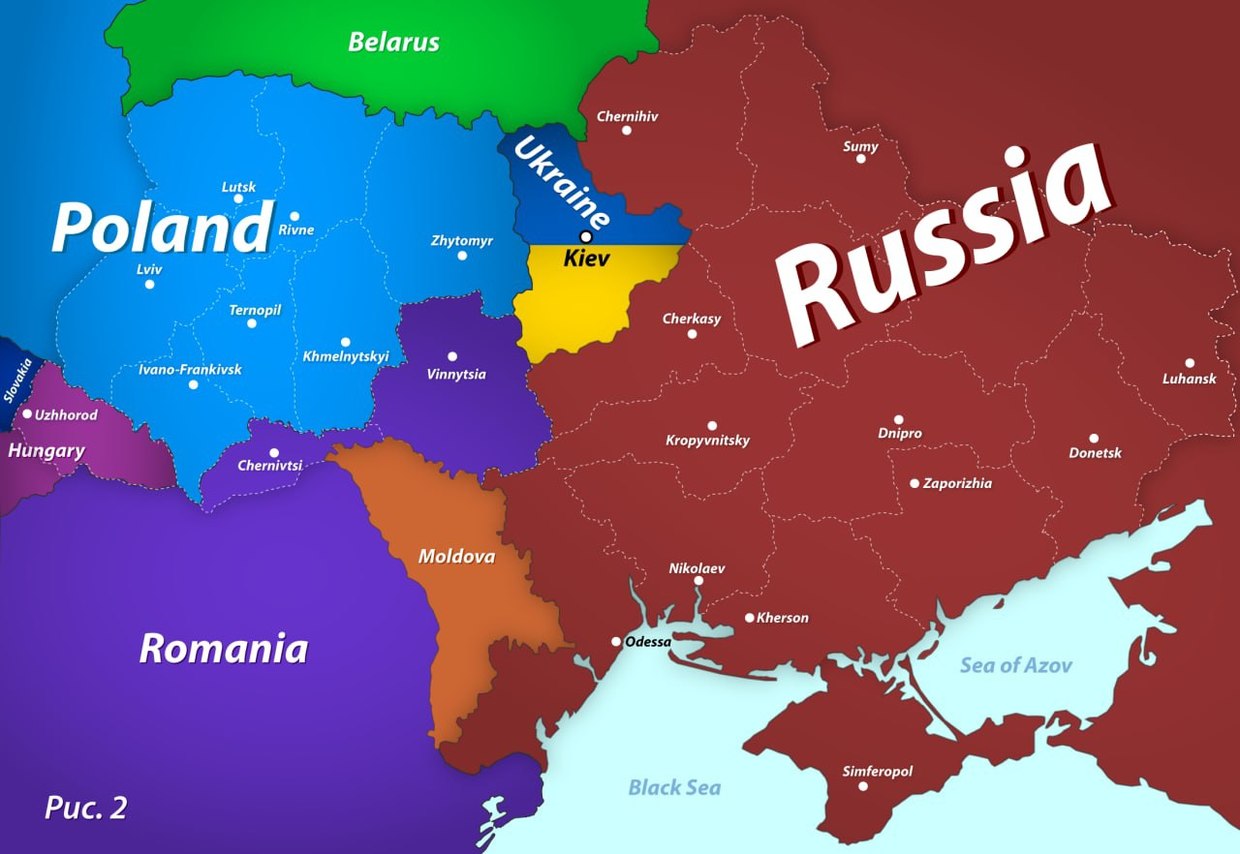 What came as surprise was that Russia doesn't aspire to annex western territories of Ukraine. If the map is any indication, the three regions in the southwest will be offered to Poland, Hungary and Romania. Seven oblasts that Poland would be offered are Lviv, Lutsk, Ternopil, Ivano-Frankivsk, Rivne, Khmelnytskyi, and Zhytomyr. Hungary will be offered Uzzhorod, and Romania will be allowed to annex Chernivtsi and Vinnytsia.
Irresistible offer
Russia's new map of Ukraine is simply a highly lucrative offer to Poland. Poland, which has supported Ukraine like no other country, might get enticed to rethink its Russia policy. That because Ukraine and Poland share a long history of animosity, and Warsaw's ties with EU have also gotten strained of late.
National interests of Ukraine and Poland have always clashed with one another. Western Ukraine has been governed by Poland several times in history, including after the 1921 treaty of Riga. But, Poles had to accept the loss of their eastern borders under the Yalta agreement of 1945 in order to build good ties with Ukraine. Historically, Western Ukraine was part of Poland.
Ukraine was still one of the countries that Poles disliked the most in 2000.
Furthermore, the events that took place during the Second World War were equally responsible for the animosity.
Poles find it hard to forget the massacre of hundred thousand of its people in East Galicia and Volhynia in 1943 and 1944, respectively. The massacre was carried out by the Ukrainian insurgent army (UPA), the Bandera faction of the Organization of Ukrainian Nationalists (OUN), carried out the crimes . The effort was to "ethnically clean" the area in an effort to keep it from ever becoming Polish again. Numerous Ukrainian administrations have hailed OUN members as heroes.
However, the Ukraine war changed Poland's stance like never before. Never have the relations between Ukraine and Poland been better. Poland has emerged as the most ardent supporter of Kyiv. It has also provided asylum to most Ukrainian refugees. It has emerged as a strong voice against Russia.
Tensions rising between Poland and EU
Despite all this, it hasn't received the help from the European Union it desired. It has constantly asked for funds in proportion to the refugees it is sheltering, though its plea has always fallen on deaf ears.
Apart from this, a migrant war also seems to have broken out between EU and Poland. EU is blaming the death of migrants on Polish borders on Warsaw. The government of Poland says that the migrants have links to terrorist organizations like Taliban and ISIS. But for EU, Poland has committed a sin of epic proportions by safeguarding its borders.
Read More: A migrant war breaks out between Poland and EU
Big countries of the bloc like Germany and France are also forcing it to adopt Euro, in order to spoil its military expansion and emerge as a military powerhouse in Europe. The membership in the Euro area will make it "impossible" for the country to buy the latest military technology from the US.
Anti-EU sentiments in Poland are already on the rise. The anti-migrant sentiment toward Ukrainian refugees among Polish is also rising.
From Russia's perspective, things couldn't go better. The offer of reclaiming what it had lost in the Yalta agreement in 1945 will surely be deliberated upon by Andrjez Duda. With looming incumbency and bleak prospects of getting re-elected in the upcoming polls, Duda might deem it foolish to simply squander Russia's offer.