On 25th September 2022, the liberal European leadership was dismayed by the election results of Italy. Italy had elected a prominent conservative leader for the first time ever since ever World War 2. Giorgia Meloni, a hard-conservative leader was elected to rule Rome. After this, the liberal elites made every effort to topple her. They attempted to portray her as a lovesick for Putin by publishing bluff pieces, and then they orchestrated a possibility that the elected coalition in Italy is disintegrating.
But each whack against her went ineffective. Meloni's popularity is still rising, not just in Italy but across all of Europe. Europeans are viewing Giorgia Meloni as a ray of hope, which indicates that the Liberal leadership, which has dominated Europe for decades, is ailing.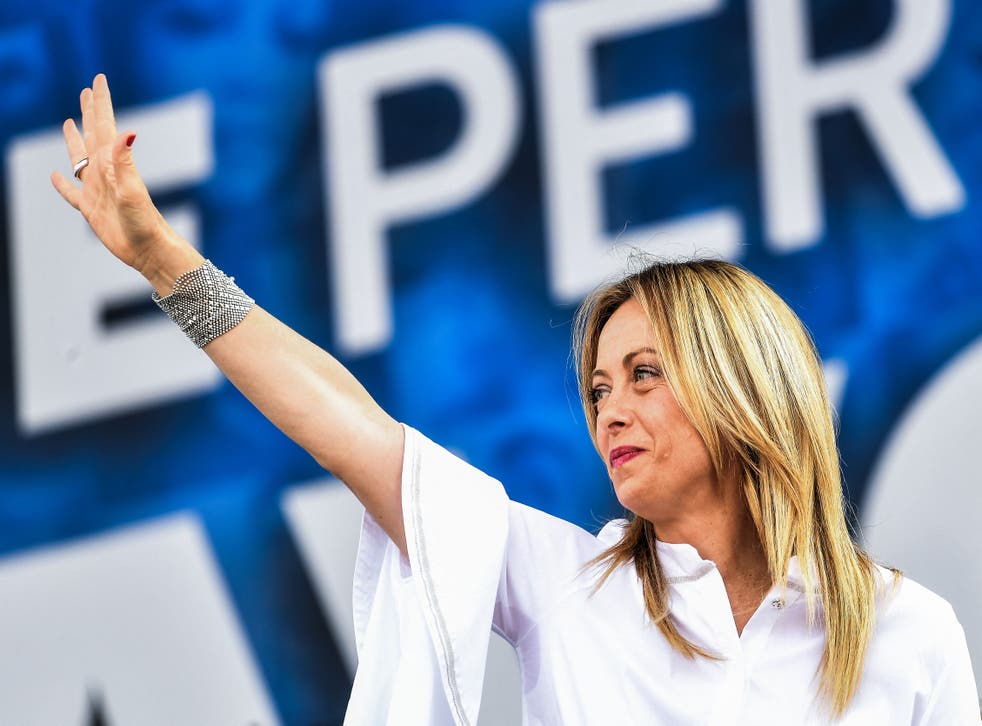 According to a media report by POLITICO, Spain's conservative Vox Party is promoting Giorgia Meloni as a part of their campaign ahead of the general elections next year. Vox Party, which has a close relationship with the Brothers of Italy's leader Giorgia Meloni and shares similar ideologies, is eyeing to benefit from Meloni's rising popularity.
A few weeks ago, Vox CEO Santiago Abascal tweeted a collage of images featuring himself and Giorgia Meloni and praised her for "showing the way to a Europe that is proud, free, and of sovereign nations, capable of cooperating for the security and prosperity of all."
Esta noche millones de europeos tienen sus esperanzas puestas en Italia.@GiorgiaMeloni ha mostrado el camino para una Europa orgullosa, libre y de naciones soberanas, capaces de cooperar para la seguridad y la prosperidad de todos.

Avanti @fratelliditalia pic.twitter.com/3bnVFA2B74

— Santiago Abascal 🇪🇸 (@Santi_ABASCAL) September 25, 2022
Not only that, Giorgia Meloni was even invited by the Vox party to an event in Spain where Meloni appreciated the party for fighting against PM Pedro Sanchez's left-wing government.
Ascending to a Pan-European leadership
So, it's pretty clear that the Vox party is using Giorgia Meloni as its face for the upcoming general elections. And without a doubt, it is giving fortunes. Along with Poland's Law and Justice party, Brothers of Italy, and Vox are members of the European Conservatives and Reformists Group (ECR) in the European Parliament. Meloni has undoubtedly shattered a political alliance in Europe by leading a party with conservative roots into power as a founding member of the EU for the first time since World War II.
It is an undoubted fact that leaders with more conservative mindsets are gaining ground amid the challenges posed by immigration, rising poverty, falling birthrates, the climate emergency, deindustrialization and youth unemployment. This is the reason why even in nations like France, conservatism has started to re-emerge again. Even in In Hungary, where Viktor Orban is reigning for the last 15 years, Meloni has become a popular face of conservativism.
Even Orban doesn't hold back when it comes to using nice selfies on social media to promote his meetings with Giorgia Meloni. After all, they all come from the same socially conservative background which stands against illegal migration and the Liberal EU.
Giorgia Meloni is also the head of the umbrella group European Conservatives and Reformists Party (ECR) since 2020, which has ties with Hungary's Prime Minister Viktor Orban and voted against a motion in the European Parliament declaring Hungary to be an "electoral autocracy."
Read More: Meloni wins the first round of the migrant war between Italy and France 
A dismayed Liberal order of Europe
Giorgia Meloni has occasionally blasted the European Union as an incompetent monster and promised that the "fun" was "over." She has also stressed that she will represent Italy's interests in the European Union and insisted that EU's law should not stand above national law.
This is the reason why the liberal order which has ruled European Union for years is resented by Meloni's election as the Prime Minister of Italy. And now, her rising popularity all across Europe might add insult to their injury. Conservative parties like Spain's Vox and Hungary's Fidesz are promoting Giorgia Meloni as if she is their own candidate. Furthermore, Meloni is making news every day by challenging the liberal European government and EU bodies, boosting her popularity to a new high.
She is indeed ascending to become a pan-European leader and, who knows, what the future holds for her in Brussels.