Many African countries view Russia as a trustworthy strategic partner, particularly in light of the West's neocolonial ideology and duplicity about multilateralism, the use of force, the rule of law, and democracy. Russia has been actively pursuing influence on the African continent for the past ten years. The recent military agreement between Algeria and Russia has only worsened the situation of an already bruised West in Africa.
Recently, Algeria has increased its defense budget to 23 billion dollars including 17 billion dollars that are planned as part of Russian arms procurement. The North African country is currently hosting a joint military exercise with Russian troops in the area of Bechar near the Moroccan borders. Algeria is already among the top three buyers of Russian arms behind China and India with procurements worth 7 billion dollars in 2021.
Furthermore, much to the chagrin of Western leaders, Algerian President Abdelmadjid Tebboune recently reiterated Algeria's "permanent solidarity" with Cuba, an arch-rival of West, in the latter's struggle to lift the Western sanctions imposed on it for over six decades.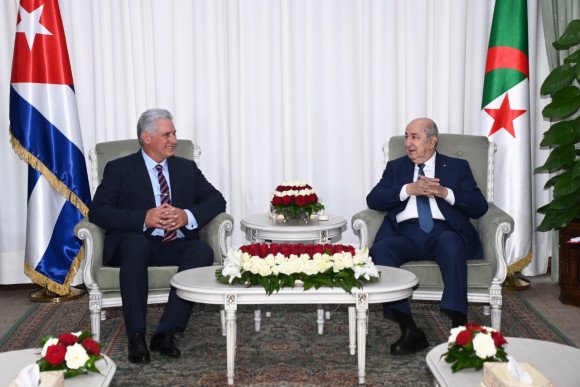 Algeria has started to be a thorn in the West's flesh and this has irked the Western nations. To be clear, western countries have traditionally attempted to influence African foreign policy. Every time an assertive African leader came to power, Western countries tried to overthrow the government using their customary regime change tactics or pounded the country with heavy sanctions in an effort to coerce it into supporting their interests. You see, an aggressive Africa would never be advantageous to the West. The riches of western countries were built on the enslavement of Africa. Perhaps their sole goal in terms of foreign policy in Africa is to deplete the continent of its natural resources in order to increase their own fortunes.
This is precisely why they have activated their sleeper cells in Algeria to defame the African country.
Read More: It's Official: Algeria has formally entered Russia's camp
West's propaganda machinery activated
Western media have recently begun criticizing Algeria for its dismal human rights record. Newslook, a US-based publication, painted another picture of a state run by a merciless administration that has transformed the country into a "giant prison" a few days after Le Monde, the New York Times, and the Economist published articles concerning Algeria's serious human rights breaches.
"Algeria is a police state, freedom of expression is under constant violation, and communication networks are under the supervision of specialized agencies. Not to forget the prosecutions, arrests, and extortion of girls and young men after hacking their pages and accounts," Algerian opposition figure and writer Anwar Malik wrote on Newslook.
It is indisputable that the West, particularly the US, has long engaged in a propaganda war with competitor nations employing Western media. The Western political system gave rise to the Western media. Much of its coverage serves as a weapon in partisan conflict. It has traditionally defended the interests of its American patrons by promoting policies in Africa that are consistent with the goals of US foreign policy. Algeria's situation is similar. Afterall, it cannot be a mere coincidence that reports on Algeria's human rights issues have begun to surface in Western media at a time when the nation has ventured to question the strength of the Western empire.
Make no mistake, the purpose of these studies is to "legitimise" the false information regarding the alleged "genocide" and war crimes that the Western countries have accused Algeria of committing. By using media propaganda to manipulate public perceptions to that goal, the US may then have the artificially created justification for carrying on meddling in Ethiopia's domestic affairs. History demonstrates how America, under the pretence of voicing "humanitarian" concerns, has tinkered in the internal affairs of a sovereign nation that dared to oppose American interests. Well, this is not a new phenomenon, the West has successfully run media campaigns and used its propaganda machinery to the fullest. America's invasion of Iraq, Afghanistan will be noted as prime instances of propaganda war in the history of the world. One more instance which will be a classic case of propaganda machinery destroying the nation, on the behest of American interest, is Libya. But this time it is failing to serve its purpose.
Western governments, however, would be naive this time to think they can turn their fantasies of orchestrating a regime transition in Algeria into a reality. African states are starting to understand the value of sociopolitical independence and self-determinism in the current geopolitical situation. They have started to fight back against any Western attempts to impede Africa's progress. There is a rising pan-African resistance to Western imperialism. They won't be vulnerable to the West's treacherous games anymore.