South-South cooperation: The conflict between Russia and Ukraine has increased West's interest in the resource-rich continent of Africa. The Western countries, desperate for energy and oil, have begun a new hunt for Africa's resources. But every attempt they have made to influence the African nations has been a colossal failure. So, they started stealing from Africa's riches. However, African nations like Nigeria and Morocco have made it clear that they will no longer permit the West to obstruct their economic development.
The African continent has been ransacked by Western nations for a very long time. Slavery in Africa served as the foundation for the wealth of the West. However, Africa has started to understand the importance of self-sufficiency in the aftermath of the pandemic induced global protectionism. African nations have made it abundantly explicit that they will not stand by while Western nations continue to commandeer them.
Nigeria-Morocco Partnership
A few days ago, Five tripartite Memoranda of Understanding (MoUs) were signed in Rabat, within the framework of the Nigeria-Morocco Gas Pipeline project.
These agreements' signing attests to the countries' determination to see this strategic project through as well as their commitment to contributing to its completion.
A new economic, political, and strategic dimension for Africa will be feasible thanks to the strategic project, which will benefit the entire West African region, which is home to more than 440 million people.
Other African countries have thrown enormous backing behind both countries for the courageous leadership they are displaying. Recently, at a meeting held on the sidelines of the U.S.-Africa Leaders Summit in Washington, participant nations while referring to the role of Nigeria and Morocco in regional cooperation and the future of the energy sector in Africa, stressed that both countries can benefit from the transformation of the global energy market needs, and that this strong bilateral partnership plays an important role in securing the global energy future.
The Nigerian Minister of Industry, Trade and Investment, Otunba Adeniyi Adebayo, highlighted the efforts made by Morocco and Nigeria to ensure access to energy and combat climate change. This includes, he said, increasing investment in the renewable energy sector, especially solar energy.
For her part, the Director General of the National Office of Hydrocarbons and Mines (ONHYM), Amina Benkhadra, said that cooperation between Morocco and Nigeria aims to establish a model of South-South cooperation and acts as a catalyst for African economic opportunities.
She recalled that King Mohammed VI has been working for more than two decades to give a strong impetus to South-South cooperation and mutually beneficial partnership between the two sides, explaining that the Morocco-Nigeria gas pipeline project represents an ideal framework for joint action.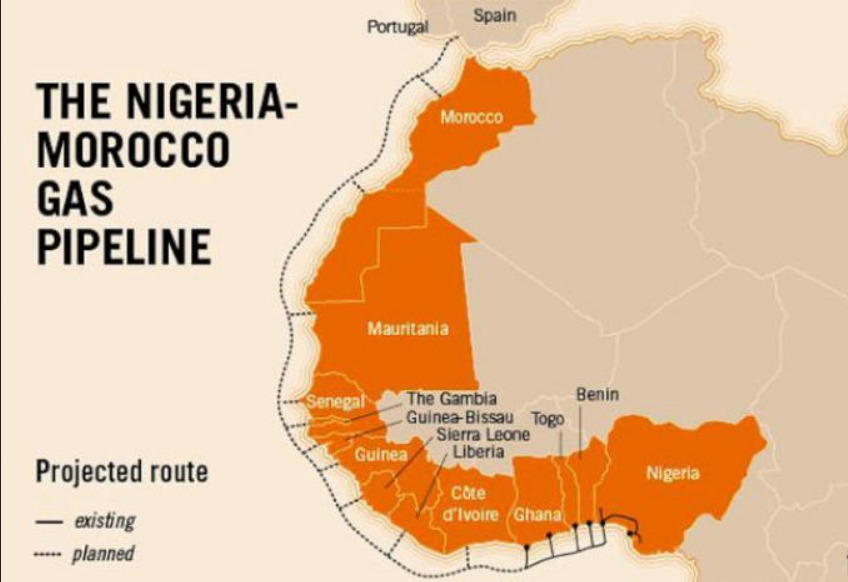 Africa's push towards Self-reliance
Truth be told, Morocco is indeed making significant gains in renewable energy initiatives. The country's expansion of solar and wind energy has been in the works since the 2009 energy strategy came into existence. The nation's officials also desired to increase the usage of renewable energy since Rabat was largely dependent on energy imports from Spain and Algeria. When oil prices were low in 2014 and 2015, Morocco gradually took down gasoline and diesel subsidies in an effort to get rid of foreign fuels.
Given its small economy, Morocco is performing far above its weight in the renewables sector. Additionally, the supply of renewable energy increased by almost 10% in the past year due to the opening of two new solar power plants and a wind farm.
And then, there is no uncertainty about Nigeria's prominence in the international economy. Nigeria is one of the largest countries in Africa and one of the world's top oil producers, giving it a domineering power that no other nation on the continent can match. Outside of oil, Nigeria has a robust mining industry, and the country is home to a number of resources that are yet mostly untapped. In recent years, Africa, Europe, and other regions of the world have come to recognise Nigeria's significant status and wealth.
It's important to note that the cooperation between the two countries is strengthening amid a geopolitical context marked by a rise in prices as a result of Russia's invasion of Ukraine and a high demand for gas and oil on a worldwide scale. Many countries are making efforts to reduce their dependency on Russian supply, particularly those in Europe. The current venture between the two African countries will therefore undoubtedly increase energy availability and usher in a new chapter in Africa's quest for economic progress.