Akshardham Temple Jaipur – Overview
Akshardham Temple located in Vaishali Nagar, Jaipur is one of the famous temples of Jaipur dedicated to the Hindu God, Narayan. The temple is known for its beautiful architecture, splendid sculptures, statues, and carvings. Akshardham Temple is one of the famous nine temples built in some of the major cities of India.
These temples were built by Bochasanvasi Shri Akshar Purushottam Swaminarayan, under the Swaminarayan Sampradaya. This temple is also popularly known as Swaminarayan Mandir or Swaminarayan Akshardham.
Akshardham Temple Jaipur Timings
This temple open from 7.30 AM to 12.00 PM in the morning and 04.00 PM to 8.15 PM in the evening.
| | |
| --- | --- |
| Open | 07:30 – 10:15 am |
| Closed for Rajbhog Thal | 10:15 – 11:15 am |
| Open | 11:15 – 12:00 noon |
| Closed | 12:00 – 04:00 pm |
| Open | 04:00 – 06:00 pm |
| Closed for Thal | 06:00 – 07:00 pm |
| Open | 07:00 – 08:15 pm |
| Mangla Arti | 6.00 am |
| Shangar Arti | 7.30 am |
| Rajbhog Arti | 11.15 am |
| Sandhya Arti | 7.00 pm |
| Shayan Arti | 8.00 pm |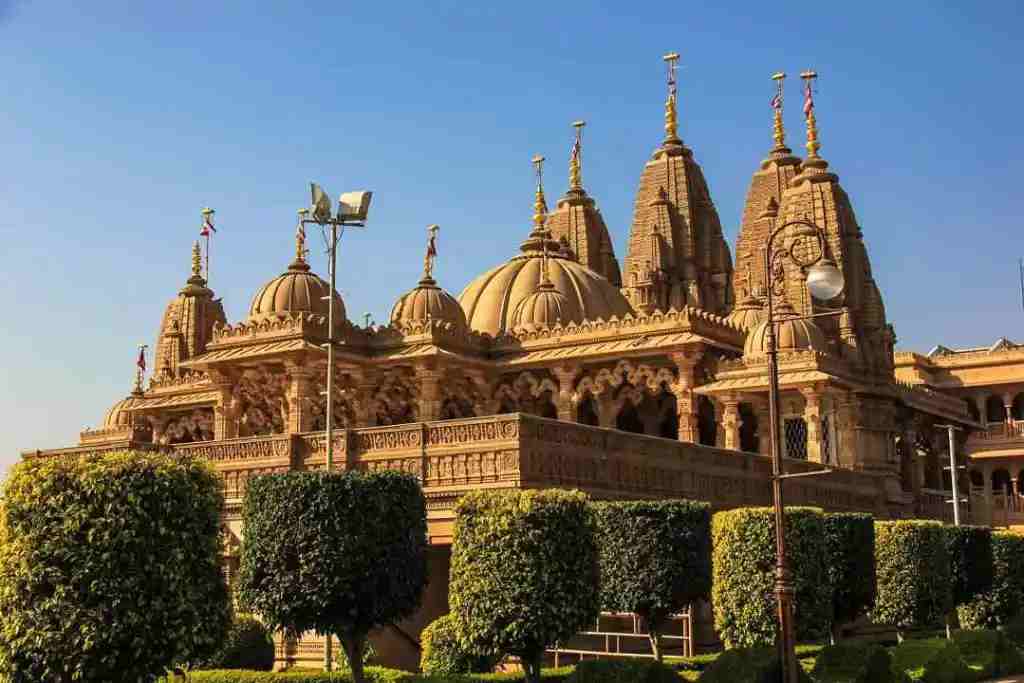 Also Read: Birla Mandir Alibaug, Timings, History, Travel Guide and How to reach
History of Akshardham Temple Jaipur
The history of Akshardham temple is not mythological history as it is a modern temple which was built recently between 19th and 20th century. In which the idol of Lord Narayan was installed. The place of worship comes under Nar Narayan Dev Gadi which is one of the two essential seats that make up the Sampradaya. Its headquarter is located in Shri Swaminarayan Mandir, Ahmedabad.
Akshardham Temple is known for its beautiful architecture, magnificent sculptures, statues and carvings surrounded by lush green gardens and fountains. The walls of the temple are beautifully decorated with number of sculptures and carvings.
Best time to visit this Temple
The best time to visit Akshardham Temple in Jaipur is between the months of October and February, which mark the winter season in Rajasthan which is the best time for your visit. The summer season is not that favorable to visit Jaipur as the temperature during this time rises up to 40°C which can hamper your trip to Jaipur.
Also Read: Bhojpur Mandir Raisen, Timings, History, Travel Guide and How to reach
Place to visit near this Temple
Aamer Fort
Jaipur is home to one of the most visited forts in India: the Aamer Fort. Built in 1592, the sandstone and marble mausoleum stands atop a small hill, about 20 minutes' driving distance from the centre of Jaipur. It is known for being an ancient example of Rajasthani architecture. Getting to Aamer Fort usually involves a short climb which is well worth the effort. The fort is divided into four distinct sections, each with a magnificent garden courtyard outside.
Birla Temple
In a city that seems to be dipped in pink from top to bottom, the white marble Birla Mandir is big time. The Hindu temple pays homage to Lakshmi, the goddess of wealth and purity, and Vishnu, one of the religion's principal deities. The marvelous structure exudes a calm, peaceful vibe, providing just the right ambience to appreciate the fine marble carvings, the shrines of the deities and the gorgeous sunset views.
Galta ji Temple
Water sources can be few and far between in the desert state of Rajasthan. So it is no wonder that when people discovered a natural spring in a mountain pass in the Aravalli Hills, they honoured it by building the Hindu temple Galta Ji.
Nestled among the rocks, the temple houses some holy water tanks, some modest fountains, as well as frescoes depicting the Hindu god Krishna. It is known as the Monkey Temple for the hundreds of macaques and langurs that live here.
Also Read: Masani Amman Temple Pollachi, Timings, Travel Guide and How to reach
How to reach Akshardham Temple Jaipur
By Air- The nearest airport to Akshardham Temple is Sanganer Airport which is at 13 kms from Akshardham Temple. From here you can reach Akshardham Temple by taking taxi, cab or bus from Sanganer airport.
By Train- The nearest railway station to Akshardham Temple is Jaipur Railway Station, which is at 7 kms from Akshardham Temple. From here You can take taxi or cab to reach Akshardham Temple.
By Road- Jaipur is well connected to all the major cities of India through a network of National Highways 8, 11 and 12. Very good bus service is also available between Jaipur and Delhi by Rajasthan State Road Transport Corporation. So here you can reach Akshardham Temple Jaipur by traveling by bus, cab, taxi, or car.
Subscribe our TFI Dharma YouTube channel to watch Devotional videos because we are here to serve Sanatana Dhrama: TFIDHARMA