Naganathaswamy Temple, Tamil Nadu – Overview
Thirunageswaram Temple or Sri Naganathaswamy Temple or Rahu Sthalam in Tamil Nadu is one of the 9 Navagraha temples and is dedicated to Rahu. The presiding deity is Lord Naganathswamy. The shrine is adjacent to the temple of Naganathswamy and has a separate shrine of Girigujambika with Lakshmi and Saraswati.
Thirunageswaram Temple Timings
Thirunageswaram Temple opens at 6:00am in the morning and close at 9:00pm in the evening.
Thirunageswaram Raghu Temple Pooja Timings
Sunday
9:30 am
11:30 am
4:30 pm – 6:30 pm
–
Monday
7:30 am –  9 am
11:30 am
–
5:30 pm
Tuesday
9:30 am
11:30 am
3:00 pm -4:30 pm
5:30 pm
Wednesday
9:30 am
11:30 am
–
5:30 pm
Thursday
9:30 am
11:30 am
1:30 pm -3:00 pm
5:30 pm
Friday
10:30 am -12:30 pm
–
5:30 pm
Saturday
9:30 am -10:30 am
11:3o am
–
5:30 pm
Temple Timings
Morning Hours: 6 am – 12:45 pm
Evening Hours: 4 pm – 8:30 pm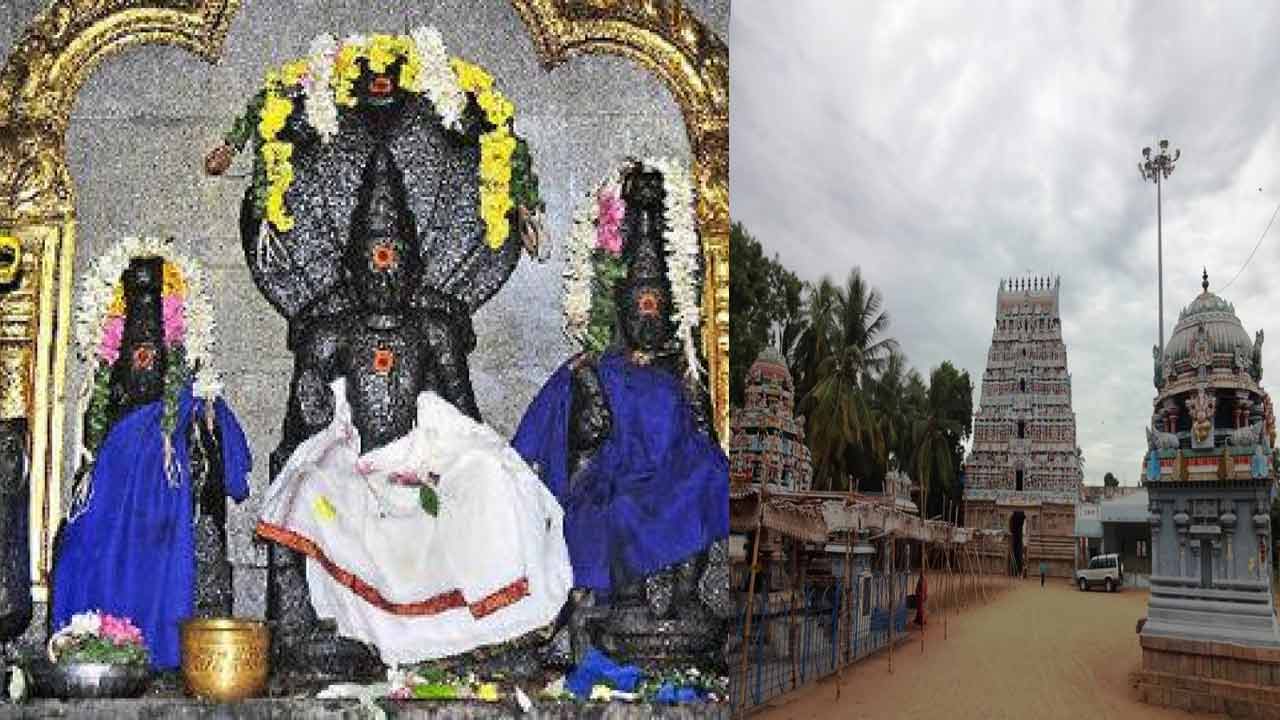 History of Thirunageswaram Temple
According to the history of Thirunageswaram Temple the Adi Seshan, Dakshana and Karkotkan Nagas worshiped Shiva here. In addition, Nala worshiped Shiva here, as Gautama Muni, Parasarar and Bhagirata are also associated with the legends related to this temple. Rahu prayed to Shiva and hence the place was named Tirunageswaram. Here Lord Rahu has appeared with both his wives.
King Sambumali, who faced the wrath of Sage Kalangiri, attained salvation after taking a bath in the temple tank and praying to the Lord of Thirunageswaram Temple and Ambal. The devas and asuras then churned the Parakadal to obtain the nectar that would free them from death, keeping them alive forever.
When Amritam emerged, Lord Vishnu in the form of Mohini was only distributing Amritam to the deities. He was worried that by consuming amirtham, the evil deeds of the asuras would multiply.
Realizing this, one of the Asuras assumed the form of a deity with the help of the Asura Guru Shukracharya and consumed the nectar. Suryan and Chandran who saw this complained to Lord Narayan. In anger, Lord Narayan hit the asura's head with a spoon in his hand.
His head fell on the ground. But because the asura had consumed the nectar, his head and body remained alive. The snake's body joined the head to become Rahu. Rahu prayed to Lord Vishnu and attained the status of a Sayagraham. Rahu takes his revenge on Suryan and Chandran, by eating them whenever he gets a chance. People usually call it eclipse.
Place to visit near this Temple
Brihadeeswarar Temple
Thanjavur Peruvudaiyar Kovil, also popular as Brihadeeswarar Temple and Raja Rajeswara Temple, was achieved by Rajaraja Chola I (985 -1012 AD) in Tamil architecture. Also, their is a big Hindu temple for Lord Shiva. The main deity of the Brihadeeswarar temple is Lord Shiva.  Where he is worship as Lord Brihadeeswarar and he has three eyes.
Thirunallar Temple
Sri Darbaraneswarar Temple is the abode of Lord Shani. The temple is also most famous for Lord Saneeswarar, one of the 9 Navagrahas. Various pujas are also offered to Lord Saneeswarar God every day. Apart from this, the other deities of the temple are Swarna Vinayaka, Lord Subramaneswara Swami and Tyagarajar.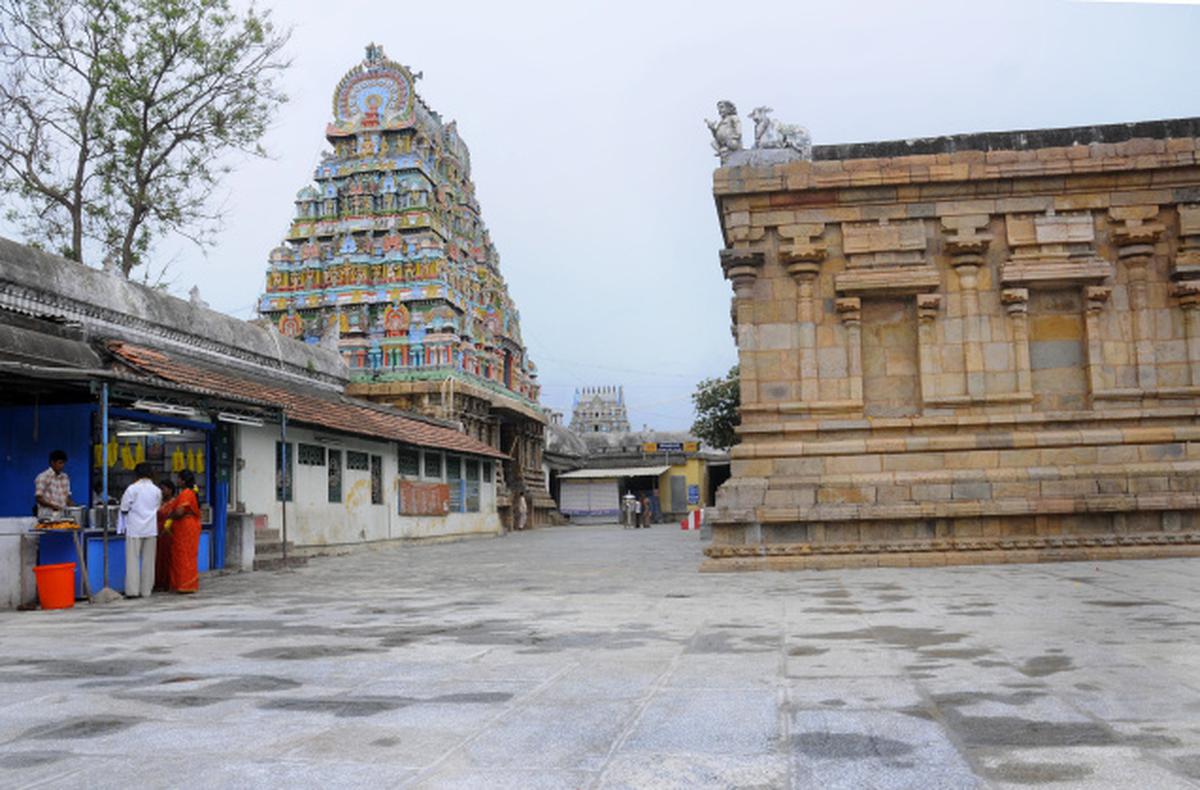 Also Read: Siruvapuri Shri Balasubramaniaswamy Temple Timings, History, Travel guide and How to reach
How to reach Thirunageswaram Temple
By Air- The nearest airport from Thirunageswaram Temple is Tiruchirappalli International Airport. From here you can easily reach this temple is by using local transport services.
By Train- Thanjavur Railway Junction has three rail heads leading to Tiruchirappalli, Kumbakonam and Tiruvarur. From here also you can easily reach this temple by using local transport services.
By Road- Buses are available from Kumbakonam (8kms), 10 minutes journey from Kumbakonam, Tanjore and Trichy, Buses are also available from major cities like Madurai. Roads to Thirunageswaram Temple are well connected with other cities of the country so you can also easily reach this temple by using local transport services.
Subscribe our TFI Dharma YouTube channel to watch Devotional videos because we are here to serve Sanatana Dhrama: TFIDHARMA