The African continent has been mired in conflicts and political powerplay. Earlier, powers foreign to the land displayed their might, in a desperate attempt to establish their dominance. But recently, local players have emerged to participate in geopolitics. The most recent example is of Kenya and Tanzania.
Kenya aspires to gain prominence in East Africa, as it envisions a stronger East African Community. It has taken steps to ensure that it plays a central role and becomes an anchor for peace, stability and prosperity in the region. Thus, Kenya also wants to solidify its claim over IGAD leadership.  However, now it has got its competitor – Tanzania, in the region as well, which is set to threaten its position in the continent.
Tanzania's SGR railway line to DRC
According to experts, Tanzania's $2.2 billion trade route to DRC will threaten Kenya's trade influence in East Africa. The SGR railway line to DRC is set to be completed in 2026.
Tanzania's current administration has placed huge importance to growing its economy via establishing stronger trade relationships. It announced in December that it would partner with China to build the final section of the 2,102 km SGR railway line extension.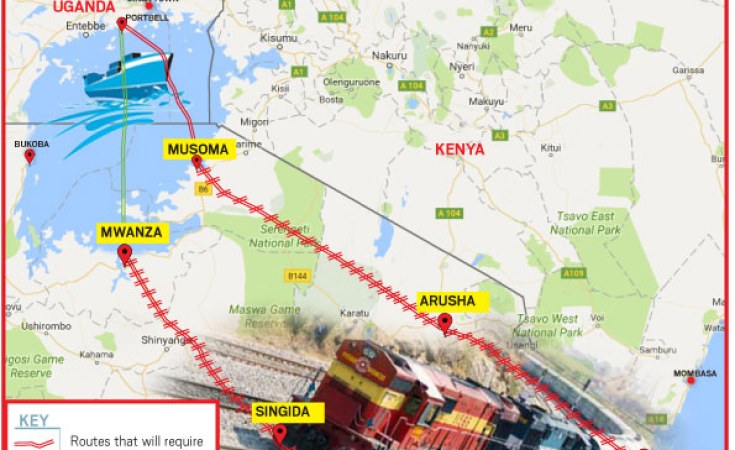 As per Tanzania's President, the main objective of this project is to link Tanzania to Burundi and the Democratic Republic of Congo. If it is completed by 2026, the SGR railway line would be the most ambitious in Africa; standing as the longest stretch of the railway line on the continent.
This is set to intensify the trade route competition between the two East African nations.
Threat to Kenya's trade influence
In 2014, Kenya too, signed a tripartite agreement with the governments of its East African neighbors, Rwanda and Uganda. The agreement focused on building a standard gauge railway from Mombasa through Kampala, Uganda to Kigali, Rwanda.
Read More: Turkey Pips China in Ugandan Railway Project
However, this project was cut short, due to a last-minute fallout with its Chinese construction partners. Now, as Tanzania too, prepares to consolidate its influence, it must move to complete the last phase of this railway.
"Whoever completes the railway fast—Tanzania or Kenya—will dominate the trade in the region," said Mr. Ikiara, an economist and former transport permanent secretary in Mwai Kibaki's government.
Tanzania vs Kenya
Tanzania's SGR (standard gauge railway) line to neighboring landlocked countries, essentially threatens Kenya's plan to control East Africa's logistics corridor.
A decade ago, Kenya, Uganda, Rwanda and South Sudan agreed to build a high-speed SGR to carry freight and passengers between Mombasa and the South Sudanese capital Juba, via Malaba, Kampala and Kigali.
Kenya had also received US$5 billion from China Exim Bank to build the first phase of the railway. Stretching from Mombasa to Naivasha in the Central Rift Valley, it was completed in 2017.
 Read More : Kenya's pre-emptive strategy to retain its 'Big Brother' image
But plans to extend the line to Malaba on the border with Uganda floundered amid accusations that China was engaged in "debt-trap diplomacy" in Africa. Since then, China has been unwilling to release funding and expressed reservations about the financial viability of the extension.
Thus, recently Uganda cancelled its contract with China to build the railway and is considering a deal with a Turkish company, Yapi Merkezi.
Kenya's railway must reach landlocked Uganda, which imports many of its products via Mombasa, if it is to be commercially viable. But now, Uganda could be tempted by an alternative route to the coast through Tanzania.
This will be a challenge to Kenya's ambition to act like the "big-brother" in East Africa and its quest to play the role as the regional leader. Ever since Ruto came to power in Kenya, he has launched a diplomatic charm offensive and is forging regional ties to boost the country's foreign policy. However, now it seems Tanzania is challenging Kenya's claim to be the regional leader. This kind of healthy competition among regional players in Africa is a welcome change. It will surely lead to improved economic performance of the continent at large.