Mercosur was once a distant dream of many nations in South America. But when it was created, hopes were high, that finally the path to regional integration in the continent would materialise. But despite all this, it still remains what it was- a distant dream. It had the potential to counterbalance NAFTA (North American Free Trade Agreement) and the European Union. But it has turned into a swamp, ever still with no sight of growth.
Though, the last three decades have shown how irrelevant the organisation has become. It had the potential to counterbalance North American Free Trade Agreement (NAFTA) and the European Union (EU).
On January 28th, Argentine President Alberto Fernández claimed that the Mercosur trade bloc and the European Union would soon strike a trade agreement. This was during German Chancellor Olaf Scholz's visit to Argentina.
Read More: Whose interests is Germany safeguarding in South America?
One almost starts to daydream about South America rising as a major trading partner and a major geopolitical force. But promises like these have been made and broken for more than two decades; 23 years since the idea was first brought up.
Fading star
Created by the Treaty of Asunción in 1991 the bloc has Argentina, Brazil, Uruguay, Paraguay and Venezuela as its members. It was hailed as a quantum leap as it ended decades of political animosity between Argentina and Brazil.
However, the South American bloc has been experiencing a persistent, worsening crisis since 2000. The trend was shaken by the 1999 Brazilian devaluation and the 2001 Argentine crisis. It led political leaders to favour economic protectionism over economic liberalisation. Plus, rampant political unrest and disunity among the member states, has plagued the region with economic stagnation.
In the last few summits, the infighting got even worse.
Uruguay's President Luis LaCalle Pou has urged the bloc to be more flexible. He asked for transforming the region into a free trade zone. He also asked to allowing individual nations to negotiate free trade deals without requiring consent from the other members. However, Argentina's President asked him to "take another boat."
Basically, to leave the group.
Similar thing happened in 2017. Venezuela was suspended by the bloc to meet basic standards of the organisation. Well, who decides these standards?
Brazil and Argentina.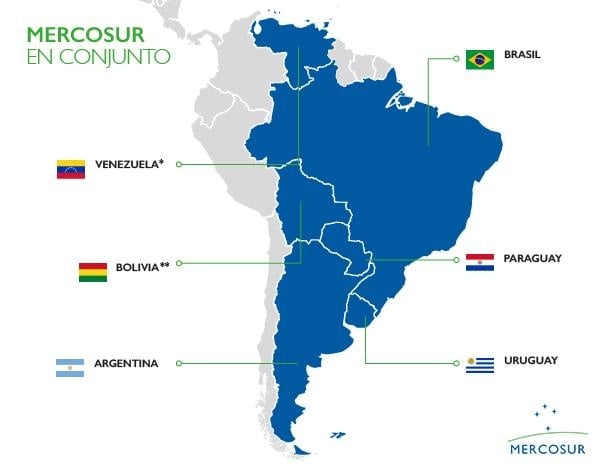 Nearly 90% of the GDP of the bloc is made up of Argentina and Brazil, giving them considerable clout in discussions. Critics claim that the two larger nations use Mercosur as a trade shield to shelter their industries from domestic and international competition.
Also Read: Political Instability – Latin America's biggest obstacle
The spat has sparked serious debates about reorganising the alliance, which may ultimately result in a breakup. Many view it as bullying directed at the smaller nation.
To establish credibility and the self-confidence required to carry out trade agreements with other areas, the bloc must first achieve internal cohesion. The spat highlighted that there isn't a minimal consensus within it. The future of the union has been called into question since each leader has a distinct idea of what economic unity involves.
Despite having a strong beginning as a strategy for economic integration, it has been declining since the start of the twenty-first century, with more setbacks than successes. If this continues, Mercosur will continue on its path to irrelevance. It will likely turn into yet another failed attempt at regional integration in the region.