Italy's PM Giorgia Meloni has all the qualities to become a pan-European leader. At the onset of the Italian Prime Ministerial elections, her popularity showed a steep rise, which transcended the Italian territorial boundaries. She was seen as a substitue to the ailing Liberal leadership.
But Meloni's journey, as anticipated, would not be an easy one. She has constantly faced criticism from her European counterparts, including French President Emanuel Macron, another contender in the race to spearhead the European autonomy movement.
Royal Snub
Italian Prime Minister Giorgia Meloni criticised France and Germany after she was not invited to a dinner in Paris with Ukrainian President Volodymyr Zelenskiy, adding to friction between the European Union allies.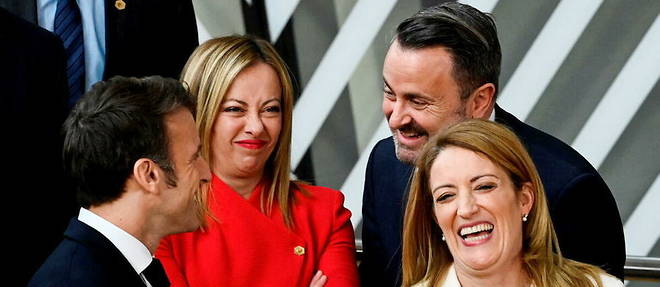 French President Emmanuel Macron and German Chancellor Olaf Scholz met Zelensky on Wednesday evening, ahead of an EU summit on Thursday.
But unlike last year, when the then-Italian Prime Minister Mario Draghi worked hand-in-hand with Macron and Scholz on Ukraine, Meloni was left out in the cold. Speaking to reporters as she arrived at the Brussels summit, Meloni, who took office last October, said she thought the snub was "inappropriate".
Read More: US forces all set to invade Peru (legally)
"I think our strength in this fight is unity," she added
Asked about her comments, Macron said he thought Wednesday's dinner had been fitting.
"As you know, Germany and France have had a special role on the Ukraine question for eight years," he told reporters, referring to joint mediation by the two countries that tried, and failed, to prevent conflict between Russia and Ukraine
There's a fine message between Macron's comments. The stress on France and Germany's role in relation to the Russo-Ukraine War is indicative of the attempts to sideline Meloni's Italy.
Italy out casted
Things were different when Draghi was the PM. He travelled with Macron and Scholz to Kyiv by train last June and played a leading role in shaping EU opposition to Russia, following its invasion of Ukraine.
Read More: South America Unites to Bid for FIFA 2030 World Cup
Meloni has pledged to maintain the same pro-Ukraine stance. However, desire of Giorgia Meloni to fight with France and Germany for the moniker of European leader has put her at odds with both Macron and Scholz .
Undoubtedly, she was disappointed after not being invited. The Russo-Ukraine war has provided an opportunity for the main European powers to demonstrate their strength. This is precisely why France and Germany have been active participants in the fight since its outset. The recent incident is thus, another indication of why Meloni's quest to overtake France and Germany as the leader of the European world would be a perilous voyage.