Thanks to Zelensky's falsehoods and the West's persistent provocations, the Russo-Ukraine conflict has caused unprecedented levels of deaths and destruction.
Unlike the leader-cum-comedian in Kyiv, who is under the illusion that a documentary with "60 Minutes Australia" or an interview with CNN can change public perception, Vladimir Putin is not a warmonger. He has never advocated the idea of military aggression against a peace-loving country which respects other nations' sovereignty.
However, Putin was forced to change his foreign policy and military strategy due to the uninterrupted endeavours of Biden and Leyen to destabilise Russia. As Zelesnky keeps calling on his dishonest allies sitting in Washington and Brussels, to deliver weapons and financial aid, Moscow keeps gaining significant territories in Ukraine.
One such territory is the city of Bakhmut. Experts say that its annexation will determine the fate of Russia's military operation in Ukraine. Let's see why they are saying so!
Bakhmut, formerly known as Artemivsk or Artyomovsk from 1924 to 2016, is a city in east Ukraine. Bakhmut serves as the administrative centre of Bakmut Raion in Donetsk Oblast. Located on the Bakhmutka River, Bakhmut is around 89 km north of Donetsk. Bakhmut was designated as a city of regional importance until 2020.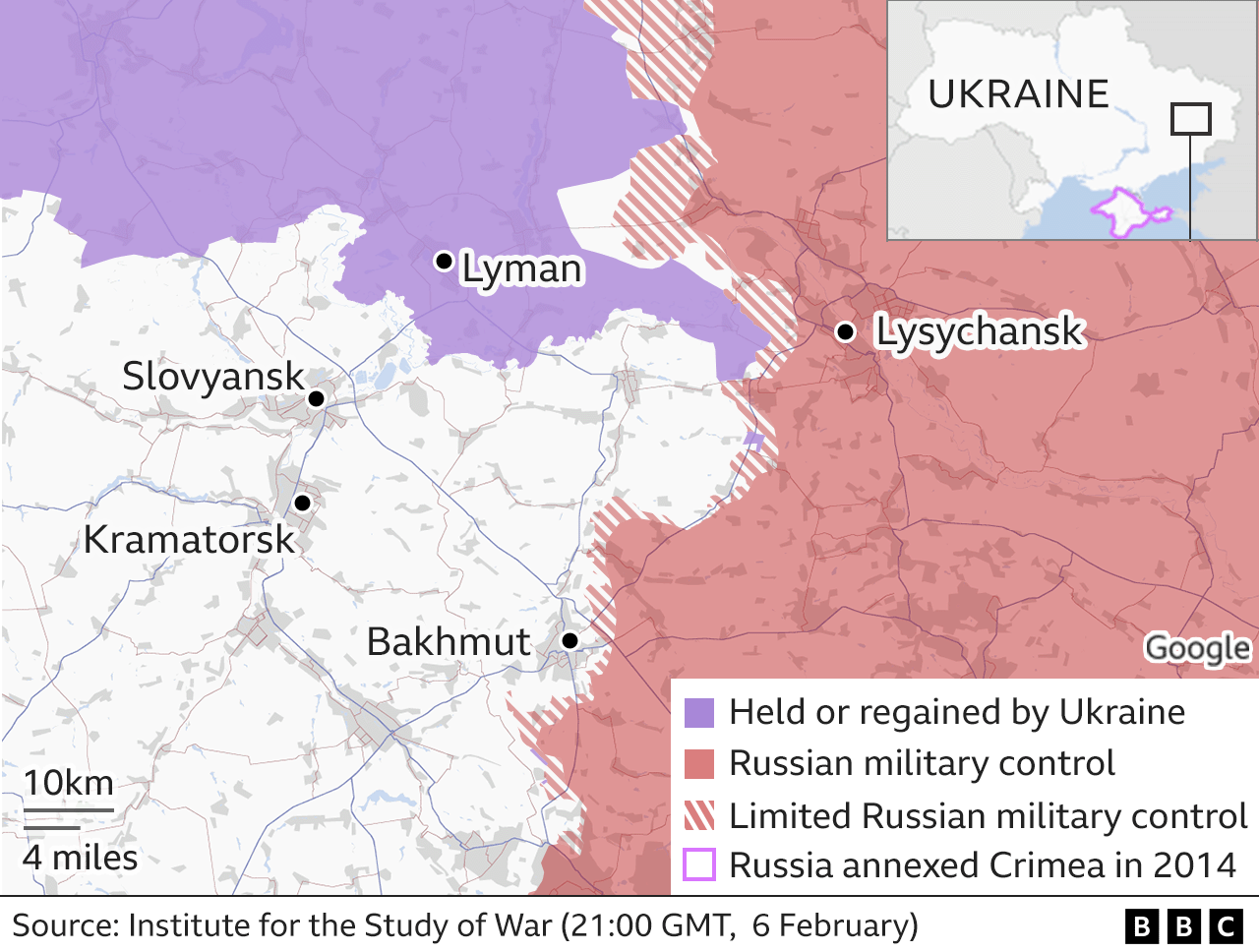 Bakhmut used to be the capital of Slavo-Serbia from 1753-1764 as it was established by mainly Serbian frontiersmen.
Why Bakhmut is so important for Putin?
In the Donbass region of Ukraine, where separatists control Donetsk and Luhansk and which Russia recently asserted to have annexed, Bakhmut is situated on a vital supply route.
According to experts, Bakhmut's capture may potentially alter the direction of the conflict and provide Russia with a base to begin a wider campaign throughout much of Ukraine.
Esref Yalinkilicli, a Moscow-based Eurasia analyst, claims that Bakhmut, a word of Turkic origin that literally translates to "steppe horse," has suddenly turned into a prestige issue for Moscow. The Russian military's possible access to Slovyansk and Kramatorsk, two significant industrial hubs of Ukraine in the energy-rich Donbass region, may be facilitated by Bakhmut's seizure.
Read more: Zelensky was All Set to be Removed in a Coup but Things Changed Pretty Drastically
The bulk of the population in Donetsk and Luhansk speaks Russian, and there is a perception that if Moscow is unable to maintain control of these territories, it will be much more difficult for it to do so in other Ukrainian regions.
According to the analyst, who is citing official Russian data, Russia's control over the Donbass region, which is home to 92.4 percent of Ukraine's coal reserves, has significantly decreased in recent months. From 65 percent at the beginning of the offensive to about half of the region.
Capturing Bakhmut might be a crucial first step in Moscow's eastern offensive if its goal is to take Donetsk and Luhansk by the spring. Bakhmut, according to Michael Kofman, director of Russia Studies at the American Center for Naval Analyses, is "a gateway" to Sloviansk and Kramatorsk, both of which have recently been the targets of Russian missile strikes.
A strong salt mining business historically dominated Bakhmut, which included the neighbouring tiny town of Soledar, which Russian soldiers completely overran in January. Bahmut's former population of about 73,000 has been reduced to just a few thousand people without heat and electricity, making it essentially uninhabitable.
After months of fierce combat, President Zelenskyy said in December that the city had been reduced to "burnt ruins."
Apparently, at the same time, many news reports and probes affirm that Russia has been making constant progress in Bakmut.
Russia is making gains in the crucial city 
In fact, according to the leader of the Russian-controlled portion of Ukraine's Donetsk region, in January, units of the Wagner group were advancing in the town of Bakhmut, while a senior Ukrainian official also reported that the battle in those two towns was intensifying.
The Bakhmut and Vuhledar districts are under increased pressure from the enemy, according to Hanna Maliar, Ukraine's deputy defence minister.
Fighting was going on in previously Ukrainian-held areas of Bakhmut, according to Denis Pushilin, the Russian-appointed governor of Russian-controlled areas of Donetsk province, which Moscow declared annexed last September.
He was quoted by TASS news agency as adding that "units, particularly Wagner, are advancing in Artyomovsk itself."
In advances that the Wagner group claimed were their own, Russia announced earlier this month that it had taken Soledar, to the northeast, and Klishchiivka, just south of Bakhmut. In a video that was shared online earlier this week, Pushilin was seen travelling to Soledar.
According to Pushilin, seizing Soledar allowed for the blocking of Ukrainian supply channels and the control of several regions from which Ukrainian forces had been launching retaliatory attacks, according to the RIA news agency.
Similarly, according to the Reuters news agency, on 1st February, the Russian military surrounded Bakhmut.
Yan Gagin, an adviser to Denis Pushilin,  declared on television that "Bakhmut is already operationally surrounded, and our soldiers are closing the ring around the city."
Gagin alleged that battles were currently being fought for control of the Chasiv-Yar-Bakhmut road.
On 4th February, Zelensky acknowledged that the front-line situation is only growing harsher in his nightly address, claiming that Russia was assembling more soldiers to breach Ukraine's military lines.
According to claims from the Kremlin-controlled Wagner mercenary outfit, Russia has virtually half-encircled Bakhmut. It was also said that the mercenaries were attempting to block the road leading from Bakhmut to the nearby Ukrainian stronghold of Kostiantynivka.
Confirming the claims of Russian forces, on 5th February, the U.K. Defense Ministry said, Bakhmut is becoming "increasingly isolated" as Russian forces get closer to encircling the city, making it more difficult for Ukraine to continue supplying its troops there.
In its intelligence bulletin, the U.K. Defense Ministry also confirmed that Russia has continued to make small advances in its attempt to encircle Bakhmut over the previous week. As a result, the two primary logistical routes into the city from Ukraine are now in the Russian artillery's line of fire.
And on 10th February, a tweet from IFE News Agency further authenticated the fact that the fall of Bakhmut will occur in the next few days. The news outlet has reported that Russian forces have surrounded the strategic city from all sides and are closing in on it.
Read more: Was Putin really trying to assassinate Zelensky? The truth is out now
Therefore, these reports, investigations and intelligence only corroborate the assertions of Russia. Vladimir Putin, who is well aware of the next move of Washington and Brussels, is treading on the fluctuating rope of diplomacy cautiously.
He realises that his one mistake can result in disastrous repercussions for Russia's diplomatic, political and economic interests. Putin has deployed a huge chunk of his forces in Bakhmut because he knows that its annexation is indispensable in his crucial battle to teach the treacherous West that attacking the territorial integrity of Russia has dire consequences.
Perhaps it is reasonable to state that the success of Russia in this war, which is the result of the blunderous moves of Zelensky who acts on the draconian commands of the US and Europe, is necessary not only for Moscow itself but for all those nations whose political sovereignty and security was destroyed by the malicious agenda of the West.
The capture of Bakhmut by Russia is inevitable. The geopolitical experiences have often demonstrated that Russia never abandons any tactic or strategy which it believes is crucial in the accomplishment of its ambitions and aspirations. Currently, Bakhmut is the key to establishing greater control in Ukraine and that is an opportunity which Putin, even in his wildest dreams, will never abandon.