Argentina and Malaysia are joining forces and bringing the energy sector to a whole new level! YPF, state-run energy company of Argentina, and Petronas of Malaysia are teaming up to create the world's new gas hub.
This five-phase project could be the key to unlocking Argentina's vast potential and becoming a major exporter of LNG. Get ready to witness a revolutionary move in the energy sector and see the potential of Argentina's Vaca Muerta on full display.
YPF and Petronas anticipate reaching a verdict next year regarding investing in the initial stage of a massive $60 billion gas project in Argentina, according to the head of YPF.
This five-phase project, which involves gas production, storage, pipeline transportation, and liquefaction, is critical for the South American nation in order to make use of its vast reserves and become an LNG exporter.
In February, a team of Petronas specialists visited Argentina to organize the beginning of the project, which is anticipated to cost between $5 and $6 billion to construct facilities that can generate up to 5 million metric tonnes of LNG annually.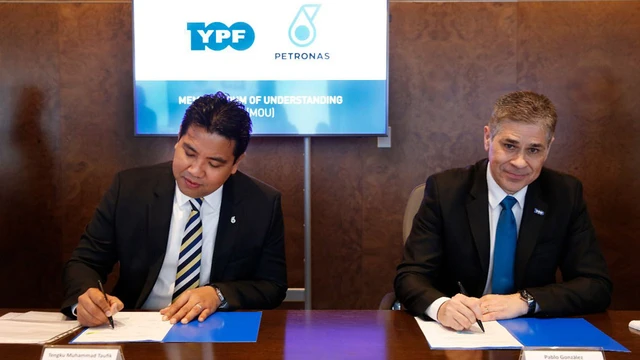 Flavia Royon, Argentina's energy secretary, declared that the completion of the first phase of the gasline's construction is scheduled for June. Royon said that negotiations with Saudi Arabian and Chinese funds to secure bank financing for the second phase are expected to take place during the second quarter.
Argentina, home to one of the globe's most voluminous shale gas reserves, is nonetheless forced to buy energy from abroad to power its electric grid. The cost of its energy shortfall in 2022 was around $5 billion.
Royon said that this month, the government of Argentina will be submitting draft legislation to Congress for the promotion of LNG and hydrogen production. These proposed gas laws, which were anticipated to be discussed by Congress earlier this year, would offer incentives for the building of LNG facilities and the related infrastructure.
He stated that the bill is likely to consist of actions to guarantee economic stability, acquire currency markets and provide companies with authorization to invest in long-term gas and LNG ventures.
Excelerate Energy, a company from the United States, is aiming to construct a Vaca Muerta liquefaction plant in conjunction with Transportadora de Gas del Sur (TGS) of the local area by 2025, provided that the new legal framework is approved.
Fernandez's Only Hope
The Argentinian government of Alberto Fernández is rushing to finish building a gas pipeline that spans 356 miles before winter arrives, as demand for gas and imports is anticipated to surge. Vaca Muerta is the second-largest shale gas deposit and fourth-largest shale oil deposit on the planet. When the pipeline is built, the massive resources of Vaca Muerta can be accessed easily by major cities.
The pipeline could be essential in attaining a major objective of the Argentinian government: sustaining the value of the Argentine peso. Ever since the Russia-Ukraine war started, the authorities have talked about their capacity to supply the international energy industry. However, they have yet to manage to be completely self-sufficient in terms of energy within their own borders.
In the past few years, Argentina has invested heavily in Vaca Muerta and its production is increasing rapidly at a rate of double digits yearly. Before 2018, the nation was barely producing any oil and gas from unconventional sources, as per official data. Now, shale resources make up 44% of the country's total oil production and 39% of gas production.
Also Read: Argentina's Push to Uproot UK From Falkland Gains International support
As sanctions against Russia are changing the way energy is supplied, Argentina's potential in Vaca Muerta may put the country in competition with renowned LNG providers such as Australia and Qatar, according to a report from S&P Global Commodity Insights last year.
In January, German Chancellor Olaf Scholz visited Buenos Aires to discuss two of Argentina's most strategic assets, lithium and gas. This comes as Germany is facing an energy crisis due to its dependence on Russian imports. Scholz emphasised the importance of coordinating energy policy and supply, including Liquified Natural Gas.
The first phase of the pipeline program links Vaca Muerta to Buenos Aires province. A second phase would permit exports to Brazil. Argentina has stated that it may be able to dispatch gas to Brazil as early as September.
Vaca Muerta has the potential to not only provide financial savings in the present, but also to break Argentina's long-term cycle of stagnation and decline. According to the U.S. Geological Survey, there are 14.4 billion barrels of oil and 38 trillion cubic feet of natural gas beneath the surface. This could enable Argentina to receive up to $20 to $30 billion annually in gas sales, as estimated by the government. However, these benefits will only be realized when the pipeline is built and functioning.
And, Argentina's partnership with Malaysia is a step in that direction.