Poland's relationship with Germany has been marred by a long-standing rivalry and a series of broken promises. Recent events have only served to deepen the animosity between the two nations. Poland's discontent with Germany's economic and military dominance in the European Union (EU) has reached a boiling point, prompting Poland to take drastic measures to assert its own power. In this article, we delve into Poland bold actions and the stark challenge they pose to Germany's leadership in the EU.
Historical Grievances Ignored
Poland has borne the brunt of the Covid-19 pandemic, with devastating effects on its economy. The EU had promised financial aid to rejuvenate Poland's struggling industries, but to no avail. Germany, in particular, pledged to replace Poland's outdated Soviet-era tanks with modern Leopard Tanks—a commitment that remains unfulfilled. Poland's loss of its tanks in Ukraine was met with indifference from Germany, leaving Poland without the promised support.
Adding insult to injury, Poland has been denied both its rightful COVID-19 relief funds and its overdue Second World War reparation funds. Meanwhile, Germany callously stationed its missiles on Polish soil, demanding the construction of state-of-the-art silos. In a shocking turn of events, these missiles remain housed in exposed, roofless chambers with no intention of being returned.
A Bold Stand Against German Dominance
Fed up with Germany's economic and military superiority, Poland has made a defiant move to build the largest army in Europe. It has seized an opportunity that arose when Indonesia withdrew from a partnership with South Korea to build KF-21 fighters. Poland swiftly filled the void, aligning itself with South Korea to spearhead the KF-21 fighter program. This audacious step will undoubtedly tilt the balance of military power in Poland's favor, directly challenging Germany's dominance.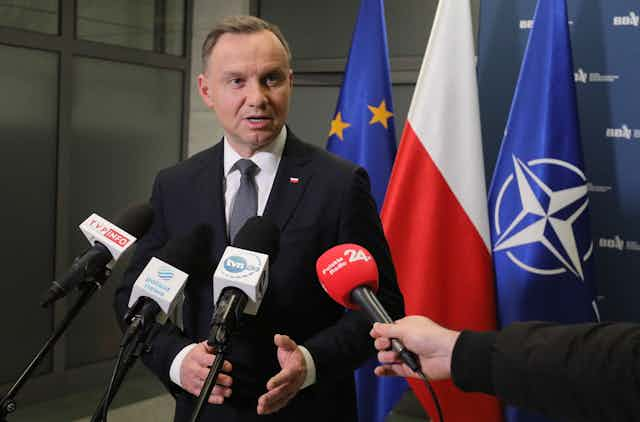 Furthermore, Poland had previously emerged as the largest buyer of South Korea's defense systems in 2022, with a massive acquisition that included 180 K2 main battle tanks, 212 K9 self-propelled howitzers, and 48 FA-50 light fighters. These military acquisitions demonstrate Poland's unwavering commitment to bolstering its own forces and diminishing Germany's sway.
Also Read: As France vamooses the top seat, Poland eyes a smooth Takeover!
Implications of Poland's Defiance
Poland's resolute actions have far-reaching implications for Germany's leadership within the EU. By bolstering its military might, Poland has effectively positioned itself as a formidable force to be reckoned with. In negotiations and decision-making processes within the EU, Poland will now wield significant leverage, while other member states may hesitate to blindly follow Germany's lead.
Poland's audacity is not solely rooted in challenging Germany's leadership; it is an expression of profound frustration over long-standing grievances that Germany has long ignored. For years, Poland has felt mistreated and sidelined by its neighbor, and now it is taking a stand to assert its worth and demand the respect it deserves.
Poland's resolute actions have thrown down the gauntlet, challenging Germany's leadership in the EU. The unprecedented expansion of Poland's military prowess will undoubtedly shift the power dynamics within the Union. Germany must acknowledge Poland's bold moves and address the unresolved issues that have fueled this rivalry for far too long. Failure to do so risks further erosion of Germany's influence and the emergence of a new power center in Europe. The time for complacency and broken promises is over—Poland demands recognition and equality.