In a momentous event on April 4th, 2023, Finland joined the esteemed ranks of the North Atlantic Treaty Organization (NATO), becoming its 31st member. 
This decision marked a seismic shift in the security landscape of northeastern Europe, effectively extending the alliance's frontier with Russia by a staggering 1,300 kilometers (830 miles).
Amidst great fanfare and in the presence of notable figures such as US Secretary of State Antony Blinken and NATO Secretary General Jens Stoltenberg, Finland's Minister for Foreign Affairs, Pekka Haavisto, officially sealed the Nordic nation's accession at the NATO headquarters in Brussels. 
The move dealt a significant blow to Russian President Vladimir Putin, who has long sought to undermine NATO and explicitly warned against further expansion before his invasion of Ukraine.
The Support
Interestingly, it was just a year prior, in February 2022, when the Finnish population began expressing their desire to join NATO. A poll conducted by Finland's state broadcaster Yle revealed that 53% of Finns supported joining NATO, a significant increase from the mere 19% in favor in 2017. 
The tide seemed to have turned decisively in NATO's favor, with support reaching an astonishing 78% by May 2022.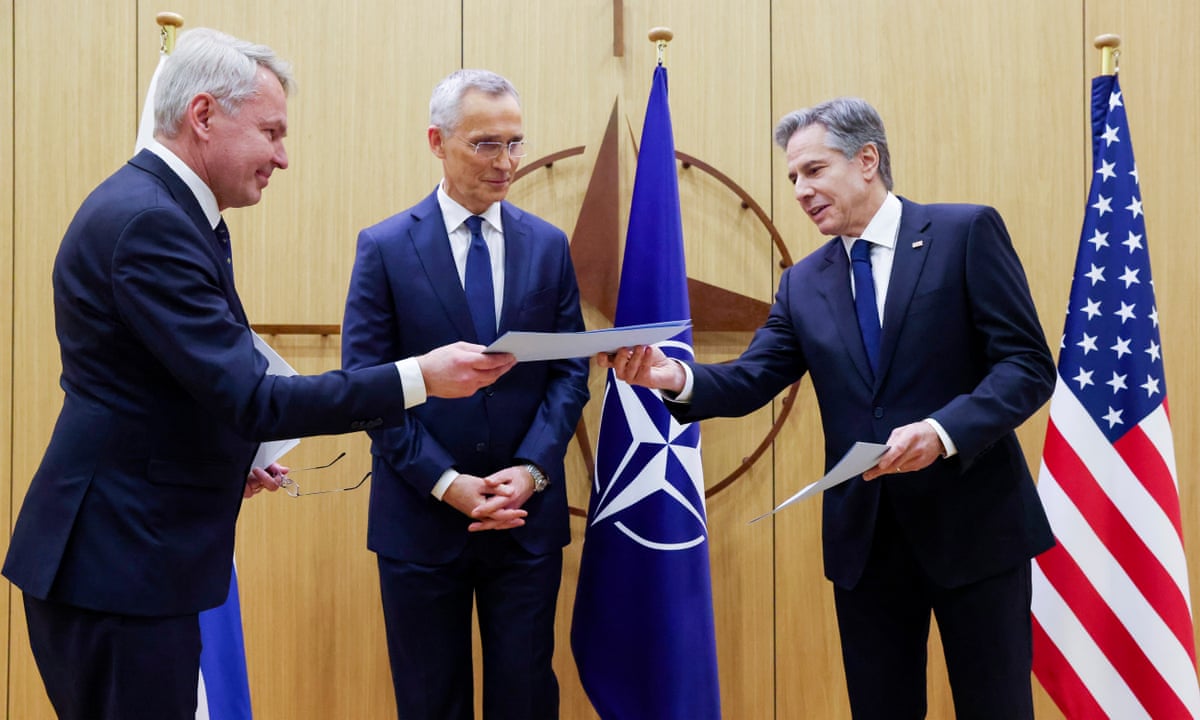 However, the aftermath of Finland's NATO accession led to a dramatic turn of events. Western allies wasted no time in proposing plans to station troops and nuclear warheads in Finland, arousing intense debate and stirring doubts about the West's true motives behind allowing Finland to join the alliance. 
Many questioned whether Finland's acceptance into NATO was solely due to its willingness to accommodate such controversial measures.
Today, Finns find themselves at a crossroads, their aspirations shattered and their unity crumbling. The issue of permanent NATO bases on Finnish soil has divided the nation, with 42% vehemently opposing the idea. 
Read More: Finland Threatens NATO
No Troops now 
Now, three-fourths of Finns (77%) firmly opposes the presence of nuclear weapons on Finnish territory, with 61% objecting to their transportation across the country.
Despite these divisions, Finland's current right-leaning government has decided to embrace NATO's nuclear protection as a fundamental aspect of the country's security policy. 
It is worth noting that surveys still claim majority support for NATO among Finns, but these statistics raise doubts about the true sentiments on the ground.
Read More: Sanna Marin had opened Finland's treasury for Zelensky, Orpo closes it
Perhaps, as the events in Ukraine unfold, Finns are starting to grasp the complexities of the situation, just like the rest of Europe. They are beginning to see the hidden game being played by the United States, covertly fighting a war against Russia and inadvertently pushing the entire region into chaos. Finns, rightfully so, are wary of chaos and its potential consequences within their borders.
The doubt that has arisen within the Finnish population regarding NATO reflects a deeper understanding of the real stakes involved. Finns are cautiously reconsidering their stance, realizing that the path to security may be far more complex than they had initially anticipated.
Watch More: