Once upon a time, there was a leader named Justin Trudeau who embarked on a grand stupendous adventure, trying to bring together two opposing forces—the LGBTQ+ community and Muslims—in a harmonious union.
It is a daring experiment, reminiscent of our childhood days when we futilely tried to join opposite poles of magnets together. But oh boy, this was Trudeau's most laugh-worthy endeavor yet.
The Liberal Party of Canada, known for its inclusive values and multiculturalism, had long enjoyed the support of diverse communities, including Muslims. Prime Minister Justin Trudeau tirelessly advocated for equality, social justice, and human rights, which resonated with many Muslim Canadians.
However, recent events have caused a dent in Trudeau's standing among Muslims.
In a bizarre incident, Arab-Canadian youngsters were caught gleefully stomping on miniature rainbow flags at an "anti-gender ideology" protest in Ottawa. They were encouraged by a group of headscarf-clad women, possibly their relatives, and a curious onlooker wearing a niqab.
It exemplified the growing divide between Muslim Canadians and the progressive left, particularly regarding Pride-related activities involving minors in schools.
Muslim Divide on LGBTQ+
Muslim groups, supported by allies from various faiths, have increasingly expressed their opposition to what they perceive as "forced LGBTQ+ indoctrination" in schools. Protest rallies, like the one organized by YYC Muslims in Calgary, attracted hundreds of participants.
While a smaller group of pro-LGBTQ+ counter-protesters stood nearby, the ecumenical nature of the demonstration was emphasized, with organizer Mahmoud Mourra highlighting the support received from diverse communities.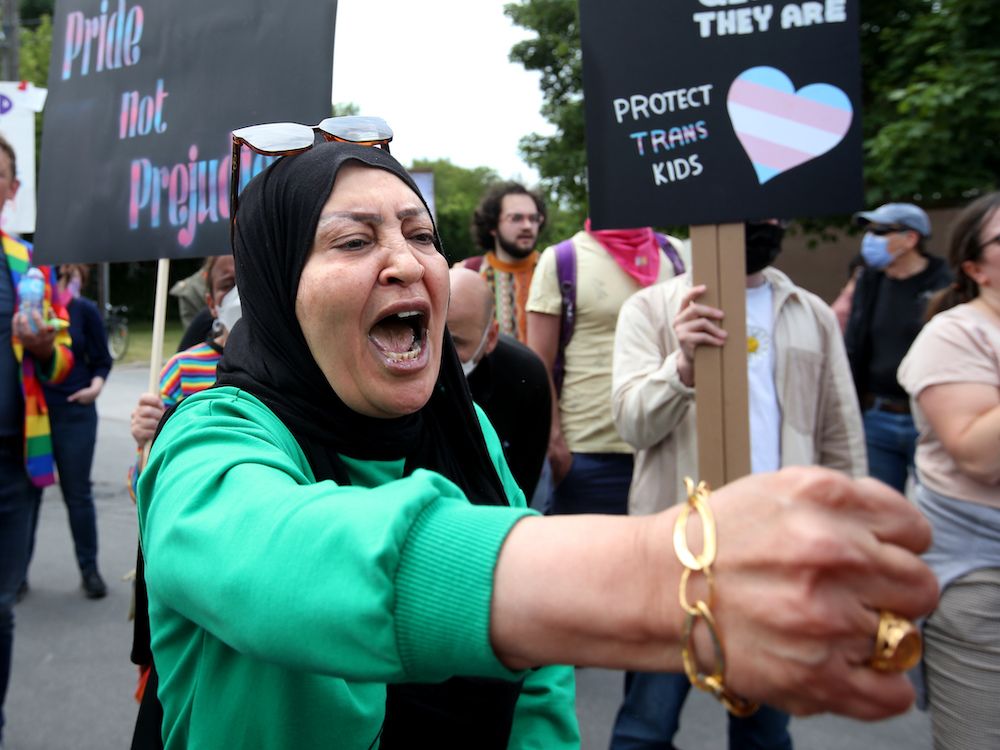 Now, let's address the elephant in the room—Muslim attitudes towards LGBTQ+ matters. Muslims, like people from any other faith, hold a spectrum of beliefs on this issue. The Quran references the story of Lot and the destruction of Sodom, associating sodomy with punishment.
In various parts of the Arab world, harsh punishments have been imposed on individuals engaged in same-sex relationships.
Read More: The Future of Canada is not Christian
Trudeau brushes aside the claims
But wait, here comes Trudeau to the rescue, claiming that Muslims are simply misguided. Can you believe it? The Prime Minister dared to lecture concerned members of Calgary's Muslim community, dismissing their worries as "misinformation and disinformation" fueled by the "American right wing."
Apparently, according to Trudeau, those challenging progressive gender ideology teachings are mere pawns in a larger game played by the far-right.
"If you look at the various curriculums, You'll see that there is not what is being said out there about aggressive teaching or conversion of kids to being LGBT," claimed Trudeau. According to him, narratives are "being weaponized by people who are not doing it because of their interest in supporting the Muslim community."
WATCH: Prime Minister Justin Trudeau Dismisses Muslim Parents' Worries on Gender Ideology as Far-Right Misinformation

Follow @MediaBezirgan for more. pic.twitter.com/IgVgYc3JIg

— Mocha Bezirgan (@BezirganMocha) July 13, 2023
He added, "These are people in the far right who have consistently stood against Muslim rights and the Muslim community, but they're weaponizing the issue of LGBT, which is something that, yes, Islam has strong opinions on, the same way that the religious right in Canada, the Christian right, has strong opinions against as well."
Trudeau conveniently brushes off the genuine concerns of Muslims, downplaying the impact of these teachings in publicly funded schools. He asserts that there's no aggressive conversion happening.
My god, his obsession with advancing LGBTQ+ rights seems to blind him to the delicate balance he must maintain to preserve liberal Muslim votes.
Trudeau's desperate quest for LGBTQ+ acceptance risks alienating a significant portion of his support base. His unwavering commitment to his agenda disregards the deeply-held beliefs of many Muslims, creating a rift between their religious values and the government's progressive stance.
Read More: Drugs for Sexual Pleasure? Trudeau launches his most Abhorrent Scheme
Now, we find ourselves witnessing Trudeau's dramatic and satirical magnetic experiment. Will the forces of LGBTQ+ rights and Islamic beliefs ever find common ground? Never. But it seems Trudeau's comedic endeavor is turning into a political tightrope walk, with liberal Muslim votes at stake.
Trudeau's magnetic experiment remains a fascinating yet comical tale, the mad PM is ready to sacrifice his party for the sake of Wokeism. Take a grand salute man.
Watch More: