Ukraine's struggle against Russia in the ongoing conflict has seen various tactics, but as traditional military might falls short, President Zelensky is exploring an unconventional approach—climate manipulation. In a bid to counter Russia, Ukraine is turning to environmental strategies, marking a novel turn in the conflict dynamics.
Increasing Wildfires in Russia
In recent years, both Russia and Canada have witnessed a troubling increase in wildfires even before the arrival of summer. While scientists attribute these fires to anthropogenic climate change, propaganda has unfairly implicated various groups. The fires, which first emerged in late April 2023, have ravaged regions such as Sverdlovsk, Tyumen, Omsk, Kurgan, and the Russian Far East. In response, the Russian government has implemented special fire protection measures across 57 regions.
Tragically, numerous villages, including Yuldus and Sosva, have borne the brunt of these blazes. Despite suspicions, concrete evidence of arson remains elusive. Anthropologists have dubbed this societal reaction a "moral panic," a phenomenon where external factors are scapegoated during times of crisis.
Read More: Alberta wildfires are not an act of God but an act of the federal government
Moreover, beyond Russia's borders, Ukraine has experienced its own surge of wildfires, which some speculate are related to its ongoing war with Russia. This leads us to delve deeper into Ukraine's role in these wildfires.
Ukraine's Involvement in the Wildfires
Over the years, various groups, including the "opposition," Navalny's movement, anarchists, and London-based politician in exile Mikhail Khodorkovsky, have faced accusations of igniting these fires. However, the latest target for blame has been "Ukrainian saboteurs." Journalist Marina-Maya Govzman offers insight into this recurring phenomenon.
On May 25, 2023, social media circulated images of a man purportedly caught as a Ukrainian saboteur, fueling rumors attributing the wildfires to "Ukrainian involvement." Residents have taken matters into their own hands, desperately searching for supposed saboteurs.
Despite these allegations, little concrete evidence has been presented to support Ukraine's involvement in the fires. Some consider this blame game a manifestation of "moral panic," a social phenomenon where external factors are held accountable during times of uncertainty.
Ukraine's Wildfires Surge Amidst War
Russia's full-scale war against Ukraine has triggered an unprecedented surge in forest and rural fires across the country. While wildfires have become more frequent and intense in recent years, the dramatic escalation since 2022 is not solely attributed to climate change but rather linked to Russia's large-scale invasion.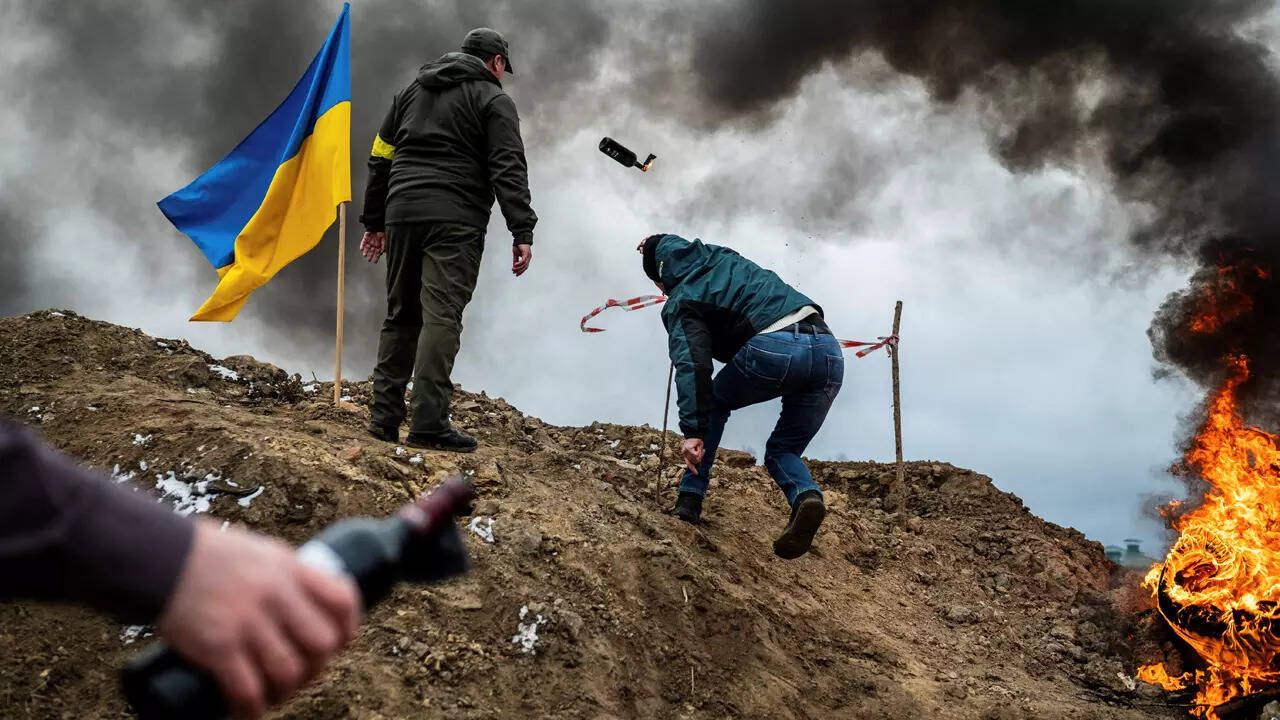 Ukraine, already grappling with a significant number of forest fires, now finds itself among the most fire-affected countries in Europe. As the fires continue to rage amidst the ongoing conflict, the question arises: what impact does this situation have on Ukraine's war effort?
The Impact of the War
The intensification of wildfires in Ukraine poses an additional challenge for the war-torn nation. Ukraine witnessed a record-breaking level of burned land in 2022, surpassing even the devastating fires of 2020. The question of whether these wildfires are deliberate remains a topic of speculation. Interestingly, global media coverage of Ukraine's wildfires has been notably muted, raising further questions about the underlying causes.
Read More: So, it was WEF that burned Alberta
Some theorize that Ukraine may be deliberately igniting these fires as a strategic move to thwart the Russian army's advance on Ukrainian soil. This theory potentially explains the limited media coverage surrounding the issue. As Ukraine explores unconventional strategies to confront the Russian bear, the impact on the war's dynamics remains uncertain.
Watch More: