Germany's political stage is witnessing a significant shift as traditional parties like CDU and SPD grapple with internal challenges. Amidst this, the far-right AfD is gaining prominence, especially with the rising popularity of figures like Tino Chrupalla. This surge has sparked concern for Olaf Scholz, leading to aggressive measures, including attempts to ban the party and freezing members' bank accounts altogether. 
Chrupalla's Bankgate: AfD's Finances Freeze
Tino Chrupalla, the leader of Germany's right-wing populist party Alternative for Germany (AfD), recently revealed that his account with Postbank, a retail banking division of Deutsche Bank, was terminated solely because of his AfD membership. Chrupalla expressed his concerns, stating that this event highlights the marginalization and exclusion of AfD members in German society. He also argued that it signifies a broader issue where freedom of expression and differing opinions are being curtailed.
In response, a spokesperson from Postbank refrained from commenting on individual customer relationships, citing banking secrecy. However, the spokesperson acknowledged that account closure without providing specific reasons is within their general practices.
Notably, this isn't an isolated incident. Other AfD members, such as Björn Höcke and Nicolaus Fest, have also faced account closures by banks like ING and Deutsche Bank in recent years. These closures often lack specific explanations, relying on general terms and conditions.
Read More: If Scholz actually bans the AfD, Germany will implode
These occurrences raise pertinent questions about the political neutrality of German banks. Chrupalla's experience underscores the challenges faced by individuals whose viewpoints diverge from the mainstream narrative. 
Tino Chrupalla speaks of war's ending
Tino Chrupalla keeps on sparking controversy with his anti-Ukraine and pro-Russian views. During a televised debate with the leader of the Free Democratic Party, Christian Dürr, Tino Chrupalla made alarming statements comparing Ukraine to Nazi Germany in the context of the ongoing war with Russia. He suggested that Ukraine would emerge as a loser in the conflict. Chrupalla's indifference to the plight of Ukrainians shocked his opponent, who questioned his stance. Chrupalla's controversial remarks included suggesting that Ukraine should consider capitulation for a quicker end to the war, drawing strong criticism.
These comments underscore Chrupalla's provocative views, which have raised concerns among political leaders, especially Chancellor Olaf Scholz. 
Scholz wants to ban the AfD
Recently, Scholz has gone so far as to ban the opposition AfD altogether. Germany's domestic intelligence agency, led by Thomas Haldenwang, raised an alarm regarding the sharp descent of the Alternative for Germany (AfD) party into extremism and anti-democratic ideologies. The party's growing popularity, reflected in opinion polls, has been marred by troubling incidents during the selection of candidates for the upcoming EU elections. Some candidates openly endorsed "far-right extremist conspiracy theories," including the infamous "Great Replacement" theory, suggesting elites are orchestrating nonwhite migration to Europe to displace the white race.
Haldenwang's concerns shed light on the AfD's members embracing racist theories, posing a significant threat to Germany's societal harmony and challenging the democratic principles upheld since World War II. The party's rise, fueled by anti-migrant sentiments, has established them as a formidable political force in Germany.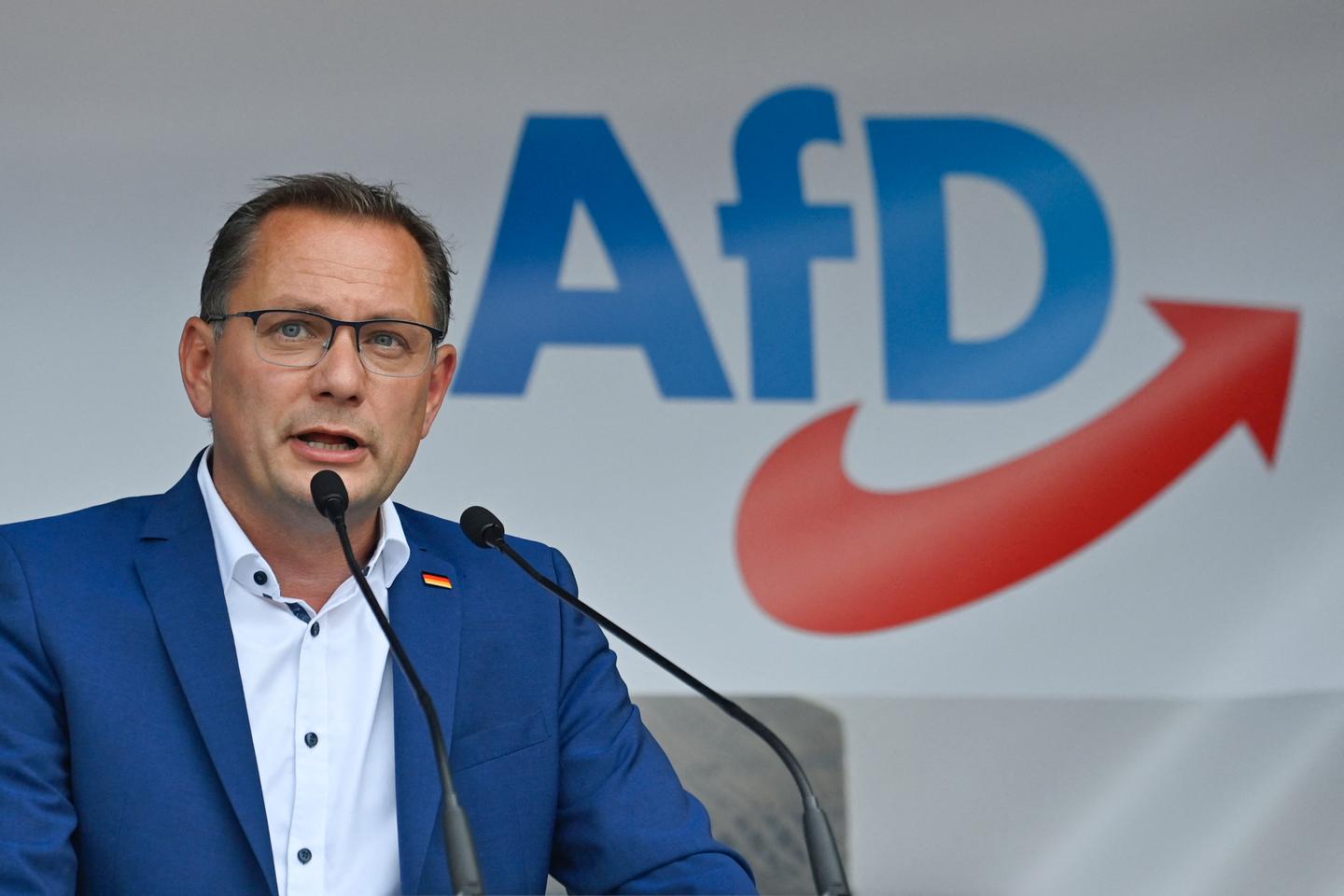 AfD's Ascent: A Storm in Germany's Tea Cup
Chancellor Olaf Scholz, amidst declining approval ratings, faces a dilemma reminiscent of Moldova's political struggles. The aftermath of the Ukraine war has drastically altered Germany's stance, weakening Scholz's popularity from 68% to under 30%. Recent Berlin elections underscored declining support for SPD and CDU, leaving voters seeking alternatives. The AfD exploits this disillusionment, emerging as a powerful contender, notably in Thuringia, where polls showed a remarkable 34% support. Nationally, the AfD is the second-strongest force, securing 20% voter backing. This ascent poses a significant challenge, especially with the 2025 federal elections approaching.
Read More: Three mistakes of Angela Merkel who just received Germany's highest award
In response, Scholz employs stringent tactics, attempting to ban the party and freezing members' accounts to curb its momentum. This strategic maneuvering reflects the intense battle within Germany's political sphere.
AfD Ban Sparks Chaos Fears
Banning the AfD in Germany could unleash pent-up frustration, potentially leading to chaos and unrest. History warns of Germany's vulnerability to political upheaval, and suppressing voices might ignite such tensions. While AfD's views are divisive, stifling them risks worsening the situation. If Scholz pursues banning AfD or freezing its members' accounts, Germany risks descending into a troubling abyss of disorder and instability.
Watch More: