Tides in Canadian politics are shifting. Prime Minister Justin Trudeau finds himself navigating stormy waters. Canadians, it seems, are growing increasingly dissatisfied with Trudeau's policies, leading many to question the future of the Liberal party. But why? What has transpired that has caused such a dramatic shift in public sentiment? Join me as we unravel the intriguing tale of Trudeau's political challenges and Pierre Poilievre's rise, in a quest to understand why Trudeau is now running away from Poilievre's scathing questions, metaphorically speaking, like a dog fleeing from its pursuer.
Trudeau's Last Minute 'Carbon Surrender'
Our story begins with a surprising twist in Trudeau's climate policy. The Prime Minister, known for his avoidance of climate policy discussions, has made a sudden about-face, proposing a three-year pause on the federal carbon price for heating oil deliveries in specific regions. This move, however, is not as straightforward as it appears. Trudeau's decision to halt the carbon tax has sparked both applause and criticism, revealing a complex political game at play.
The Real Game: Appease The Atlantic Canada
Trudeau's calculated maneuver to pause the carbon tax has raised eyebrows. Examining this decision closely reveals a strategic move aimed at appeasing Rural Canada, particularly Atlantic Canada, where the impact of the carbon tax on heating oil is profoundly felt. While this temporary suspension may offer short-term relief, questions about Trudeau's motives linger. Is this move a genuine concession or a tactical political ploy? The answer lies in understanding the shifting political landscape and the upcoming 2025 elections.
Poilievre's Carbon Tax Challenge
Enter Pierre Poilievre, a key player in this political drama. Poilievre seizes the opportunity to challenge Trudeau's carbon tax redemption policy, gaining popularity among Canadians. His non-binding motion calls for an extension of the carbon tax pause on home heating oil to all forms of home heating, a move that resonates with many Canadians. 
Poilievre's moment even had the atypical backing of the NDP. Defending his decision to back the proposal, NDP Leader Jagmeet Singh — who also voted virtually — told reporters that while he was reluctant, his party voted "yea" to reject the Liberals' "ridiculous" approach. With the backing of the NDP, Poilievre's challenge becomes a significant pressure point, forcing Trudeau to defend his divisive plan.
Poilievre even took an aim at Trudeau's absence from the Commons on Monday, Poilievre was critical of the prime minister for implementing the pause "for three per cent of Canadians in ridings where his polls are plummeting and his MPs are revolting," which the federal party picked up on in their promptly-sent fundraising email decrying the outcome.
Now what shouldn't go unnoticed here is the fact that Conservative Linchpin Pierre Poilievre is gaining immense popularity among the Canadian populace.
How Poilievre is Making the Most Out of It
But why has Poilievre become the preferred choice for many Canadians? It appears that Poilievre's alignment with the concerns of ordinary Canadians has struck a chord. People are gravitating toward his policies on issues ranging from housing to healthcare and education. 
Recent polls show Pierre Poilievre, the Opposition Conservative Party leader is the preferred choice as Prime Minister by 40 per cent of Canadian citizens, as incumbent Justin Trudeau lags behind, according to a new Ipsos poll done for Canada-based news platform Global News.
The gap between Poilievre and other leaders gives an indication that Conservatives have a high chance of getting a majority to form the government in the next elections in 2025 reports Global News.
Conservative Leader Pierre Poilievre's polling momentum continues to chug along with 40 per cent of Canadians saying he's the best choice to be PM. His favourables on this question are up five points from a year ago.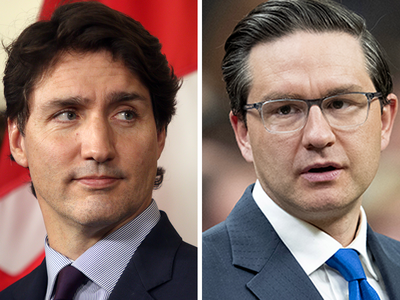 More significantly, Poilievre's momentum is undeniable, especially in Atlantic Canada, where he enjoys a significant lead. In Atlantic Canada, Poilievre currently enjoys a 20-point lead over Trudeau, with 48 per cent of respondents saying Poilievre would make the best PM.
The Liberals swept the Atlantic ridings on their way to forming a majority government in the 2015 election.
Polls have shown clearly how Pierre Poilievre and conservatives are heading for a victory over the Liberals.
Now one question lingers: Can Trudeau weather this storm and regain the confidence of the Canadian people, or will Poilievre's rising popularity continue to pose a significant challenge? Only time will tell. 
Watch More: