Earlier this year (May 2017), The Singapore India Maritime Bilateral Exercise 2017 (SIMBEX-17) was concluded and its 24th iteration was held at RSS Singapura in shore phase and a sea phase in the disputed South China Sea. From Malabar 2017 which was a tri-lateral naval exercise between India, US and Japan with a focus on "Anti-Submarine warfare" to AUSINDEX-17 (A bilateral naval exercise between India & Australia) aimed at enhancing inter-operability and cooperation between the two forces, the permutations and combinations are changing every day.
During the recent visit of Singapore's Defense Minister Ng Eng Hen, India and Singapore exchanged documents on bilateral naval cooperation, reflecting deeper defence ties between the two countries amid mutual concerns about protecting critical sea lanes.
The agreement covers several areas including the following:
Increased cooperation in maritime security
Joint exercises,
Temporary deployments in each other's naval facilities
Mutual logistics support.
To draw a perspective it's important for one to understand the following
String of pearls & Counter
Malacca Strait – The choke point
Act East policy & ASEAN Countries
Andaman & Nicobar & Navy
Chabahar & Kaladan
In 2005, the U.S. consulting firm Booz Allen Hamilton came up with the "string of pearls" hypothesis, which posits that China will try to expand its naval presence by building civilian maritime infrastructure along the Indian Ocean periphery. Today we all know what "Booz Allen Hamilton" meant and following are the living examples
Hambantota, Sri Lanka
Gwadar, Pakistan
Chittagong, Bangladesh
Bagamoyo, Tanzania
Rakhine, Myanmar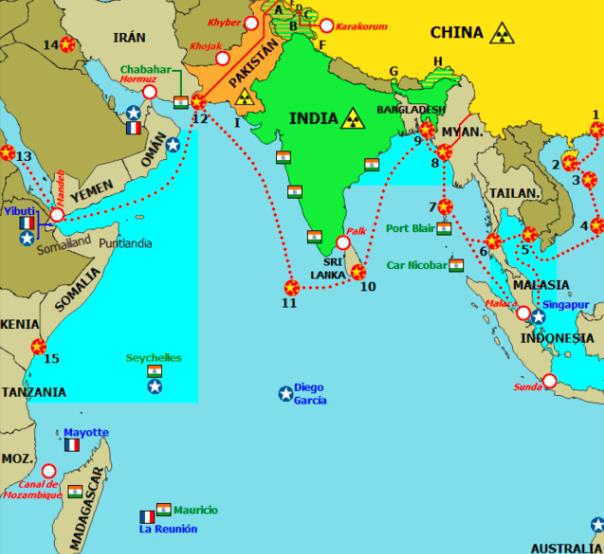 China is now the world's second largest consumer and importer of oil, with imports accounting for 54.8% of China's oil requirements. 80% of China's oil imports have to pass through the strait en-route from the Middle East and Angola. Compounding the issue is the lack of a viable alternate sea route. The closest alternatives, the Straits of Lombok and Makassar, are five days slower. Thus China has started looking at alternate routes through Pakistan & Myanmar.
The geo-politics is quite similar to a chess game where we pile up our defense around a pawn and nothing actually moves other than pieces sending a message "if you get my pawn I will take down your bishop". The chabahar port in Iran developed by india is less than 100 nautical miles from Gwadar and Sittwe port in Myanmar which is part of Kaladan Multi-Modal Transit Transport Project are such moves.
ASEAN Countries are bullied by China in South China Sea.
The South China Sea disputes involve both island and maritime claims among several sovereign states within the region, namely Brunei, the People's Republic of China (PRC), the Republic of China (ROC), Malaysia, Indonesia, the Philippines, and Vietnam.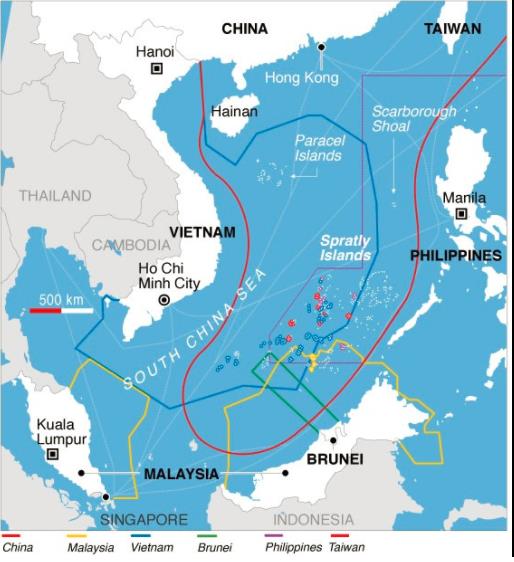 With disputed South China Sea, unstable Baluchistan and highly fragile Myanmar, China is going back to square 1. They will have to depend on the Malacca strait and at its both ends, indian navy will have its presence.
Andaman & Nicobar in West
Changi Naval base in East
In a combined effort to counter the increasing presence of the Chinese Navy in South East Asia and the Indian Ocean region, India and Singapore have taken their military relationship much further with the island nation asking Delhi to dock its ships, when needed, at its Changi Naval base.
This means that Indian Navy ships sailing through the disputed South China Sea or in the eastern waters of the Andaman Sea will be able to refuel, restock and, if needed, rearm at Singapore's latest naval base before continuing their mission.
This new development is no smaller than LEMOA and is all set to Irk China which started encircling India way back in 2005-06, New Delhi is now getting back on the track. But as India has lost a decade, it needs to bridge the gap fast. The Kaladan project which was supposed to be operational in 2014 will not be ready before mid of 2018 but Chabhar is now operational. These recent developments are making world hopeful that the geo-strategic balance of Asia will be maintained.