The Pakistani political leadership and its armed forces have fooled the common people of the Islamic country for long that Pakistan is capable of winning a war against India. The global military experts and the spending of Pakistan suggest otherwise but the leadership has refused to accept this.
Now Pakistan's eminent military scientist and political commentator has openly accepted that the debt ridden country is not in a position to fight a war against India. "I was interacting with a friend in Pakistan-occupied-Kashmir (PoK) and asked him why the Army is not fighting. Then the reply came — they will get defeated. Now, common people understand that this is not the right time to fight a war against India," said the 53 year old military scientist.
Ayesha Siddiqa is much respected academic and serves as research associate at the SOAS South Asia institute. She has written extensively on Pakistan army published her seminal work Military Inc: Inside Pakistan's military economy in 2007. The book is considered a landmark achievement in explanation of military industrial complex in countries Pakistan where democratic leadership is subservient to Military.
She also said that this is the first time that common people of Pakistan are well aware of the fact that nothing can be done against India. "This is for the first time, a common man (in Pakistan) realises that war is not possible. There is a pain, a deep sorrow but there is despair that nothing can't be done. Its time to see as to how Pakistan Army will react," said Pakistan's military expert.
"For the past 72 years, the focus of the Pakistan Army was Kashmir and India. One day they woke up and nothing was left. There are some groups in Pakistan Army who are in deep sorrow and angry and they will definitely raise a question," Ayesha Siddiqa added.
Pakistan's armed forces stand no chance against India in case of limited or full scale war. India's military spending has increased every year under the Modi government. In 2018, the spending grew by 3.1 percent compared to 2017 to reach 66.5 billion dollars. The spending has increased by 29 percent compared to a decade back. "Increases in Indian military expenditure are largely motivated by tensions and rivalry with Pakistan and China," read the SIPRI report.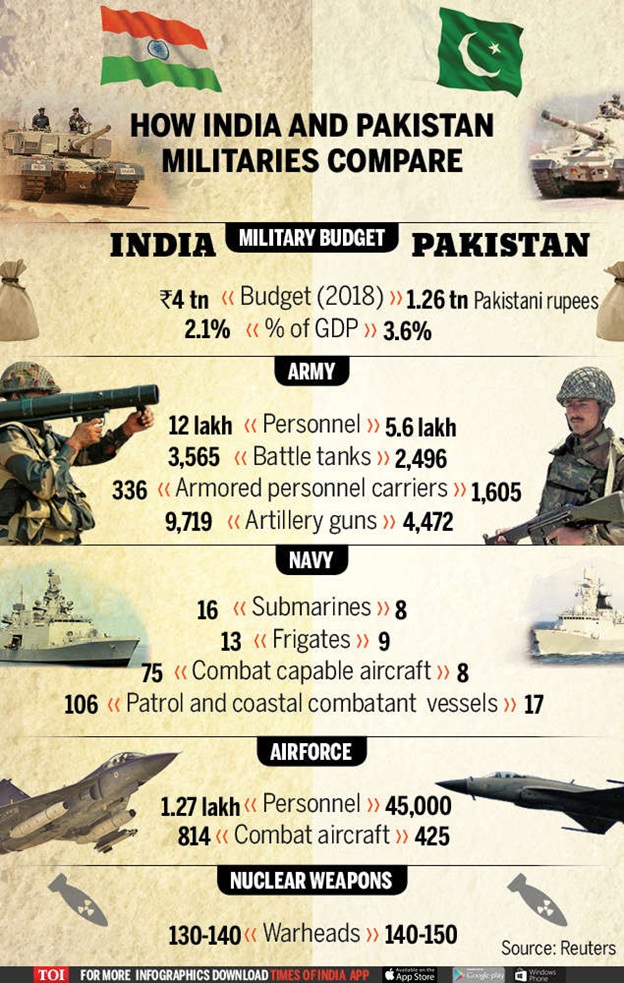 The neighboring country of Pakistan has increased defense spending to a new high of 4 percent of GDP in 2018. This is the highest spending since 2004 when former army General Pervez Musharraf was at the helm of state affairs. Pakistan's defense spending in 4 percent of GDP compared to 2.4 percent of India but given the small size of the Pakistani economy, the total spending by Pakistan is 11.4 billion dollars 66.5 billion dollars of India. Pakistan's military spending rose by 73 percent compared to 2009 levels and 11 percent compared to 2017.
Despite spending a higher percentage of GDP on defense, Pakistan is 20th largest spender globally compared to the 4th position held by India. It's defense spending is a paltry 20 percent of India's and therefore there is no comparison between military capabilities of both countries. India has some of the most technologically advanced weapons in the world. The Indian Armed Forces is on fourth rank in global firepower index after the United States, China, and Russia while Pakistan does no get a place even in the top ten. Ayesha Siddiqa is just stating the fact when she says that Pakistan is not in a position to fight war against India.