The US Presidential election results might be disputed but President Donald Trump is quietly going about his usual business by continuing to land incessant sucker-punches on China. Adding another feather to his long list of policies to limit the extent of Chinese influence in the States, the Donald Trump administration is mulling adding Chinese state-owned aviation company Commercial Aircraft Corporation of China (Comac) to the sanctions list, currently under scrutiny.
Developed by Comac–the single-aisle C919 aircraft is Xi Jinping's baby project that is looking to replace the Boeing 737s, which currently dominates the fleet in state-owned carriers like Air China, China Eastern, and China Southern. However, some analysts have dubbed the C919 as a carbon copy of its Boeing counterpart.
However, owing to Comac's alleged deep ties with the Chinese Communist Party (CCP) and People Liberations Army (PLA), President Trump is set to add Comac to the list of 89 Chinese aerospace companies, chalked up in November (not published) which restricts them from dealing with American companies for dual-use technologies, solutions or products made with American know-how due to their purported ties with the Chinese military.
China might have painted its big, red, communist flag on the chassis of the aeroplane which it claims to be an 'indigenously developed jet' but the truth is far from it. Without American technology and know-how, the Chinese plane cannot take off and have already missed several deadlines in the past; it seems highly unlikely that Comac will be able to develop the aeroplane on its own.
C919 relies on the high-performance LEAP-1C engine and powerplant systems supplied by CFM, a joint venture between General Electric's (GE) aviation arm and French engineering firm Safran. No homemade alternatives are powerful and economical enough to propel the C919 and its maximum load of 168 passengers and a maximum range of 5,555 kilometres.
A leaked draft C919 maintenance memo issued to China Eastern pilots showed that its power plant, avionics flight control, power supply systems, and landing gear sets, among other components, all bore striking similarities to those on 737s. Therefore, America is right within its range to stop the technology transfer.
Some analysts have however warned that Comac could also potentially try to reverse-engineer key components it could not manufacture, such as engines, avionics, and auxiliary power systems furnished by American partners like GE and Honeywell.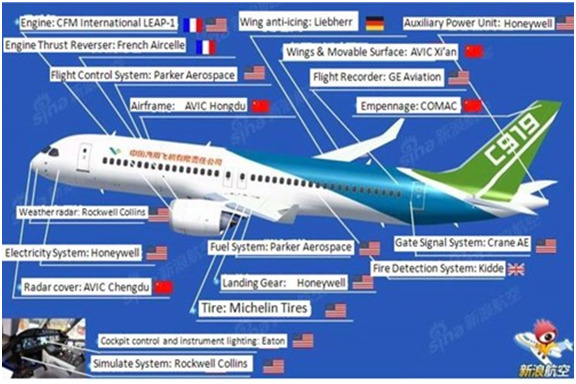 Earlier this year, CCP's mouthpiece, Global Times in one of its editorials had shot out a rant where it threatened America that if Prez Trump imposed sanctions on the state-owned company Comac, then the Politburo could do the same thing.
"If the US continues on this path, then don't take it for granted that China will not also take countermeasures. In fact, there are many things that we can stop selling to the US." read the editorial.
This is not the first time that the Republican administration has come down heavily on China and its companies. Reported by TFI in November, President Donald Trump had signed an executive order prohibiting American investors from investing in Chinese companies. The order prohibits American companies and individuals from owning shares — outright or through investment funds — in companies, the administration says help the advancement of the People's Liberation Army (PLA).
Read: Trump makes a massive move to decouple the US from China, bans all investment in PLA-linked firms
The Chinese companies with the blessing of top echelons of the Politburo are funded by American investors routinely engage in Intellectual Theft. Most of the Chinese technology companies are copycats of their American counterparts and theft of American intellectual property.
Furthermore, the US House of Representatives last week passed "The Holding Foreign Companies Accountable Act", which although applies to all foreign companies, is aimed at specifically hurting the interests of Chinese firms if they fail to comply with American regulations.
Read: US Congress passes Act which will now delist Chinese companies from American stock exchanges
Until now the US hasn't pulled the trigger up on Comac but analysts suggest that Trump could clip the C919 wings by waiting until the last minute before its commercial launch to ban the sale of US-made engines and other systems. Trump might or might not be in the final stretches of his tenure but he is still going strong when it comes to tackling China and making it pay for its nefarious agendas.