The fourth consecutive Israeli election resulted in a splintered mandate, indicating that no single faction or bloc was able to achieve a clear majority necessary to establish a stable government in the Jewish state. In reality, Prime Minister Benjamin Netanyahu's Likud party could only win 30 seats, falling short of the 61-seat majority needed, but emerged as the country's single biggest political power in parliament.
However, the pro-Netanyahu block has 52 out of 120 stitched together. And now understanding Israel can be left in another spell of instability, Benjamin Netanyahu is working extra time to secure a majority and provide to his countrymen a stable government. Prime Minister Binyamin Netanyahu met on Friday with Yamina party's chairman Naftali Bennett for coalition talks in an attempt to sway Bennett to join his government. Benjamin Netanyahu on Wednesday called on his right-wing contenders to join forces to form a right-wing government coalition under his leadership. This signals an obvious return of Netanyahu.
In his first remarks since March 23's inconclusive elections, Netanyahu urged Naftali Bennett, leader of the far-right pro-settler Yamina party, and Gideon Sa'ar, leader of the right-wing New Hope party, to help him put together a coalition. "It is time to put our differences behind us," he said in a statement broadcast on TV.
According to Netanyahu, together with allied parties and Yamina and New Hope, he could form a coalition of 65 members and gain a firm majority in the 120-member parliament. "Let's form a stable right-wing government that would last for years," Netanyahu said.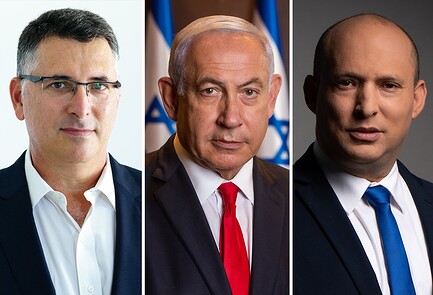 Yamina's chief, Naftali Bennett, has his eyes set on becoming Prime Minister. He thinks it is time for Netanyahu, who is 71 years old, to move on. Bennett though, unlike Gideon Sa'ar, who like Bennett, is a former close Netanyahu ally now heading a rival right-wing faction, hasn't ruled out forming a coalition with Netanyahu.
Bennett is even more "right-wing than Bibi," according to his own words, and if opinion polls are to be believed, he would assume the part of a kingmaker, making Netanyahu much more right-wing than he is now. Liberals around the world will shiver at the prospect of Israel's two most powerful politicians enjoying unwavering support from right-wing supporters.
Read more: Naftali Bennett: A new Right Wing leader in Israel could be the Kingmaker and that's terrible news for liberals worldwide
Bennett described himself as someone who isn't interested in boycotting political rivals, but he is a member of "the national camp" — a hardline right-winger who will never recognise Palestinian statehood, wants to extend Israeli sovereignty to roughly 60% of the West Bank, and claims Israel has already given up too much biblical territory.
He aspires to form "a government built on national values." He views the March 23 election as a showdown between himself and Netanyahu. And, as previously said, Bennett is open to forming an alliance with Netanyahu, implying that Israel will be governed by a right-wing group. Now a closed-door meeting between Bennett and Netanyahu solidifies that Bibi is coming back to lead Israel.