Joe Biden has been following a very skewed approach towards prioritising foreign relations. This is most aptly visible in the confused foreign policy prioritisation vis a vis Ukraine and Taiwan. While the world's eyes are focused on the Indo-Pacific and, more specifically, on the Taiwan strait, the USA under Joe Biden, instead of focusing entirely on this geopolitical hot cake, is busy reviving a deadly conflict in Eastern Europe with Russia.
While the whole of the USA and its allies all over the world were ready to take on the Chinese Communist Party together and stand shoulder to shoulder with Taiwan, since the time Joe Biden has arrived in office, the USA is going relatively easy on China. On the other hand, by re-invigorating NATO and increasing military buildup in East and North-East Europe, Biden is restarting a deadly conflict among the European countries and Russia. And this absurd decision, back with even bad reasoning, defies basic common sense and is in disregard of the larger public sentiment.
Read More: Biden is playing dangerous games at the Ukraine-Russia border which can lead to a full blown war
Under former President Donald Trump, the Ukraine-Russia tensions were largely forgotten, and violence was greatly reduced between Ukrainian forces and rebel insurgents, which the U.S. and Europe believe to be backed by Russia. Effectively, the Ukraine issue was dead the world over. Yet, ever since Joe Biden has taken over as the U.S. President, there has been a visible uptick between Russia and Ukraine, first in terms of rhetoric and now, militarily as well. It must be remembered that the ceasefire between Ukraine and Russia did not go down well with NATO, which seemed visibly defeated. The ceasefire only further led NATO and Russia-obsessed European nations down the path of irrelevance.
Now, Joe Biden has made no secret of his deep love for NATO and mindless anti-Russia activism. Biden's aims from the very first day have been those of making NATO stronger than ever before and ensuring that Russia kneels before the formidable 'Western' alliance. Following what seems to be a masterplan being orchestrated by the Biden administration and the deep state, Ukrainian President Volodymyr Zelensky has been taking multiple anti-Moscow steps and also cracking down on pro-Russia sentiments in the country. And as Joe Biden takes these kinds of steps, Russia is not willing to take these actions into what it considers its zone of influence.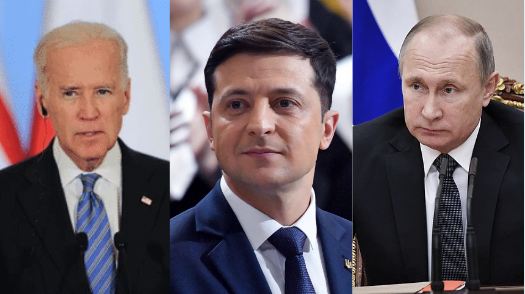 Re-igniting the conflict with Russia will only weaken the united front against the Chinese Communist Party and may even present China with an opportunity to further intimidate Taiwan. Although there is bipartisan support for the maintenance of the sovereignty of Taiwan, the policy choices at the end of the day lie with the person in the office. During the Trump administration, Taiwan was being provided major weapon upgrades, which have become a rarity during the Biden administration.
In October last year, the USA came to Taiwan's help and approved a $1.8 billion arms sale. The approved arms package included 11 Truck based High Mobility Artillery Rocket System (HIMARS), 135 AGM-84H Standoff Land Attack Missile Expanded Response (SLAM-ER) missiles and six MS-110 Recce external sensor pods made by Collins Aerospace for planes. In addition to this, Washington moved forward with 5 separate sales of sophisticated equipment with a total value of around $5 billion.
Read more: Taiwan has a genius plan to deter China from invading the island
However, the Biden administration is all about virtue signalling and no solid action. Joe Biden's inept policy concerning Taiwan is showing the result. Recently, twenty Chinese military aircraft entered Taiwan's air defence identification zone on Friday, in the largest incursion yet reported by the island's defence ministry and resulting in a dramatic escalation of tension across the Taiwan Strait.
While the Biden administration is only signing deals to save face after the Alaska summit fiasco, the China threat is becoming a reality day in and day out. And the fact that Biden administration is dividing its capacities towards Eastern Europe by reviving the conflict with Russia, USA is turning out to be more of a liability than an essential friend for its allies.