Donald Trump has been saying for quite a while that the Republican Party needs a deep introspection and purge itself of all the moles. As more and more examples regarding what Mr Trump had said accrue, it will become difficult for the Republican party to overlook. In the latest, Arkansas Gov. Asa Hutchinson on Sunday defended his veto of a bill that would prohibit gender reassignment surgery and treatment that the state legislature later overrode.
The Governor in the discussion was quite happy to take a stand that would show him to be a virtue-signalling personality and an agent of the left. He is okay with being the kind of a leader who backstabs the very people he leads just to make a point and that too against the party line and the ethics that the party stands for. He proves that he is a Republican by party and a deranged Democrat by soul.
The bill was nearly passed with Hutchinson's support before the governor opposed the legislation prohibiting physicians from supplying gender-confirming hormone therapy, puberty blockers or surgery to someone under the age of 18, or referring them to other providers for treatment. Instead, of supporting the larger agreement among the members of his party, he said, the bill presented to him was "was overbroad, it was extreme. It went far beyond what you just said."
"This is the first law in the nation that invokes the state between medical decisions, parents who consent to that and the decision of the patient. And so, this goes way too far. And in fact, it doesn't even have a grandfather clause that those young people that are under hormonal treatment," he argued.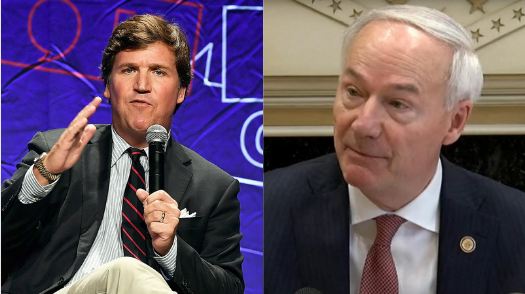 During an interview with Fox News's Tucker Carlson, Hutchinson admitted that there are "a lot of unknowns here," but maintained that he "studied this bill and in contrast to what you just said, I spent a lot of time reviewing cases, meeting with people, listening to the experts as well as to faith leaders as well."
The governor added that while he considers himself "a person of faith," he believes in a limited role of government. And to this Carlson asked Hutchinson to provide data to support his decision, arguing that "there is not a single study that I'm aware of that shows an improvement in the mental health of children who take puberty blockers who are chemically castrated, and you couldn't cite one."
Read More: Woke USA wants more and more children to undergo irreversible gender-change surgeries
Republican lawmakers said they wanted to protect children from having medical procedures they will regret when they become older. ​The bill would also ban the use of puberty blockers and cross-sex hormones.
The fact that the governor is ready to believe the leftist propaganda and not his own party people goes a long way to show where his loyalties lie. He also reacted to former President Donald Trump's attacks on party leaders in his RNC spring retreat address, saying his remarks are "divisive" for elected Republican officials making the argument himself that he is not a loyal Republican.