The coverage of the Israel-Hamas clash in the Gaza strip reeks of an obvious bias, which is echoing the anti-Israel voices which can be seen emanating out of the extreme-left faction of the Democratic Party. The famous grouping of Ilhan Omar, Rashida Talib among others have never minced their words when addressing the Palestine-Israel issue, showing sometimes borderline and sometimes obvious anti-Semitic sentiments. And just like them, the left-liberal mainstream media is following their lead in addressing the current developments from the same biased lens that are escalating dangerously given the non-stop rocket barrages by the Hamas from Gaza and the retaliatory actions by the Israeli Defence Forces (IDF).
Earlier, CNN tried to do what it does the best, and make Israel's ex-Defence minister somehow brand Israel as the aggressor, but they got bashed really badly. Former Israeli Defense Minister Naftali Bennett retaliated against a CNN International anchor who said Israel was using disproportionate force and shooting indiscriminately at Hamas terrorists, asking what she would expect her country to do if it were under constant rocket fire. Bennett was told by CNN's Becky Anderson that Israel could not possibly follow "international law" while responding to Hamas' rocket attacks this week that struck and killed Israeli civilians.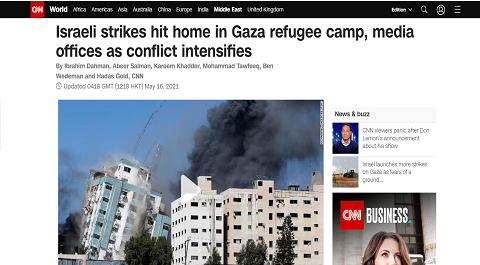 The report is mentioning the Israeli strikes hitting homes, refugee camps and media offices in Gaza, and the heading is obviously misleading as it shies away from mentioning the offices, tunnels of Hamas, which they have deliberately placed in such positions where if and when Israel attacks, the blood can be blamed on them. And this is not a one-off coverage which is biased, but this has become the larger practice, with almost all the major mainstream media outlets echoing the anti-Israel and borderline anti-Semitic coverage of the current crisis.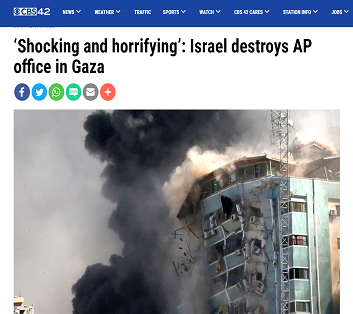 This is the reportage from the CBS media outlet, where instead of mentioning the way in which it has conveniently side-lined the fact that the building was a hub for Hamas intelligence operations, but has in a biased manner mentioned that Israel has destroyed the office of Associate Press (AP) and claimed it to be shocking and horrifying.
When this is going on, how can MSNBC miss out on all this fun. The media house just like CNN tried to make the case for the actions by Israel being equivalent to 'war crimes' and conveniently missed all the escalations and activities that Hamas is undertaking. MSNBC anchor Ayman Mohyeldin repeatedly confronted a former Israeli ambassador on Tuesday as the cross-border fighting between Gaza militants and Israel continues to escalate, wondering aloud if he'd recognize that Israel is possibly responsible for "war crimes."
Read More: If the global media narrative is to be believed, Hamas showered petals on Jerusalem and Israel responded with airstrikes
After an Israeli airstrike levelled a 14-story apartment complex in Gaza City on Monday, a Tel Aviv neighbourhood was hit by a Palestinian rocket fire on Tuesday, killing three. Dozens of Israelis have also reportedly received medical treatment. At the same time, amid Israeli airstrikes, health officials in Gaza said at least 26 Palestinians have been killed, including nine children, and over 100 others wounded. However, these details do not get the spotlight given they can hamper the effort these organisations are putting to build an evil narrative out of thin air.
By giving the narrative to Hamas on a silver platter these organisations are making sure that all the anti-Semitic biases and actions can be justified. And by taking these observations into consideration, we can very confidently say that American media is anti-Semitic or at least heading in the same directions by siding with the obvious anti-Semitics.