Dealing a major blow to Chinese vaccine diplomacy, Kim Jong-un led North Korea has reportedly rejected the use of the Chinese vaccines for its vaccination drive. South Korea's Institute for National Security Strategy (INSS) has reported that North Korea has also shunned away the shipments of AstraZeneca's Covishield vaccine supplied under United Nation's COVAX program. Instead, the country is hopeful of receiving Russian made Sputnik vaccine for free in the coming days.
"It's leaning towards the Russian vaccine, yet no arrangements have been made," Lee Sang-keun, director of strategic research on the Korean peninsula at INSS, told Reuters. Meanwhile, it is being reported that Russia has offered North Korea its Sputnik vaccines owing to harsh lockdown and massive food shortage spurred out of China's clampdown on food supplies to its eastern neighbour.
As per Reuters, North Korea has some genuine reservations about efficacy pertaining to Chinese vaccines. On the other hand, North Korea has rejected the AstraZeneca vaccine over safety concerns. Thus, Russia stands a chance to cash in the fortune moment to snatch North Korea away from the Chinese grip using its vaccine diplomacy in the region.
This comes as North Korea faces unprecedented food shortages spurred out of China's orchestrated clampdown on bilateral trade in May this year. Given the immense influence enjoyed by DPRK's largest trading partner, China could be arm-twisting the North Korean leadership to re-engage in hostility against the USA and the southern neighbour, South Korea. However, Russian entry into the picture could jeopardise China's sway over the nation.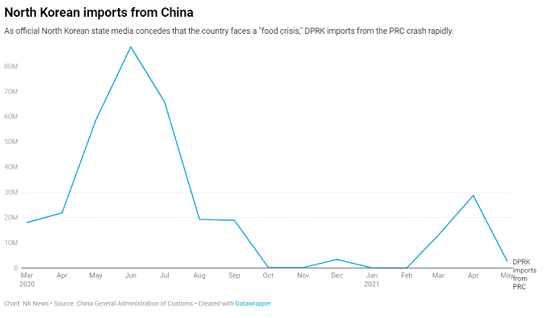 Kim Jong-un last month said publicly that North Korea is experiencing food shortages. "The people's food situation is now getting tense," he told senior leaders at a meeting. The starvation has intensified after North Korean imports from China saw a whopping 90% drop in May as compared to the last month. Media reports have described the markets in North Korea as currently in turmoil, where the prices of white rice and corn have skyrocketed since the beginning of June. Another agency reported on Tuesday that commodity prices were sharply rising in some North Korean regions.
As reported by Asia Times, people in some regions are hopeful of massive food aid pouring in from China next month. No such announcements have been made from the Chinese side, however. China is North Korea's largest trading partner, and any such crisis in the autocratic state can further push DPRK into China's realm of influence. China is now capitalising on North Korea's crisis and pitching in hard to rein in the latter's attempts to break the ice with the South.
Read More: Post Trump, China has driven North Korea to starvation to ensure that it becomes a Chinese client state again
North Korea's disillusion with China is well known, given the economic woes being suffered by its people at the hands of Chinese dominance. However, the economic perils and over-dependence on the communist giant have made it arduous for North Korea to shun away China's support altogether.
Last week, as reported in Nikkei Asia, Kim Jong-un warned that excessive food shortage in the country had put the security of the state and people at risk. The food shortage in the country could force North Korea to unwantedly bolster its ties with China. Russia's timely intervention to help a sulking North Korea with its vaccine demand would prevent China from usurping the nation altogether. With China's vaccine diplomacy falling flat in most parts of the world, Russia vaccine ante emerges out as the biggest gainer in the Korean peninsula.