Jewish nation's decision to get heavily involved in Azerbaijan
Israel has been encircling Iran and Azerbaijan. In fact, it is encircling Iran with such finesse that other countries are beginning to worry about their fortunes. The tide in the Arab world is fast changing. Support for Israel is growing, and the Biden administration is pushing for more Gulf states to normalize ties with the Jewish nation. The Arab world itself is realizing the endlessness of conflicts in the Middle East, and is as such looking to establish a region which is peaceful. Iran remains a top priority for the Arab states – and it continues to threaten regional stability.
The goal is to bring as many countries as possible under one umbrella to counter Iran, and Israel is leading this effort with the support of Saudi Arabia and the UAE. So, Turkey – under its wannabe Khalifa Recep Tayyip Erdoğan is now looking to be on the right side of history. After ten years of extremely strained bilateral ties between Tel Aviv and Ankara, the world was surprised recently as the Turkish President called his new counterpart in Israel.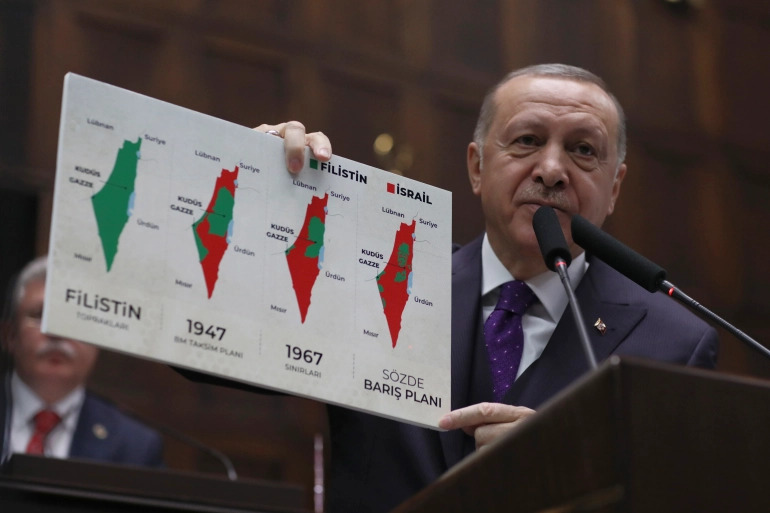 In the call on Monday, Erdogan congratulated Herzog on being sworn into his new role as Israel's president last week, and noted the importance of relations between the two countries for the sake of regional stability. The Turkish president said there was strong potential for cooperation between the two countries in fields including energy, tourism and technology.
Israel and Turkey can have Azerbaijan as allies
According to a statement put out by the Turkish presidency, "Pointing out that the bilateral trade volume increased despite the pandemic, President Erdogan said that it was of mutual interest to benefit from that potential." An Israeli readout of the important call stressed "the great importance of maintaining contact and ongoing dialogue despite the differences of opinion, with the goal of making positive steps toward a solution to the Israeli-Palestinian conflict, which will also contribute to the improvement of Israeli-Turkish relations."
Read more: Israel's new plan to encircle Iran from all sides
From calling Israel a "terror state" to now dialing its new President and seeking enhanced, mutually beneficial ties, Turkey's Erdoğan has come a long way. At the core of Turkey's push for better ties with Israel is the Jewish nation's decision to get heavily involved in Azerbaijan with the aim of neutralizing Iran. In the effort, Turkey's ties with Azerbaijan can very well suffer collateral damage, and Ankara does not want to lose Baku. Turkey – for its own geopolitical goals, is committed to an alliance with Azerbaijan, which is now being threatened by the growing interest and involvement of Israel in the country.
As a matter of fact, Azerbaijan won the 44-day Nagorno-Karabakh war solely with the support of Turkish UAVs and drones, which proved to be a gamechanger during the conflict. Israel's shrewd diplomacy, however, is threatening ties between Ankara and Baku. Yet, Israel's moves to befriend Azerbaijan primarily have Iranian connotations, and Turkey knows this. Therefore, Erdoğan is trying to find a way in which both Israel and Turkey can have Azerbaijan as allies.
Azerbaijan has repeatedly expressed dissatisfaction with Iran's support for some Islamist groups in the country, which Tehran has sought to use as leverage over Baku as well as to offset what it fears is Baku's influence over the large ethnic Azerbaijani minority living in Iran – which Tehran sees as secessionists. Nonetheless, Iran is trying to placate Azerbaijan, since it is aware of Israeli efforts to win over the Turkish ally.
Jewish Nation has expressed a desire to help Azerbaijan rebuild its border areas
On its part, Israel has expressed a desire to help Azerbaijan rebuild its border areas with Iran. Interestingly, it has also asked Azerbaijan to use the Israeli tactic of building "kibbutzim" or "settlements" in the area, indicating that this was the way Israel was created. The same was communicated to Azerbaijan by Israeli Communications Minister Ayoub Kara, who was visiting the Iran-Azerbaijan border for unspecified reasons. The Israeli Minister told Azerbaijan, "We should send over Israeli companies to help clear off the landmines," adding, "We can offer the Azerbaijanis the right technology" to rebuild the area.
In addition, Azerbaijan is currently the largest supplier of energy to Israel. The volume of bilateral trade between the two countries reached $287.8 million in the first five months of 2021. In January, Azerbaijan expressed its willingness to involve Israel in the restoration of the country's newly-liberated territories.
Turkey has, of late, been laying an emphasis on mending its ties with Arab states. It has been trying to normalize ties with Egypt, while also sending the feelers to Saudi Arabia. Ankara realizes that its peace efforts will necessarily have to include Israel.  Erdoğan, it seems, has concluded that Iran is not a friend any country should have, and is thus transforming his foreign policy outlook.