US President Joe Biden is an establishment politician. To be honest, you expect him to be a glib liar. However, what has happened in Afghanistan is so big a blunder that even Biden's lies are getting caught rather easily.
In his latest speech, Biden made an unsuccessful attempt to mislead Americans and the whole world about his failed Afghanistan strategy. The US President uttered three big lies-
That he planned for every contingency.
That Afghans didn't want to fight the Taliban.
That Trump is to be indirectly blamed for the Afghan crisis.
Of course, none of Biden's claims make any sense. The US President said, "My national security team and I have been closely monitoring the situation on the ground in Afghanistan and moving quickly to execute the plans we had put in place to respond to every constituency, including — and contingency — including the rapid collapse we're seeing now."
Of course, there is not even an iota of truth to what Biden says. When the Taliban took over Afghanistan, Joe was busy holidaying at Camp David. White House Press Secretary too took a break from her duties and went on a vacation while Taliban wreaked havoc in Afghanistan. Meanwhile, a clueless US Secretary of State Antony Blinken was somehow trying to avoid comparisons with the humiliating fall of Saigon in 1975.
Holidays, vacations, and cluelessness; this doesn't really sound like a 'contingency' plan for the Biden administration. Anyway, things have gone from bad to worse in Afghanistan. The Kabul airport is at the centre of a mayhem and a US Embassy security alert itself disclosed, "The security situation in Kabul is changing quickly including at the airport. There are reports of the airport taking fire; therefore we are instructing US citizens to shelter in place."
The visuals and reports coming from the Kabul airport are absolutely shocking. With Taliban taking over Kabul, there is a lot of panic and fear amongst the citizens of different countries located in Afghanistan. And despite Biden's contingency plans, no one including the US can figure out how to evacuate hundreds of thousands of foreigners stuck in Afghanistan.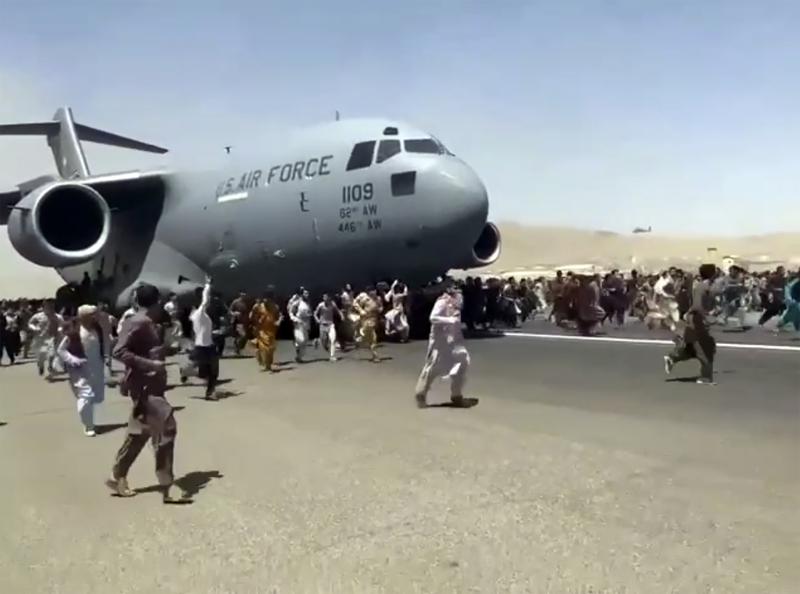 The US alone has to evacuate an estimated 88,000 people in Afghanistan. It includes those who worked against the Taliban and supported the US military or other agencies in Afghanistan. Biden said, "Operation Allies Refugee [Refuge], which I announced back in July, has already moved 2,000 Afghans who are eligible for Special Immigration Visas and their families to the United States."
Biden isn't even talking about the 86,000 people left behind in Taliban whose evacuation is America's moral responsibility. In fact, Biden has botched up the evacuation of not only American interests, but also the interests of all other countries in the war-torn nation of Afghanistan.
Take India for instance. New Delhi is finding it difficult to rescue Afghan minorities like Hindus, Sikhs and Buddhists. Since Biden has side-lined Afghan minorities, they are at risk of being tormented by the Taliban. Pandit Rajesh Kumar, the last Hindu priest of the Rattan Nath temple in Afghanistan is one such example. He is not looking to flee even as Taliban is unleashing a reign of terror in Afghanistan. Imagine what the Taliban can do to him and other minorities in the country.
In order to legitimise his hasty withdrawal from Afghanistan, Biden also said, "Afghanistan political leaders gave up and fled the country.  The Afghan military collapsed, sometimes without trying to fight." The US President added, "American troops cannot and should not be fighting in a war and dying in a war that Afghan forces are not willing to fight for themselves."
Biden's premise that the Afghans don't want to fight Taliban is fundamentally flawed. Afghanistan's former Vice-President Amrullah Saleh himself said, "I will never, ever & under no circumstances bow to d Talib terrorists. I will never betray d soul & legacy of my hero Ahmad Shah Masoud, the commander, the legend & the guide. I won't dis-appoint millions who listened to me. I will never be under one ceiling with Taliban. NEVER."
I will never, ever & under no circumstances bow to d Talib terrorists. I will never betray d soul & legacy of my hero Ahmad Shah Masoud, the commander, the legend & the guide. I won't dis-appoint millions who listened to me. I will never be under one ceiling with Taliban. NEVER.

— Amrullah Saleh (@AmrullahSaleh2) August 15, 2021
Even as Biden slanders Afghans for giving up, there are reports of an anti-Taliban alliance materialising in the Panjshir Valley, the only region in Afghanistan that remains outside Taliban's reach. Afghans are still showing the spirit to fight Taliban and would have resisted the militant group a lot more resolutely had Biden not exited Afghanistan without any planning.
The Biden administration has also left all its military assets for the Taliban to come and exploit and its generals have no answer for it.
What kind of contingency strategy is this?
To be precise, Biden administration's miscalculations were a big reason why Afghans couldn't really resist Taliban. The US intelligence was way off the mark when it predicted that Kabul could fall in 90 days. Kabul fell very early and once it fell, Afghans were simply not prepared to take on Taliban.
Finally, Biden's indirect remarks about Trump are all over the top. He said, "When I came into office, I inherited a deal that President Trump negotiated with the Taliban.  Under his agreement, U.S. forces would be out of Afghanistan by May 1, 2021 — just a little over three months after I took office."
Biden must understand one thing- no matter what he says, he simply cannot throw Trump under the bus for his own faults and a clear lack of exit strategy. Afghanistan is not in chaos because of Trump's negotiations with Taliban but because of Biden's poorly executed troops withdrawal. Executing the troops' pull-out was Biden's responsibility since he was in power. Trump cannot be scapegoated for Biden's lack of efficiency.
No matter what Biden says, the truth is too clear to be hidden. At the end of the day, the Afghan blunder might as well mark an embarrassing end of Biden's political career.