One high-level official of a US Fortune 500 company once met with a representative of the Chinese government to complain about an egregious violation of WTO rules that was hurting his business to the benefit of a Chinese competitor and threatened a WTO case. The other day the US company official was threatened with regulatory measures that would have barred his company in future from selling in China, should it continue with the pursuit of the case at WTO. No prizes for guessing, the company did nothing, conveniently agreeing to the imposed terms rather than relinquishing the vast Chinese market in one go.
Why the world advocated China's entry into WTO?
It was in December 2001, when the world welcomed China's accession into the community of trading nations, WTO. The West hoped that WTO terms would enable China to liberalize its economy and help China's transition to Democracy. President Clinton called China's accession "a hundred-to-nothing deal for America when it comes to the economic consequences," and one that would "have a profound impact on human rights and liberty" in China.
Such expectations from China were very well warranted, only if China had been a "normal country." With each passing year, the global trading community came to realise how China had weaponized the tremendous size of its market to circumvent its commitment and responsibilities that it had promised to meet while China's accession into World Trade organisation.
How China fleeced the world?
Even after 20 years of China's inclusion into the trade body, China remains far away from meeting the criteria of having all the privileges of being a WTO member. China's journey in WTO has so far remained two decades of false promises. Information Technology and Innovation Foundation (ITIF) has enumerated Chinese failures, comprising the most important examples of China's façade, over the past two decades.
Fundamentally rejecting the WTO's market orientation
State-led industrial planning that defies WTO norms
The continuing prevalence of and preferences for SOEs
Massive industrial subsidization often leads to overcapacity
Failure to make timely and transparent notifications of subsidies
Forced technology transfer and joint venture requirements
Failure to respect foreign IP rights
Abuse of antitrust rules; Discriminatory technology standards
Failure to reciprocally open government procurement
Continuing use of service-market access restrictions
Retaliatory use of trade remedies.
Make no mistake, China under President Xi Jinping has moved further away from meeting its WTO obligations. China's "Socialist market economy with Chinese characteristics" directly contradicts WTO membership norms. With the crackdown on private capital holders, the role of state-owned enterprises (SOEs) has only increased in the Chinese economy, further violating WTO's norms.
Chinese SOEs enjoy considerable advantages unavailable to private enterprises, domestic or foreign. SOEs receive preferred access to bank capital, below-market interest rates on loans from state-owned banks, and favourable tax treatment. Hence, the growth of domestic and foreign private firms and their ability to pose a comparative advantage competition to their state-owned counterparts get seriously hampered.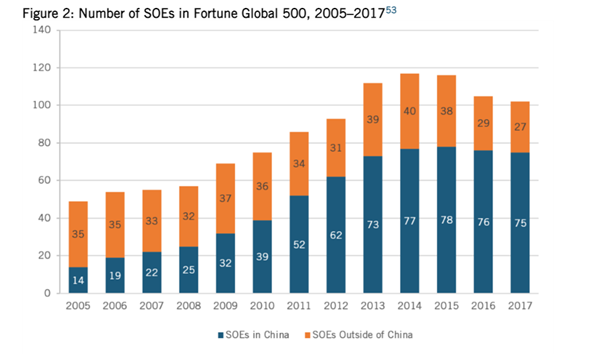 China's blatant violation of the WTO's norms:
Since China joined the WTO in 2001, subsidies have financed approximately 20 per cent of China's manufacturing capacity every year. The subsidies help economically inefficient firms to be more competitive. This again is in direct contradiction to the WTO norms.
In a legally binding WTO provision, China had committed in 2001 that it would not condition investments on the transfer of technology. On the contrary, Chinese technology transfer requirements are a continuing feature of Chinese policy. In 2012, 23 per cent of the value of all foreign direct investment (FDI) projects was joint ventures. In 2015, 6,000 new international joint ventures, amounting to $27.8 billion of FDI inflows, were established in China.
The burgeoning trade deficit with China:
One major argument for advocating China's entry into WTO was that it would help the Western countries bridge the gigantic trade deficit with China. However, the irony is striking. From 2001 to 2020, the United States accrued a $6.82 trillion deficit in trade in goods with China.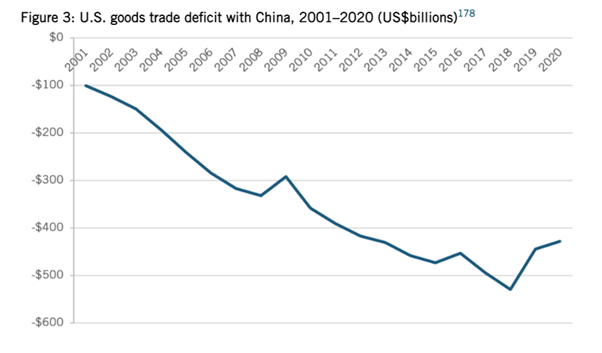 The 28 countries of the European Union also experienced an aggregate $2.1 trillion goods trade deficit with China during this period.
That shows how China has remained a front-runner in exercising its rights and privileges of the WTO's membership. On the other hand, it has shown the same vigour in tossing around its commitments and responsibilities.
China now eyes to milk CPTPP membership:
But that is not the end of the story. China is also eying the membership of the Comprehensive and Progressive Agreement for Trans-Pacific Partnership, which would further enable it to suck the blood out of developing as well as developed markets. However, the way how the Chinese government has doubled down on policies to promote the development of national industries, put up new trade barriers, imposed trade sanctions, warned against the dangers of interdependence and reliance on foreign inputs for the economy, raises serious questions on China's qualification and intentions of joining the CPTPP accord.
Countries like Japan and Australia, who view CPTPP as more of a strategic pact than a mere trade pact, look well poised to stymie China's efforts to join the free trade agreement. Hence, it would be an exaggeration to envision China's accession into CPTPP anytime soon. But the world must stand up to China's blatant and unabated WTO norms violations sooner than later. It will not just help world economies decouple from China, but also bring an end to the vehement discriminatory trade practices of the Chinese government.