It's been almost a year now since Donald Trump vacated the Presidential office in January, but the scars inflicted by his administration still run deep in the Chinese government. For example, the recent exodus of textile companies from mainland China. Leading this departure are the companies from Japan, who are now finding it more advantageous to shift production units back to Japan from China.
Japanese apparel brands start ditching China
World Company and TSI Holdings are the two major Japanese apparel brands that now want to accelerate domestic production in the coming years. After the proposed overhaul, the World Company's domestic production share in overall production is expected to reach above 30% from 20% as of now. Similarly, TSI Holdings Company is also planning to ratchet up its domestic production by 30 to 50%.
Make no mistake, the labour cost in Japan is much higher than that in China or Vietnam. But the Japanese companies are still finding it more profitable to produce more at home. 
That's because China is mired in vehement supply chain disruptions. Exporting a made-in-China product has now become equally painful as manufacturing it. Ports are clogged. Containers are in short supply. 
So, it is taking longer for these companies to export goods produced in China; that too at inflated prices.
South Korean companies join the party too
But Japanese textile companies are not alone in ditching China. South Korean companies too are leading from the front. Four South Korean textile firms have relocated their business out of China over the past few years.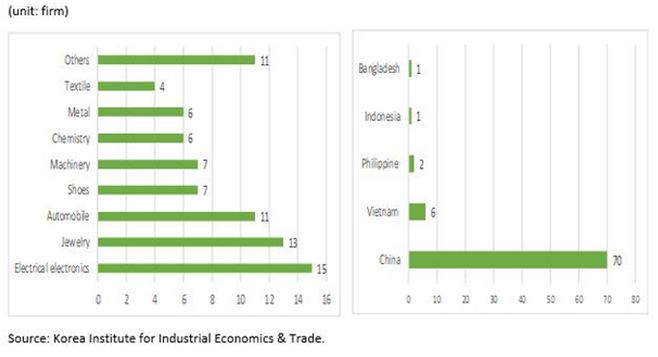 The South Korean apparel firm G&G Enterprise recently built a new, fully automated smart factory in southwest Korea that helped it be price competitive and more flexible in product variety. 
Delta variant wreaks havoc on textile hubs in China
Another reason for this exodus of textile companies from China is that major textile manufacturing hubs around the nation are facing deadly outbreaks of the Delta variant. 
Chinese state-backed tabloid Global Times recently reported that "businesses in Zhejiang are facing logistical challenges which may impact clothing firms and other sectors of the local economy, after factory activity and transportation channels in parts of the province were suspended amid the recent resurgence of coronavirus cases." 
Mind the fact that Zhejiang is a textile manufacturing hub in China. So, it is natural for these textile companies to look out for other or better alternatives to shift their production bases away from the communist nation.
The Xinjiang connection
Textile is a labour-intensive industry. China emerged as a textile hub owing to its vehemently cheap labour costs and abundance of high-quality cotton in the country. Xinjiang, for instance, accounts for 80% of total cotton production in China. The annual production of cotton in Xinjiang is approximately 5 million tonnes, which makes China a natural textile hub of the world. But, Xinjiang is the same region where China is believed to have carried out extensive human rights abuses against Uyghur Muslims. Allegations of forced labour and atrocities against Uyghurs have taken a massive toll upon China's labour-intensive textile industry.
Trump's legacy
This all began under the Trump administration. The Trump administration in January this year had banned cotton and tomato imports from China's Xinjiang region amid the allegations that they were made with forced labour from detained Uighur Muslims. 
As of today, the EU is also piling up pressure on its companies to sever ties with Chinese companies implicit in forced labour in China. The EU has signalled that it will not tolerate human rights abuses in the supply chains of the companies operating in the EU. 
Cheap and forced labour was China's greatest wealth that helped it build its economy over the past two decades. But this great asset is now increasingly turning out to be China's greatest liability. The genocide that China set in motion in Xinjiang has now come to haunt the CCP's fortunes.