The Indian government, especially under the foreign policy leadership of External Affairs Minister Dr S Jaishankar's push in the continent of Europe has reached new heights. India has been trying to increase its geopolitical capital in the continent and the disappearance of the Chinese influence from the region has given the perfect opportunity to progress on this development. The latest positive step for increased Indian cooperation with European nations comes from Slovenia.
As reported in early December, India and Slovenia discussed regional and global issues including developments in the Indo-Pacific and India-EU relations. The discussions came during the 8th Foreign Office Consultations between India and Slovenia that took place in a virtual format. And now, in an interview, the Slovenian Prime Minister told the Economic Times that he is keen to further the India-EU Indo-Pacific partnership through its Koper Port.
The strategic importance of the Koper port cannot be understated as India will have the shortest access to the Central European countries by its operations from the port. The fact that India might gain a significant strategic foothold in the Mediterranean at a time when many powers including China, Russia, Turkey among others are trying to increase their own strategic advantage, will quite likely alter many global equations.
Importance of Slovenia as India's gateway to the heart of Europe
Slovenia is a Central European and Mediterranean country. Its port of Koper is the most northern Adriatic port, putting it in the heart of Europe and just a short flight away from major European cities, Western Balkan countries, and other European nations, which collectively form India's largest market for goods, services, and investments. If things go as planned Slovenia may become an important strategic partner for India and an entrance point for Indian goods to European markets since the country boasts solid infrastructure, logistics experience, and a safe and stable economic environment.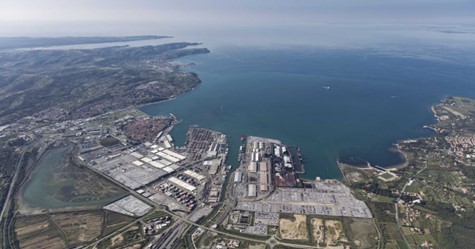 Slovenian Prime Minister's open invitation to India
The Prime Minister elaborated on how India can benefit from its involvement in the Koper port. He said many worldwide shipping lines have recently recognised the benefits of the Adriatic transport route, particularly the faster sea passage time compared to North European ports, and the significance of the Port of Koper as a result. That also applies to India, as the Port of Koper now offers indirect shipping services to Nhava Sheva, Mundra, Chennai, and Kolkata. Perishable commodities, such as fruits and vegetables, vehicles, industrial cargo, and raw materials, all have great potential in both import and export directions.
Prime Minister Janez Jansa added that "to further strengthen its presence in the Indian market, Port of Koper is also engaged in many marketing activities in India and is considering setting up a permanent representative office in India."
He stated that the EU is one of India's largest trading partners and foreign investors and that in the new digital era, strong collaboration on global digital standards, as well as in relation to and beyond 5G, is required. He also stressed the importance of trying to keep the global trading system open and expanding trade and investment connections to their full potential, especially in light of the post-Covid-19 economic recovery.
This will upset many global equations
The Mediterranean is a highly contested region. With established powers trying to keep their influence, new entrants such as China have been trying to chip away their influence. Western Europe, Russia and other regional powerhouses who have maintained their presence in the region for a long time are involved in a hectic struggle for maintaining their influence in the region.
Read more: Putin's gameplan: Russia's Mediterranean push is soon going to be a big headache for China's BRI ambitions
Early last year, Vladimir Putin had made a huge success to balance China's increasing dominance in Greece and thus in the Mediterranean. Belterra Investments Ltd took ownership of the port of Thessaloniki in February last year. It is one of Greece's biggest ports. The company belongs to Russian businessman Ivan Savvidis, who has ties with the ruling United Russia Party. With the control of this port, Putin had unlocked the Mediterranean puzzle and helped diminish the geopolitical influence of China in the region.
On the other hand, Greece and Cyprus have been on their toes when it comes to Erdogan and Turkey's influence operations. Turkish aggression against Greece since 2016, especially in the Eastern Mediterranean as well as with Cyprus is not an unknown affair. In fact, the issue most recently caught limelight in December 2020, when Turkey withdrew its seismic research ship, the Oruc Reis, from the Mediterranean Sea after the EU threatened to impose sanctions on Ankara for stoking tensions and overstepping the international boundaries.
Read more: Turkey's act of aggression in the Mediterranean was supposed to make Greece weak, but it ended up making Greece a formidable force
In addition to all this, France has been a constant factor in the region. French President has time and again provided support to Greece and even made a fast-track sale of French Rafale jets to the country. Paris has been working with many like-minded Mediterranean nations.
Now with the entry of India into the region and the further strengthening of India's engagement with the European Union, these equations which had become a constant are going to see a huge transformation. Whatever the case may be, the entry of India will catalyse the receding influence of China in the region, and at times even nullify the impact of China's investments in ports from Italy to Greece.