Indonesia is going to have a new capital. Today, the Indonesian government sits in Jakarta, a city that is feared to go completely underwater by 2050. Jakarta is overcrowded; it lacks the infrastructure to support expansive economic activities; it is plagued with a rising economic divide. All in all, the city doesn't resonate with Indonesia's hefty economic and strategic ambitions. So, the country is now bidding adieu to Jakarta and is relocating its capital to a city in the East Kalimantan province, called 'Nusantara', which literally means 'archipelago' in the local Javanese language.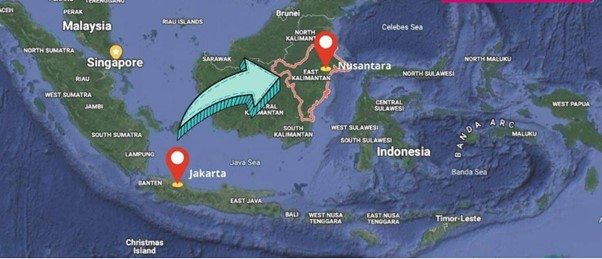 Nusantara- The driver of Indonesia's new economy
President Joko Widodo first proposed the idea of new capital in 2019. The cost of developing the new capital is estimated to be $33 billion. Now, Indonesia has even passed a law to set the development of new capital in motion, which will be finished by the first quarter of 2024. The bill states that the aim would be to make Nusantara a city, which is "a driver of Indonesia's economy in the future, as well as a city which is a symbol of national identity and represents the diversity of the Indonesian nation".
You see, Indonesia is aspiring to become a great economic and military power in the Southeast Asian region. And Indonesia's decision to relocate its capital can be perceived as the first step towards realizing that goal. Yes, changing capital to Nusantara is going to have great military and strategic implications, which will render Indonesia into an impregnable fortress for its regional rivals like Malaysia and China.
Read More: Indonesian lawmakers reject RCEP in a big setback for Beijing
Indonesia's plans to militarize Borneo
A report published by the Strategist revealed that Indonesia is eying to militarize Borneo through its new capital. Borneo is a strategically located island. It is shared by Malaysia and Brunei in the north. Furthermore, it also lies close to the Philippines and Indonesia's three strategic archipelagic sea lanes, which includes the Lombok Strait and the Makassar Strait. To put things into perspective, more than 400 large ships (over 100,000 tonnes deadweight) travel through the Lombok and Makassar passageway carrying around 36 million tonnes of cargo worth $40 billion every year.
Despite the great strategic importance of Borneo, Indonesia lacks solid defence infrastructure here. Currently, only 20,000 Indonesian military personnel are deployed in the region. There are a few naval and air force bases, and all of them are relatively small and underdeveloped for heavy deployments. Indonesia is now realizing its folly and it has plans to fill the void under its new capital program.
Indonesian armed forces to ramp up their presence in the region
Indonesia's armed forces are also going to shift their headquarters in the East Kalimantan province. The army leadership and its supporting infrastructure will follow suit. To supplement the two existing regional commands (KODAMs), the army will create a new Capital Security Regional Command (KODAM PIK). While the Navy has proposed a new 'armada-level' force, a new division-level marine unit and a third primary naval base in Kalimantan.
The development of new naval port facilities and airfields is also being considered by the top leadership. The country's Airforce will also ramp up its presence in the region. Radar and missile defence units along with a special forces battalion and two aviation squadrons could be established near the new capital. Major platforms will be deployed in the area, including possibly up to 16 new F-16V fighter aircraft.
Indonesia's military, which was previously dominated by the army, is now focusing on ships and aircraft to protect its islands and vital straits, including Sunda, Lombok, and Makassar, as well as part of the crucial Malacca Strait, which connects the Indian Ocean to the Pacific.
Also Read: Indonesia tanks Chinese stocks by cutting Nickel supplies to it
Indonesia on a naval spending spree
Indonesian Defence Minister Prabowo Subianto recently travelled to India and South Korea to strengthen bilateral ties. Defence Minister Prabowo Subianto has signed contracts for two British Arrowhead 140 frigates to be built at the state-owned PT PAL shipyard in Surabaya, as well as six new Italian FREMM multi-role frigates and two modified Italian Navy Maestrale-class light frigates.
But realizing its military and economic objectives is not the only reason why the Indonesian government is keen to make Nusantara its new home. Nusantara reflects Indonesia's proud Hindu heritage. This is inspiring how the largest Muslim nation in the world still cherishes its Hindu identity and even promotes it. Indonesia is already Southeast Asia's largest economy and the most populated country, and now with its new capital program, the country is going to become the most powerful and deadliest nation in ASEAN.