The Chinese history post-Communist coup has been fraught with mass murders of such scale, that even Stalin and Hitler may get ashamed. It was April 1959, a year after China's Great Leap Forward, a political initiative that compelled citizens to abandon everything and create steel in backyard furnaces for China to catch up to the United States and Britain. The whole population of the country ate in communal kitchens. Pots and pans were confiscated while farm labour remain closed.
A decade after the Communist Party came to power in 1949, vowing to serve the people, the world's worst man-made tragedy ensued over an already destitute country. Over three years, more than a million people – one in every eight – were wiped off by starvation and brutality in the unassuming central Henan province. Officials in one location seized more grain than the farmers have produced. In just nine months, a single commune lost around 12,000 individuals — a third of its population – and a tenth of its homes.
Provinces reported record grain hauls, inflating their numbers and resulting in massive procurement objectives, leaving peasants with little to eat. Millions of people died of starvation. Some Western scholars have put the toll as high as 45 million.
A Chinese Journalist lays bare the reality of the artificial famine
In Tombstone, a book widely regarded as the most authoritative account of the man-made tragedy that lasted from 1958 to 1962, a veteran Chinese journalist and historian Yang Jisheng studied the high death toll from China's Great Famine, as well as the government policies that created it. The book was published in 2008, however, it is still prohibited in mainland China. Yang was recently barred from going to the United States to accept an award for "awareness and integrity in journalism" that was meant to be presented at Harvard University back in 2013.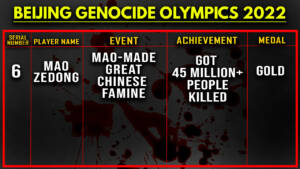 Yang thinks that 36 million people died during the famine. The majority of deaths were due to famine, but the tally also includes murders committed during ideological campaigns. According to some Western historians, the death toll could be as high as 45 million. People acted inhumanely as a result of their insatiable desire. People ate human flesh from dead bodies, according to government archives.
"Documents report several cases where people ate other people," Yang says. "Parents ate their kids. Kids ate their parents. And we couldn't have imagined there was still grain in the warehouses. At the worst time, the government was still exporting grain."
The book is prohibited in China, where historical accounts attribute the famine to natural calamities, the retreat of Soviet expertise, and policy errors. The first two explanations, according to Yang, are just excuses that don't hold water. Photocopies and electronic versions of his book, as well as counterfeit ones, are in circulation. Yang claims he is unconcerned about copyright. He simply wants Chinese people to be aware of their history.
A taboo in China
Three Years of Natural Disasters or the Three Years of Difficulties are euphemistically used in China to refer to the Great Famine. Yang's monumental story, which was initially published in Hong Kong, is now outlawed in his own country. When he first started working, he had no clue what he would find: "I didn't expect it would be so serious, so nasty, and so bloody." I had no idea there were thousands of cannibalism cases. I had no idea that farmers were being battered to death.
"People died in the family and they didn't bury the person because they could still collect their food rations; they kept the bodies in bed and covered them up and the corpses were eaten by mice. People ate corpses and fought for their bodies. In Gansu they killed outsiders; people told me strangers passed through and they killed and ate them. And they ate their children. Terrible. Too terrible."
The Great Chinese Starvation between 1959 and 1961 is marked by widespread famine. Some researchers have included the years 1958 and 1962 as well. With an estimated death toll in the tens of millions due to starvation, it is usually recognised as the deadliest famine and one of the greatest man-made tragedies in human history (15 to 55 million). Anhui (18%), Chongqing (15%), Sichuan (13%), Guizhou (11%) and Hunan (11%) were the most severely affected provinces (8 per cent).
Against the backdrop of the Beijing Winter Olympics, this article is part of a detailed series that tallies all the Genocides and mass killings in China under the Chinese Communist Party.