Nickel, It's a metal for the world but for China it's gold. China wants to dominate the global nickel supply chains as the communist nation yearns to dominate the global Electronic Vehicle supply chains. But for producing millions of electric vehicles, China needs abounding nickel ore reserves.
Much to China's chagrin, the country houses only 3% of the global nickel reserves. China produced 120,000 tons of nickel at home in 2020, which is next to nothing considering China's share in global EV production.
When China saw a lifesaver in Indonesia
So, China saw a lifesaver in Indonesia during the late 2010s. Indonesia is home to 23.7% of the world's nickel ore reserves. It produced 853,000 tons in 2020, accounting for nearly one-third of global output. Minding the profit, China set its lustful eyes on Indonesia's nickel reserves and inundated the nation with humongous investments.
Beijing poured $4 billion into the Indonesian nickel mining sector in 2021 alone. In Indonesia county Morowali, industrial parks have been established by Chinese stainless steel giant Tsingshan Holding Group to set up nickel smelters.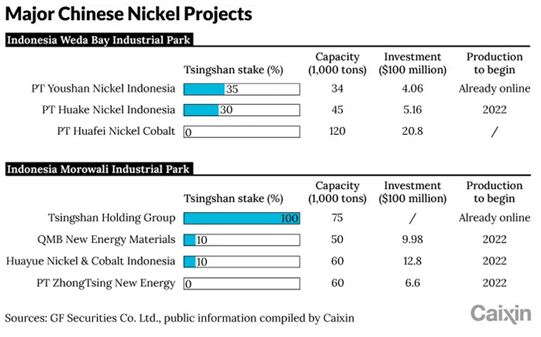 According to CSC Financial, demand for nickel used in EV batteries will grow to 590,000 tons in 2025, up from 140,000 tons in 2020. If the trend follows up, the demand could outrun supply as early as next year.
Indonesia's ambitions stand in the way of China's EV empire
Indonesia's role in China's nickel supply chains is going to be even more crucial in the coming years. But, Indonesia doesn't want to reduce itself to a mere mineral exporting country. After all, it has switched to global nickel supply chains, thus can put its reserves to better use for its economy.
President Joko Widodo said last year that "Indonesia's key business strategy is to free itself from the trap of being a raw material exporting country immediately and not to depend on imported products by speeding up the revitalization of the processing industry."
Read More: Indonesia tanks Chinese stocks by cutting Nickel supplies to it
Indonesia may throttle nickel supplies
In January, reports emerged that Indonesia may soon tighten its nickel exports in a bid to support the local EV and battery making industry and encourage foreign companies to produce EVs in Indonesia itself. And now naturally, this impending change in the Indonesian government's policy has sparked fears in Chinese companies that have invested millions in the nation. Last September, the government of Indonesia had signalled a complete halt on bauxite and copper ore shipments. That shows the world's largest nickel supplier is now striving to develop itself as a major EV manufacturing hub.
China in for a big jolt by Indonesia
Analysts are now saying such a policy will hurt China's EV sector tremendously. Higher nickel prices will pile extra pressure on EV manufacturers, which would make the Chinese EV sector less competitive in global markets.
China realizes that Indonesia has the power to kill its EV sector at its will. It was for this reason that a normally hostile Chinese PLA was seen distancing away from  Indonesian waters in a move to not irk Indonesia further and lose access to the nations' nickel immediately.
By the end of December 2021, the stand-off between Indonesia and China over their respective claims to the waters around the Natuna region had become more strident. Indonesia believes that the regions extending north of the Natuna island fall under its Exclusive Economic Zone (EEZ), which is rightfully recognised by the UNCLOS as Indonesian waters.
However, China strongly challenges this claim, and last year went as far as s intruding into the Indonesian EEZ. However, the PLA didn't take time in disappearing from Indonesian waters as soon as Indonesia announced a coal-export ban on the 1st of January this year. Thus, Indonesia's mineral offence has also proven effective in dampening China's desire for usurping Indonesian resources.
All in all, with increased competition and throttled supply chains in the nickel sector, China's so-far flourishing EV sector is set to face unprecedented hurdles and challenges. And this may even end up killing China's EV ambitions altogether.