Russia had issued a list of unfriendly nations in early March following the imposition of sanctions on Moscow in the aftermath of the Russian invasion of Ukraine. The list included nations like the US, Japan, Australia, Singapore and Taiwan.
It also included all EU states that Russia considers hostile towards it. And now, Putin has a task for them. Putin is all set to use these EU states, many of whom buy gas from Russia, to shield his nation from the Western sanctions.
Putin says gas trade to take place in rubles
Putin on Wednesday said in a televised speech that Russia would continue to supply natural gas to its European buyers but with a change in payment mechanism. He said, "The changes will only affect the currency of payment, which will be changed to Russian rubles." The announcement had two major immediate impacts. Russia's beleaguered currency reported a 10% spike against the US dollar, and gas prices in Europe were sent soaring.
How will this decision help Russia shore up its battered economy? Well, the short answer is—in a big, big way. The current gas trade volume between Russia and Europe is mind-blowing. Data shows that Europe has imported Russian gas worth $800 million a day this year so far, despite widening sanctions on Moscow.
Till now, the EU importers were paying Russia in dollars for the gas imports. But sanctions have rendered Russia's dollar assets worthless. Today, Russia can't trade in dollars. The sanctions had essentially cut Moscow off from about of its $640 billion worth of foreign currency reserves.
The move set to heal the Russian economy
So, Russia is now forced to take some concrete actions to help its economy. Not only is the nation striving to establish parallel trading mechanisms with big economies like India and China, but is also taking effective measures to strengthen its own currency. Now, EU buyers will first have to buy Russian rubles before buying Russian gas.
This, in turn, will ratchet up the ruble's demand in the international market, which will result in higher ruble valuation against the dollar. Europe will now have to buy rubles worth $800 million every day to support their gas trade with Russia. This will end up softening the sanctions blow on Moscow in epic proportions.
All Western sanctions cancelled 
This is, indeed, a massive Ruble strike by Putin on the Western nations. Media reports also indicate that Russia could also be using cryptocurrency to evade sanctions. The topmost priority of the Russian government, at this point, is to support its faltering currency. Since the February 24 invasion of Ukraine, the ruble's value against the US dollar has fallen by as much as 40%, from $US1 being worth 76 rubles to 132 rubles.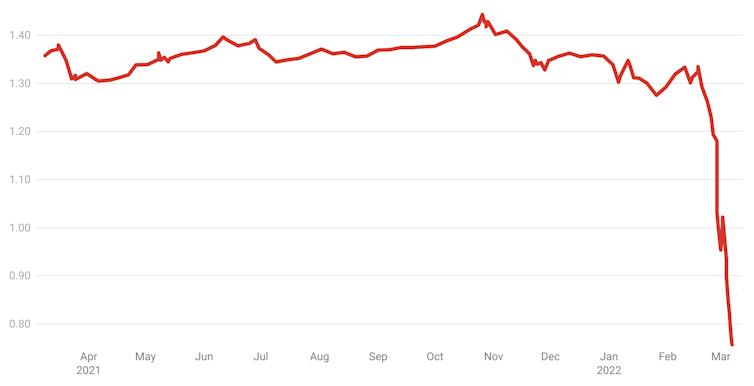 Joe Biden earlier this month had said that the Russian market will blow up due to the crippling sanctions imposed by the West. But, considering Putin's massive 'Ruble strike' on the West, it is hard to tell whether Biden's assessment of the Russian economy was well-grounded or not.