A slip of the tongue can sometimes create terrible repercussions. This is exactly what happened in the case of the US Defense Secretary, Lloyd Austin.
The US Secretary of State Antony Blinken and Defense Secretary Lloyd Austin traveled to Ukraine about a week ago, where Austin unknowingly stated that the United States is a party to the Ukraine war.
This statement is contrary to what Joe Biden had stated a month ago. In his speech, Joe Biden had stressed that a confrontation between NATO and Russia is World War III, and that must be prevented. So if America is an official party to the Russia-Ukraine, does this imply that World War 3 has already begun?
Certainly not. We've been stating since the beginning that the fight is solely between the United States and Russia. Ukraine, on the other hand, is only a battleground.
However, the US Defense Secretary's speech has put the lives of Americans who were hiding behind the curtain in Ukraine in grave peril, since once Russia has its position locked down, they will be killed. Furthermore, it may have negative consequences for Americans all around the world.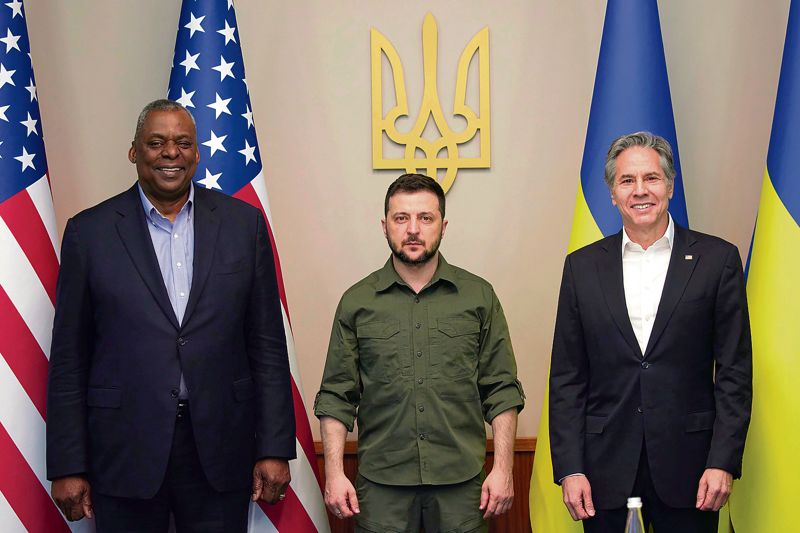 Lloyd's Statement- A Brief
Antony Blinken and Lloyd Austin were in Ukraine to meet the Ukrainian President. After the meeting, Austin declared in prepared remarks, "Our focus in the meeting was to talk about those things that would enable us to win the current fight and also build for tomorrow."
Furthermore, Austin admitted for the first time that the US is a fighter in the war by using the first-person plural to describe both the US and Ukraine engaged in a "battle" against Russia. "We want to see Russia degraded to the point where it can't do the types of things it did in invading Ukraine," Austin continued.
The tremendous magnitude of US involvement in the conflict was made obvious by Austin's remarks. These statements may push more problems than the even US or even NATO would have anticipated.
The Consequences/Ramifications
The statement by Lloyd makes it pretty obvious that the US is pushing for a full-scale war with Russia.
"There are people and forces in the Biden administration and the government, and especially in Washington, who would prefer the United States to get actively involved in this crisis," said Federalist Senior Editor John Daniel Davidson. He further added, "They have their grounds for wanting it, but they realize they can't just do it or declare war right now because the American people aren't behind them."
Also, There has been no public debate on the ramifications of Lloyd's statements, and the Biden administration will not want Americans to know about the consequence of war's escalation. Instead, it has been working for months to mislead public opinion about the perils of nuclear war.
To begin with, if Americans are on the ground assisting Ukraine's army, Russia may attack them, and believe me when I say that the Russian army has no motivation to leave US military personnel alive.
A second possibility is that if Putin sees his conventional military forces being suffocated, he will resort to further cyberattacks on Western infrastructure, chemical weapons, or his tactical, "battlefield" nuclear weapons arsenal. It's a prospect that was unthinkable eight weeks ago but is now routinely discussed and this will put more Americans in danger.
Americans will be put in grave danger in any situation. Lloyd Austin's minor 'slip of the tongue has ushered in a new potential to an already fact: the war may intensify. To date, there has been no American bloodshed in the thick of the war in Ukraine. However, Russia may not hesitate to do so now.
Read More: The Russia-Ukraine war is super profitable, and some American lawmakers have made fortunes out of it
Watch –