A ship carrying Russian oil that tried to dock at the Amsterdam port was blocked by Dutch port workers last week.
However, another ship carrying Russian oil was allowed to discharge on Monday morning.
You may label it as a double standard or hypocrisy on Netherlands' part, but the Dutch port workers actually have a reason for this suspicious behavior.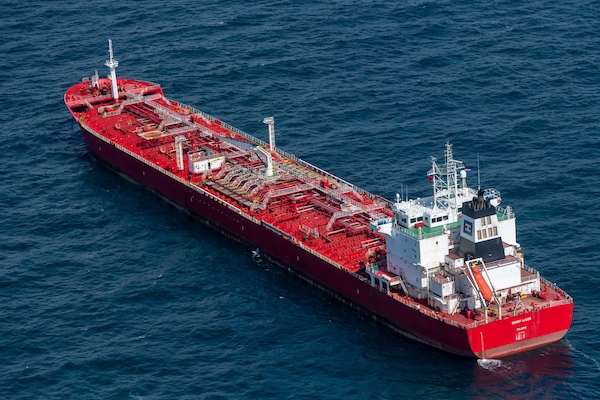 No Russian flag; no sanctions
Apparently, they allowed the second ship to discharge because it didn't carry a Russian flag. Can you believe it? The ship was a Caribbean oil tanker, it was carrying Russian oil and it faced no resistance from the Dutch port workers.
Asmae Hajjari of the port workers union FNV Havens said that they want to stop the import of Russian oil, but they can't stop the ships that don't have Russian flags on them. He said, "More ships are arriving at Dutch ports and carrying Russian oil, but as long as they are not covered by sanctions, there is little we can do."
More Russian oil heading to the Netherlands
I bet you didn't know until now that bypassing European sanctions on Russia would be so damn easy for Russian president Vladimir Putin. And expectedly, more ships carrying Russian oil but sailing under non-Russian flags are now heading to ports in the Netherlands.
Dutch News reported that two other ships, the Clear Stars and the Eikeviken, are now heading for Rotterdam after picking up their cargo in the Russian port of Primorsk. Clear Stars is sailing under the flag of the Marshall Islands, while the Eikeviken is Norwegian.
You see, even European nations are making a hash of European sanctions on Russia. Not because they want to fund Russian war machinery in Ukraine but they want to keep their own economies up and running. And they need Russian oil for that!
Importing oil in 'Ghost ships'
Europeans are so desperate that they are secretly importing Russian oil in 'ghost ships' to avoid getting flanked by anti-Russian and pro-Ukraine voices in the West. TFI Global reported last month that Russia is exporting its oil in "suspicious tankers" with their destinations unknown.
"Destination unknown" label means oil is being transported to larger ships at sea and mixed with oil from other destinations. So, Russian oil evades identification and creates confusion about its origin.
So, where is "destination unknown"? Well, it is seeping its way back into Europe in recent weeks.
Meanwhile, other Russian ships are using a new technique- turning off transponders and disappearing from tracking systems. In March, it was reported that such dark activity had risen by 600% ever since the Ukraine war began.
Ami Daniel, CEO of maritime risk management company Windward said, "We're seeing a spike in Russian tankers turning off transmissions deliberately to circumvent sanctions."
Daniel added, "The Russian fleet is starting to hide its whereabouts and its exports." During the week of March 12 alone, there were 33 instances of dark activity by Russian oil tankers- a 236% increase over the previous week.
Read More: Europe is secretly importing oil from Russia in 'ghost ships'
Frankly speaking, it won't be fair to single out the Dutch authorities here! Every nation in the EU is circumventing its own sanctions on Russia in one way or the other. They understand that the oil must keep flowing, no matter how brutal the Russian war in Ukraine gets. They understand that the Russian oil is the lifeline of their economy. They understand that their own well-being matters more to them than that of Ukraine. But this façade of imposing sanctions and isolating Russia on the world stage must carry on!
Watch –