China keeps boasting about its air-defense capabilities. Its air force includes strategic bombers and stealth drones in addition to fifth-generation fighters. As per an estimate, China has about 2,800 aircraft combined with the Air Force and Navy, excluding drones and trainer planes. About 2,250 of them are dedicated combat aircraft, including 1,800 fighters. Out of these, about 800 are considered fourth-generation jets. And it is also working to build a long-range air force. These include J-16 and J-10 planes. It says it has developed itself into a superior air force.
However, when Russia recently asked China for assistance in the form of fighter planes in the midst of the current conflict but China declined. The question is, 'why'?
The answer lies in the fact that in the last decade there have been several incidences of Chinese planes crashing. And China is terrified that the world will learn about its compromised fighter aircraft capabilities.
A trail of crashing fighter aircrafts
Chinese fighter planes are collapsing in the same way the Chinese economy is collapsing. A video of a Chinese J-16 fighter jet crashing in Henan Province appeared on the internet recently. Chinese aircrafts have had a bad repute.
According to CNN, Yu Xu, China's first female fighter pilot was killed after two Chinese Air Force aircrafts collided during a training mission in November 2016. Two years earlier, as news reported, a Shenyang J-15 on the Chinese aircraft carrier Liaoning crashed during a training flight, and two pilots died after parachuting.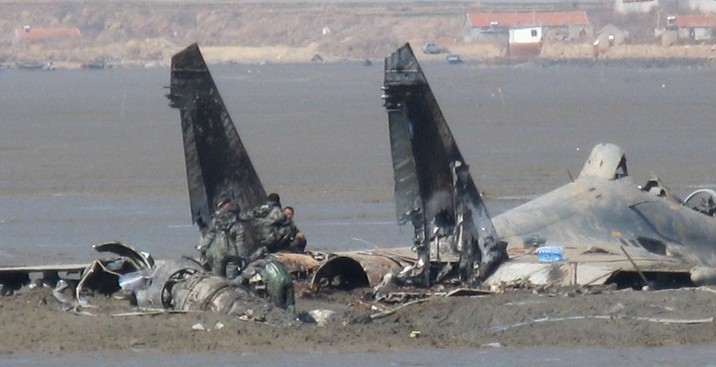 A Chinese Army plane crashed during a training trip in early 2018. A Chinese Air Force Y-8 anti-submarine plane is reported to have crashed and lost communication in the South China Sea in March of this year. Recently, a People's Liberation Army Air Force (PLAAF) Hongdu JL-10 or L-15 supersonic advanced jet trainer crashed at Caolu Village in Yucheng County, adding to the list of incidents.
China is expert in reverse engineering but it failed to develop reliable engines. 
Nonetheless, China has frequently praised its fighter jets as emblems of military might. However, China's fighter jets have long had a key flaw: the scarcity of high-quality engines. China is well-known for its ability to reverse-engineer foreign technologies and produce domestic versions. Almost every Chinese fighter plane is based on ideas that were stolen or reverse-engineered. Although China has sufficient access to Russian jet engines, Beijing's attempts to manufacture its own indigenous designs have been largely unsuccessful.
As a result, the absence of high-quality engine manufacturing is influencing other nations' perceptions of China as a credible defense partner. Many countries' combined experiences have led to the conclusion that this equipment is of exceedingly poor quality. On the same basis, Thailand recently terminated a submarine deal with China. The submarine's engine had to be built in Germany, according to the agreement. China, on the other hand, was unable to obtain one because German regulations prevented Germany from supplying the engine to China. However, in order to keep the contract intact with Thailand, China offered it a submarine with a Chinese engine, which Thailand refused to accept.
Read more: Thailand scraps its submarine deal with China because of faulty Chinese engines
And now, when Russia requests fighter jets, China has flatly denied any assistance. Though it hinted at a last-minute retreat to Russia because it is afraid of western sanctions but China is concerned that the world would learn about its low-quality planes.
Watch –