Indian-Canadians are one of Canada's fastest-growing cultural groups, accounting for the second-largest non-European population behind only Chinese Canadians. The number of Indians who became permanent residents in Canada surged by more than 105 percent from 39,340 in 2016 to 80,685 in 2019. With such a large population, it's no wonder that the community has a strong political representation. In the 2019 federal elections, 23 Indo-Canadians were elected as MPs, compared to 21 in 2015.
Most of these political Indo-Canadian faces have links to the Khalistan movement. And Canada's Trudeau government is renowned for pandering to Khalistani elements in order to keep its pro-Khalistani Sikh voters in good humor. Therefore, Trudeau has repeatedly shown his support for causes championed by the Khalistani forces. His party has been harbouring prominent Khalistan supporters, including the former Minister of Innovation, Science, and Industry Navdeep Bhains.
Furthermore, after the election of Canadian MP and Khalistan supporter Jagmeet Singh to national politics, the Liberal Party's support for the movement has grown.
Trudeau's relationship with the Khalistani movement, however, paid him dearly when he visited India in 2018, just ahead of the 2019 presidential elections. Trudeau must have envisioned his trip to India to be full of pomp and ceremony while he scheduled it. He would have expected a warm reception from the Indian government. Indian Prime Minister Narendra Modi, on the other hand, did not show up at the airport to greet the Trudeau family. This was in stark contrast to how the PM treats state visitors to India. Prime Minister Modi is rather famous for his bear hugs but that day, he was absent. Trudeau was welcomed to India by Gajendra Singh Shekhawat who would go on to become a cabinet minister but back then, he was just a minister with independent charge.
This was just the start of it. Soon after, the Canadian high commissioner invited a Sikh extremist named Jaspal Atwal to a dinner honouring Trudeau in Delhi. Atwal had been previously linked with a terrorist organisation and was convicted of attempted murder. Though Trudeau clearly denied any relations with Atwal but the his explanation was refuted when photos of Atwal surfaced with Trudeau's wife, Sophie.
Later, more photos of Atwal surfaced with Trudeau himself, one at a 2015 Liberal Party campaign event in Vancouver, and another that appeared to have been taken before Trudeau became the leader of the Liberal Party.
It was a terrible start to say the least, but Trudeau is a handsome man, with a pretty wife and picture perfect kids. So, they went on a celebration spree, consciously posing for the shutterbugs. Look at this photo where the Trudeau family pays visit to a Hindu shrine.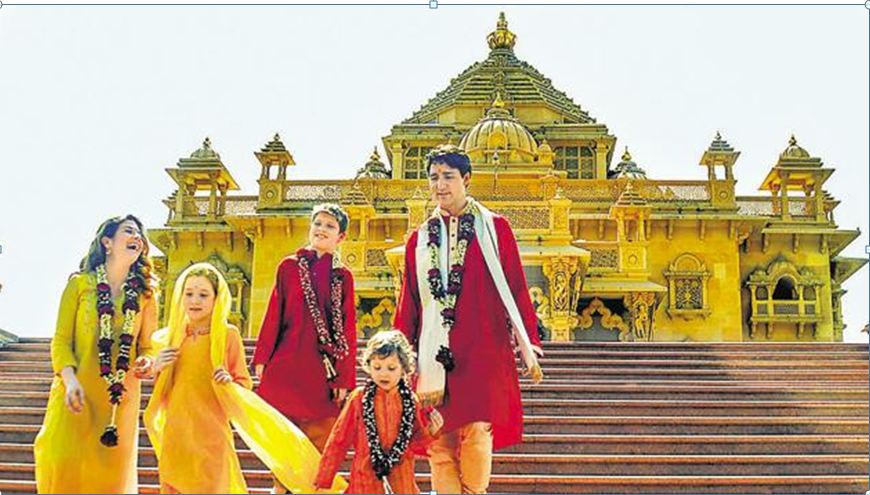 Oh! my how Indian they look.
Now, look at this picture from a Sikh place of worship. That's how you dress up.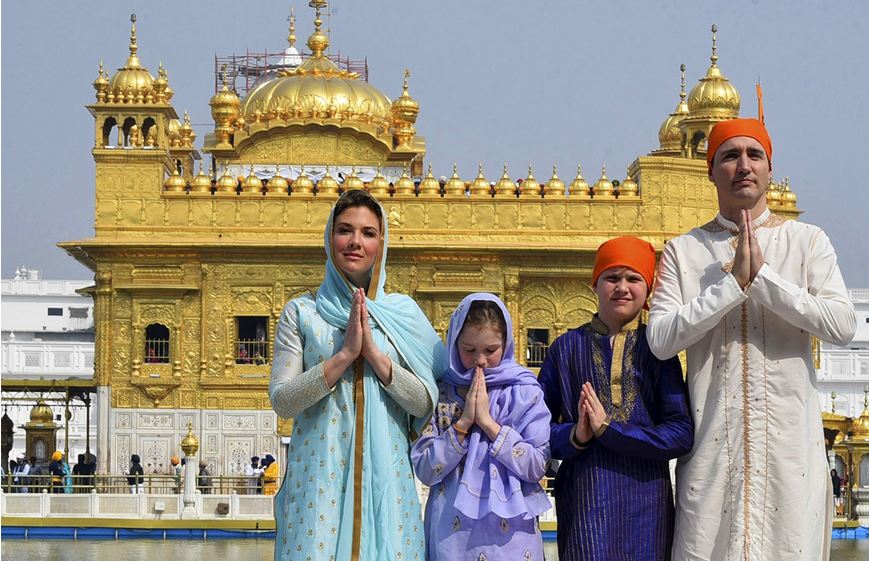 Now, look at this one. Soaked in the tradition of the country of the visit.
And finally, this one, he goes to a party in a Sherwani where every Indian present is dressed in smart western casuals. The other guy in this case is famous Bollywood actor Shahrukh Khan.
He then performed a Bhangra dance too.
And Indians found it nauseating, cringeworthy and even demeaning. He was thrashed for his antics by both Indian and Western Media.
Then came the great Punjab tragedy.
There is a simple custom for Canadian government representatives – meet the chief minister of the Indian state of Punjab. So Trudeau was no exception, he tried to duck and dodge but he couldn't. Punjab's chief minister, an ex-serviceman, Captain Amarinder Singh was famously anti-Khalistan and was bound to ask tough questions. He was dragged to the CM's office like a lamb shuddering at a slaughterhouse. And Captain Amarinder Singh wasted no time in demanding a clarification from two Canadian ministers of Sikh origin with questionable pro-Khalistan credentials.
Then the meeting with the Prime Minister of India came. A full 4 days late. And it was as uneventful as it could get. Then the Trudeau family bid adieu to India. As soon as they landed in Canada, the prime minister was hauled over the coals for his theatrics. It was such a bad show that even Trudeau said and I quote ""That was India, ladies and gentlemen,. The trip to end all trips. Seriously, I told my team I'm not going anywhere ever again,". A candid confession, but an honest one.
Then came the elections and the majority prime minister was reduced to a minority prime minister. Now he has to rely on Crutches called "Jagmeet and Co." to stay in power. The seeds of Justin's debacle were sown in India and when he goes out of power, Canadian conservatives should reserve some appreciation for Indian nationalists too.