Sanctions, Sanctions, Sanctions!
We are constantly getting to hear this word by the West especially the US after the Russia-Ukraine war. One would think that sanctions are an efficient way to punish a country for its wrong deeds.
Sanctions may have worked for smaller countries like Venezuela, Nicaragua and Cuba. But it's foolish to fancy catching a Russia-sized fish with an ordinary trap. Russia is a champion in evading sanctions, and the case of Kalashnikov, the largest manufacturer of arms in Russia proves the futility of these sanctions.
Kalashnikov
You must have heard of rifles AK-47 or AKM regardless of whatever part of the world you reside in. Well, the product is owned by the Russian arms company Kalashnikov Concern, named after Russian General Mikhail Kalashnikov. After he got injured in the Battle of Bryansk in 1942, in hospital he overheard his fellow soldiers talking about the inefficiency of rifles haunted with jamming issues. He then went on to design AK-47, which is estimated to be circulated among 100 million in the world right now.
'Kalashnikov Concern' presently produces 95% of small arms of Russia and exports to 27 countries across the world. The arms maker is under US sanctions since the Russian annexation of Crimea in 2014. There were also reports how 'Kalashnikov USA' evaded sanctions itself by the use of shell companies to hide its relationship with Kalashnikov Concern. It was also sanctioned by European countries in April this year after the Ukraine war.
How the company evaded sanctions?
In early April 2022, anonymous hackers released thousands of internal emails from Kalashnikov Concern. According to a report by ZDF which evaluated the emails, find out how Kalashnikov uses several front and partner companies to get the raw material from the western countries despite sanctions.
#Anonymous leaks information from Lipetsk Mechanical Plant. Russian tank and anti-aircraft manufacturer.

Leak: https://t.co/VY5jfGuolt pic.twitter.com/JyB0bCUCBC

— Anonymous (@LatestAnonPress) April 1, 2022
Kalashnikov is owned by a holding company 'Perspektiva.'  The leaked emails were from another company Lipetsk Mechanical Plant (LMZ) which is a part of the same group of firms. LMZ produces tracked vehicles for anti-aircraft systems and is not specifically listed on the EU sanctions list.
And that loophole was exploited by the Russian company. At the end of November 2021, an advisor to Kalashnikov wrote an email asking LMZ to request raw materials from companies in France, Italy, Germany, Belgium, and Turkey. LMZ soon wrote a letter as in the below image.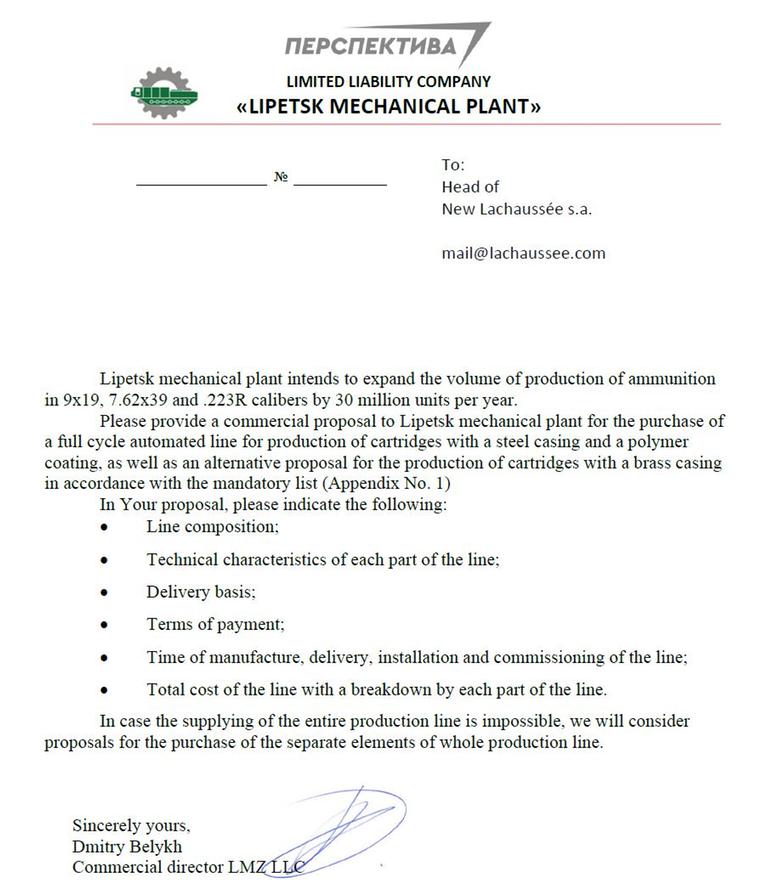 Now, LMZ procured raw material for Kalashnikov as it was not under sanctions and once it received the material, it sold it back to Kalashnikov.
The most shocking aspect is 'Perspektiva' which controls a sizable portion of the Russian defence sector and is not under sanctions. It doesn't have an official website. "Perspektiva" has invested in a number of Russian military firms after it was founded in 2019. Former Russian Deputy Transport Minister Alan Lushnikov and ex-General Timur Gareyev own the company. 
Importance of Western products
Vladimir Zhikharev, the head of the Russian Arms Manufacturers Association, was reported as claiming that Kalashnikov had previously purchased 70% and sometimes even 80% of its components from abroad.
The inefficient sanctions imposed by Western companies already show the importance of arms-maker for Russia. If Kalashnikov didn't receive the desired western raw materials, the quality of the arms wouldn't be that good and they'd be expensive to produce, which would have further increased the price on Russia.
Belgian 'New Lachausée' offer
LMZ on the behest of Kalashnikov sent the request to Belgium's ammunition machine tooling company New Lachausée based in Herstal, for sending the required raw material. LMZ and New Lachausée exchanged several emails, also indicating a telephone conversation.
The fact that New Lachausée is 20% owned by the Walloon government makes it more of official interaction between Russia and Belgium.
New Lachausée then goes to bids on two different occasions. One offer was sent on October 21, 2020, to the Tula Cartridge Works, a business that is directly owned by Rostec, a state-controlled Russian enterprise that has been subject to European Union sanctions since 2014. On December 3rd, 2021, a new offer was made, this time made directly to the LMZ.
Production lines for 7.62mm and 5.56mm ammunition casings are requested in the tenders from Lipetsk and Tula. The Russian Federation Army frequently uses 7.62mm bullets. Steel cases, which are frequently employed in military circumstances, are particularly requested in tenders submitted to New Lachaussée rather than more expensive and superior brass rounds for civilian usage.
Any accusations of wrongdoing were rejected by New Lachaussée. Ludovic Biemar, managing director of the company, indicated that it had no intention of ever honouring the offers it made to the Lipetsk and Tula enterprises in response to the RTBF probe.
"Of course, there were exchanges but we refused the request of Lipetsk Mechanical Plant."
German 'Guhring' deal
A similar request was sent by a Russian wholesaler named PKF technology to German company Guhring.' The PKF website boasts of Guhring being one of its partners. The leaked document claims that in 2020 and 2021, the Kalashnikov Group spent hundreds of thousands of euros on Guhring equipment. The chart shows that Kalashnikov intended to purchase Guhring material valued at around one million euros in 2022.
However, Guhring denied any such happening and said that it strictly adheres to the economic sanctions imposed on Russian companies.
Well tried Guhring! But E-mails don't lie. As the media criticism grew, on 24th May, Guhring announced that it would discontinue all businesses from Russia.
Other nations
As mentioned earlier, LMZ sent these offers to Turkey, France, and Italy too. It's very likely that they may have also done deals with Kalashnikov through shell companies. The whole 'Kalashnikov incident' shows how easy it is for Russian companies to fool European nations and evade sanctions.
The sanctions on Russia after the Ukraine war have only emboldened Russia's economy and made the 'Ruble' the best-performing currency in the world. The question to be asked here is if the sanctions on Russia have succeeded at all? All they have managed to do is to harm everyone's interests but Russia's.