Lithuania and Russia have shared close historical-cultural ties. However, in the midst of the current confrontation between Russia and Ukraine, the West has been attempting to lure Lithuania and use it against Russia. The news that Lithuania has taken an anti-Russian posture has been widely disseminated by the global media cartel, contributing to western propaganda. But it turns out this is something that the media is cooking out of thin air. And not much of anti-Russia stance is actually surfacing in Lithuania especially related to the Kaliningrad blockade.
Kaliningrad Oblast lies near the centre of Europe and is Moscow's westernmost federal subject. Several nations divide it from the rest of the Russian Federation. Unlike other ports in the Baltics, it is the only port on the Baltic Sea that is open all year.
Following its victory over Nazi Germany in World War II, Kaliningrad was given to Moscow in accordance with the Potsdam Agreement. It was separated from Russia in 1991 during the collapse of the USSR, when Lithuania, Latvia, and Estonia gained independence.
Kaliningrad is strategically important for Russia
Despite being distant from Moscow, Kaliningrad is a strategic asset for Russia in a war or other uncertain situation in Europe. Numerous Russian troops, the Baltic fleet of the Russian Navy, two air force facilities, state-of-the-art air defences, and deadly Iskander-M missiles are all stationed there.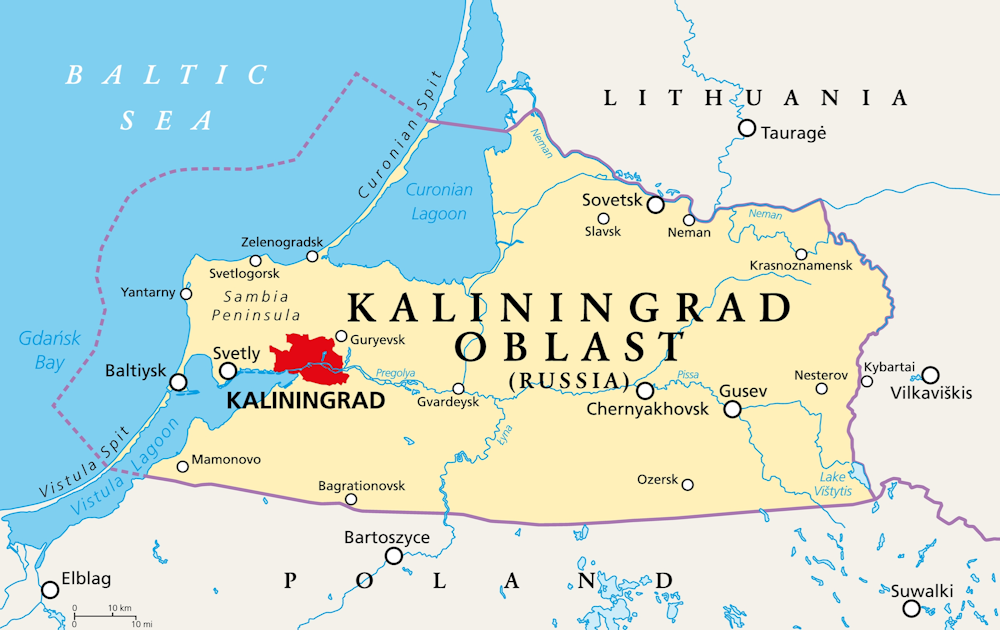 The global media cartel has exploited Kaliningrad as a subject to provoke Russia since they are aware of its strategic importance to the country. Recently, it was reported that Lithuania had prohibited the transit of goods to the Russian outpost of Kaliningrad through its borders. More than half of all imports into Kaliningrad are made up of commodities like coal, metals, building supplies, and high-tech goods.
And in response, Russia retaliated vehemently, which is quite well justified given the strategic importance of Kaliningrad.
Russian foreign ministry threatened Lithuania to take a U-turn on its decision on the transit ban or it will consider it as an 'openly hostile' move.
"If cargo transit between the Kaliningrad region and the rest of the Russian Federation via Lithuania is not fully restored in the near future, then Russia reserves the right to take actions to protect its national interests," it said.
Read more: Kaliningrad tensions could script the end game for Lithuania
A deliberate move of the media cartel
Eventually, it turned out that the news was fabricated by the media cartel to suggest that Lithuania had outright banned all forms of passage through it. But now it has been revealed that it was bogus news.
Instead, Lithuania claimed that it has not put any separate sanctions on Russia other than what it was obliged to do under the EU norms. In actuality, just one per cent of the freight is impacted by these sanctions, while 99 per cent of the freight is unaffected.
However, if we pay attention to the fact that many of these rumours have only been disseminated by these media outlets. In reality, the Lithuanian government has rarely been observed taking a position so hostile to Russia.
On Lithuania's part, it is pretty obvious that it would find reluctance to take any such anti-Russia stance for the given two reasons—one, as mentioned above that Lithuania and Russia share strong cultural and historical ties. Slav community constitutes the majority of the population in both nations. And two, Lithuania will never jeopardise its security by siding against Russia.
Therefore, since anti-Russia stance will never be in Lithuania's favour, it will never take such a stance. Whatever information about Lithuania's anti-Russian position has recently been disseminated, it has been done so on purpose and with careful planning by the global media cartel.
WATCH: