Ukraine used to host over 76,000 international students from 155 nations. Most of these students are enrolled in medical courses.  Medical degrees at Ukrainian universities are particularly popular among international students because of their affordability.  But unfortunately, when the war broke out, these students were depressed and traumatized.
A trauma for Nigerian students
Students from Nigeria experienced trauma on a whole other scale. The majority of these Nigerian students have suffered at the hands of racism. Several stories describe the inhumane treatment of Africans in Ukraine since the start of the war, with border guards apparently shoving these students back to give Ukrainians priority when they were trying to leave the country.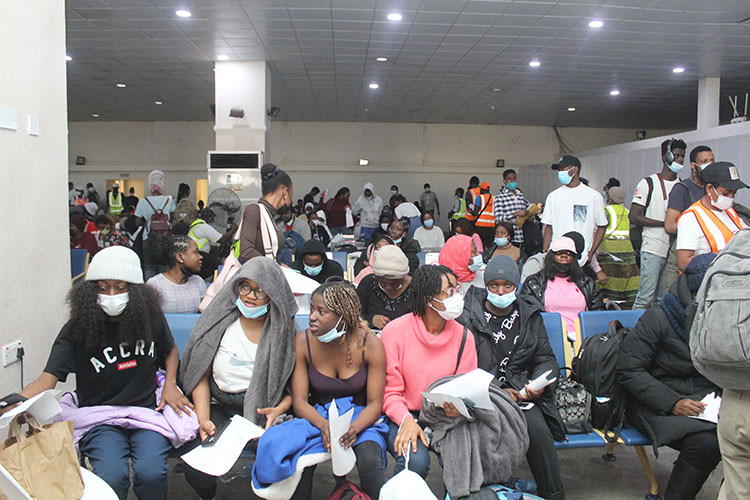 "Dogs crossed before we did. I've never felt so hopeless," one of the students said.
"I was so cold and I was absolutely sure I would freeze to death. With the way we were being treated, I'm very sure no one would have cared," she continued. "They cocked guns at us, yelling and pushing us back as we also tried to leave. What made us less worthy of life than the white people? I'm very happy to be back home because I said my last prayers at that border. That's how scared I was," she continued.
Shattered dreams of the medical students
Although the students are now living with their families in Nigeria, they are nonetheless mentally exhausted and anxious about getting their degrees. But when the majority of these students were able to continue their medical courses online, there was a sigh of relief. Though this relief didn't endure for very long, when a recent Whatsapp message from the Medical and Dental Council of Nigeria (MDCN) circulated, their fears intensified.
It said, "We wish to inform the General Public that Medical and Dental Degree Certificates issued by Medical Schools from Ukraine from 2022 will NOT be honoured by the Medical and Dental Council of Nigeria until when normal academic activities resume."
This means that the Nigerian medical council would not recognize the online medical courses as legitimate.
Also read: Ukraine might just attack Russian ships ferrying food grains out of the warzone
"The news hit me really hard… So many thoughts flooded my mind," he recalls. "I was actually looking forward to graduating from Ukraine irrespective of whatever happened."  Mr Fehintola, a medical student said.
"I'm in Nigeria now trying to do clinical practice, because l want to meet the requirements to be able to practise as a doctor in Nigeria," Mr Fehintola told the BBC.
"First l wrote to my own state Ministry of Health requesting to be posted to a hospital, but on getting to the hospital, the medical director there said: 'Oh, you are from Ukraine, was it not the place that the certificates were cancelled by the MDCN?"
Clearly, these pupils are in a nightmare after receiving this information. Their families made significant sacrifices to allow them to pursue their studies abroad, and now they fear it was all for nothing.
But who is to blame for the helplessness of these students? The Ukrainian government should have collaborated with Nigerian authorities to facilitate the process of recognizing their medical degrees. They have failed to address the students' anguish. It doesn't matter which government is to be blamed, the fact that these students are the victims of negligence cannot be denied.
WATCH: