Europe is dying to tie the knot with Iran, at least economically! It needs Iran more than ever. Europe's energy reliance on Moscow has dampened its anti-Russia fervour. Despite early warnings, Europe never paid heed to the calls for diversifying its energy dependence away from Russia. Now, EU has run out of options. Even Venezuela has backed off! Venezuela's oil company PDVSA recently said that it is no longer interested in the oil-for-debt deals with Europe.
Desperation for Iranian Oil
The consequences of anti-Russian sanctions have wreaked havoc on European economies. Their currency Euro has fallen to the lowest against the dollar in a decade. Europe's inflation numbers have skyrocketed to the highest in the last four decades.
Therefore, it sees Iran as the only viable option when it comes to finding alternatives to Russian energy. Another factor that makes EU's ties with Iran highly prized for Brussels is Tehran's unchallenged control over the Strait of Hormuz, which is one of the world's most important shipping lanes for crude. It is a narrow strategic waterway separating Iran from the Gulf states. Over one-sixth of worldwide oil production and one-third of global liquefied natural gas transit over the 39-kilometre strait. Iran and its revolutionary guards call the shots in this region.
Therefore, Tehran can impose a blockade in the Strait of Hormuz anytime and effectively block Europe's access to Iraq's, Kuwait's, and UAE's oil.
Iran has been exploiting this strait for its own interests. For example, the Iranian government, on several occasions, has threatened to disrupt oil shipments in the Strait of Hormuz in response to US sanctions aimed at Iran. Such moves by Iran hurt EU's economies as well. In June, media reported that Iran's Revolutionary Guard had seized two Greek oil tankers near the Arabian Gulf.
Europe's version of JCPOA
So, EU urgently needs Iran on its side, to at least establish working ties with the energy-rich country. But, what stands in the way are stringent American sanctions. The desperation for Iranian oil has made Europe draft its own version of the JCPOA deal, which would see an unceremonial exit of the US from the EU-Iran bilateral equation.  
The sanctions by the US have made it impossible for Iran to export oil to the importing nations and subsequently make money from it. So, now Europe is formulating a plan to bypass American sanctions on Iran.
The recent European plan, negotiated by Josep Borrell, the head of the EU's foreign policy, would not specifically eliminate the American sanctions on Iran and IRGC; however, it would significantly reduce their effectiveness.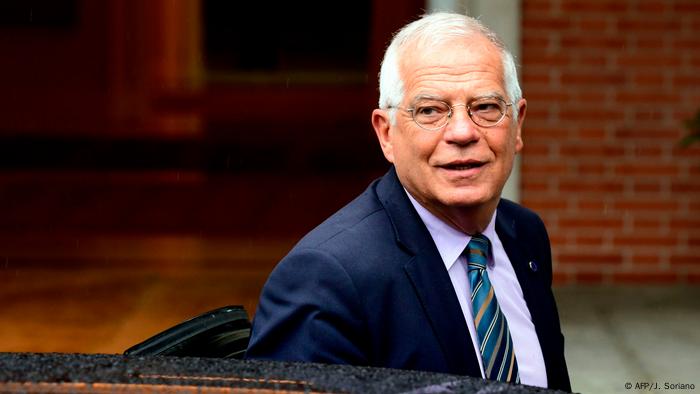 Read More: One mistake of Ukraine will make Iran the energy king of Europe
The new deal would allow Europeans and other non-American entities to do business with Iranian firms. In fact, Islamic Revolutionary Guard Corps or IRGC, which has been blacklisted by US for allegedly being a terrorist organisation, has also been offered considerable concessions.
One diplomat, who has been following the draft, pointed out that IRGC-controlled entities and firms might try to evade American sanctions by simply conducting their business through surrogates and shell companies, making the American sanctions toothless for non-American businesses and individuals. All in all, EU's new deal with Iran is designed in a way to help Iran evade American sanctions.
Iran also wants to get indulged in an ever-expanding level of economic and trade cooperation with several countries for long as sanctions have prohibited it to do so. Moreover, Iran in May said that Tehran was considering the possibility of exporting gas to several countries of Europe.
In May, it was also reported that a Panama-flagged tanker was carrying sanctioned Iranian oil through Italy and Croatia.
Remember, 26.9% of Europe's total crude oil imports come from Russia. And if Russian oil imports are to be gotten rid of, Iran seems like the only sensible choice available for European countries. Iran accounts for about 9.5% of the world's total oil reserves, ranking 4th in the world. Europe's mistake of blocking Russian energy supplies, thus puts Iran in a commanding position vis-à-vis its diplomatic and economic engagements with Brussels. That's how Tehran would soon become the energy king of Europe, and realizing this imminent fate, Europe has already surrendered before Iran and the IRGC.